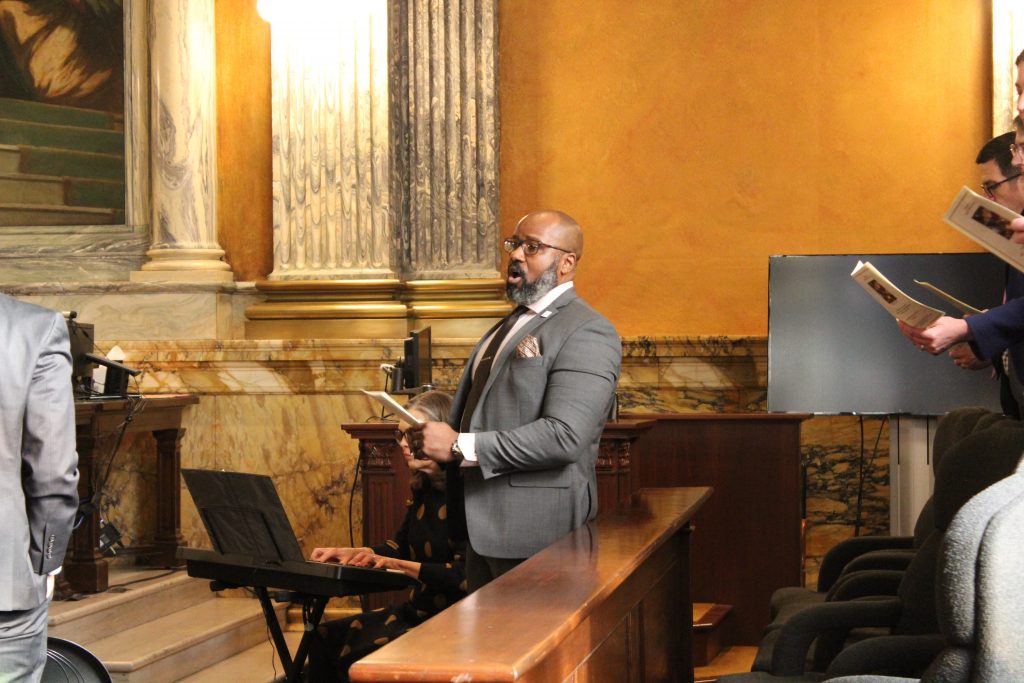 The U.S. District Court for the Southern District of Indiana celebrated Black History Month on Friday with song and a discussion.
The federal court's annual Black History Month celebration — this year titled "A Glimpse into the Lives of African Americans Responsible for Upholding the Law" — began with a rendition of "Tell Me, Oh Blue, Blue Sky," sung by Christopher Wilburn, accompanied by Penny Rodriguez.
Chief Judge Tanya Walton Pratt then opened the celebration, handing the mic to now-7th Circuit Court of Appeals Judge Doris Pryor. Both Pratt and Pryor have made history as Black women, with Pratt serving as the first person of color to become chief judge and Pryor serving as the first Black woman from Indiana on the 7th Circuit.
Pryor served as the moderator for the four panelists: U.S. Attorney Zachary Myers of the Indiana Southern District, U.S. Attorney Clifford Johnson of the Indiana Northern District, Lesley Miller Lowery, assistant U.S. attorney in the Northern District, and Stephanie Bibbs, deputy director of litigation for the Indiana Supreme Court Disciplinary and Judicial Qualifications Commission.
Pryor first asked the panelists why they chose their career paths. In response, Johnson discussed how he is considered "living history."
"I've discovered they needed someone in the room who looked like me … and if I didn't do it, who would be there?" Johnson said.
Johnson is the first African American man to take a seat as U.S. attorney for the Northern District of Indiana.
"I'm not arrogant enough to believe that I'm the first person who looked like me that was capable, but for some reason I saw an opportunity to change," he said. "I could not sit back and let that moment pass."
Bibbs pointed to a personal tragedy as her why: When she was growing up, her grandmother was murdered while her mom was on the phone with her.
"I knew I wanted to be a lawyer early on, but I ran away from criminal law because of that," Bibbs said. "But when I became an attorney, I was pulled in that direction. And when I started that job, to be able to identify and to talk to victims of crime whose family members have been murdered, to be able to identify and talk with them and walk with them through that process, still has an impact on me today."
For his part, Myers said he felt an obligation.
"It was indicated to me that we have an obligation with whatever opportunities and privileges to give back to the community," he said.
Lowery is a second-generation federal prosecutor. She discussed what it was like for her growing up, when her dad, David Miller, was the first Black assistant U.S. attorney for the Northern District.
"My entire life, he stressed the importance of public service, and it was more than that —it was an added value, it was an obligation, because he found that there was a crowd working to better the community," Lowery said.
Johnson went on to talk about the importance of having different experiences.
"My life experience is different than another," he said. "I get asked different questions of law enforcement based upon my life experience."
Referring to the national conversation about racial justice in policing, Johnson said he feels the same anxiety about being pulled over as other Black men. He described the feeling of making sure he doesn't make any sudden movements or is perceived as a threat.
For her part, Pryor discussed once seeing a long line of photos on a wall of previous U.S. attorneys — all of whom were white, until Myers.
"Do not be discouraged by that. The implicit message might be that you weren't expecting that, no one had planned for you being in the room, maybe that you are not wanted. But you are needed to change that," Myers said.
Bibbs added what encourages her on her career path.
"I tell myself, you may face adversity, but adversity can break you or cause you to break records, and I'm sitting next to examples of that right now," Bibbs said.
Johnson included his encouragement as well.
"Don't be afraid to speak from your experiences — it's valuable to and is needed in the pursuit of justice," Johnson said.
The event ended with the crowd singing "Lift Every Voice and Sing," a cherished song of the African American civil rights movement.
Please enable JavaScript to view this content.