Walking into school wearing a black robe, thick-framed glasses and clutching a green legal book, young Maddie McKinzie knew exactly who she wanted to dress up as for History Day: the chief justice of Indiana.
"When I graduated from law school, if someone said I could be a judge, let alone a justice or a chief justice, I wouldn't have believed them," said Indiana Chief Justice Loretta Rush. "When I graduated in the early 1980s, there hadn't been a woman appointed to the U.S. Supreme Court yet. You need to see it to believe that you can be it."
That's the sentiment shared by current and former female U.S. judges who met during an American Bar Association panel last month. They concluded that women who want to become judges need more female mentors to encourage them on their journey.
The women discussed personal experiences from their careers and the obstacles faced along the way during a panel titled "Judicial Milestones in the Quest for Women's Equality," hosted by the ABA Judicial Division and co-sponsored by the ABA Commission on Women in the Profession, the ABA Division for Public Education and the ABA Division for Public Education.
Diversifying the judiciary is a quest that Indiana's women judges have pursued with fervor. Whether in one-on-one conversations with a lawyer friend or speaking to a crowd of dozens of young women, Indiana's female judges are determined to make it known that women are capable — and needed – to represent the bench well.
Seed planters
Former Porter Circuit Court Judge Mary Harper, now a senior judge, started a ripple effect when her encouragement convinced Indiana Court of Appeals Judge Nancy Vaidik to become a jurist.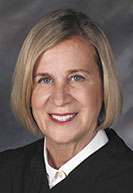 "She saw something in me that I didn't see in myself. That caused me to apply," Vaidik said. "I think that all of us who have been in that situation have a duty to pay it forward, and there are a lot of women paying it forward."
Judge Mary DeBoer, appointed by Gov. Eric Holcomb to succeed Harper in 2019, said Vaidik was the person who cultivated her confidence to seek a judgeship. After the appellate judge confided that DeBoer she would have been a good candidate for an Indiana Supreme Court spot that had recently been filled, DeBoer laughed in disbelief.
"I just felt like I didn't have that knowledge that I would need to have the chutzpah to apply for a Supreme Court position. But she was serious about that. I couldn't even wrap my brain around the idea of something that significant," DeBoer said.
But after Vaidik explained the many reasons for her belief in DeBoer, her perspective shifted.
"She was my seed planter. From that point on, I started looking at myself a little differently because here is this woman that I respect so much who is now looking at me as if I am an option for this kind of higher level judicial work," DeBoer said. "That was hugely important to me, and that discussion prompted me to pursue becoming a judge."
Finding her place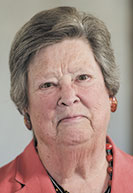 As the first woman appointed to the U.S. District Court of the Southern District of Indiana in 1984, now-Senior Judge Sarah Evans Barker said she has often — and gladly — served as a mentor to younger women in the legal profession. But few sought out her wisdom on being a judge.
"Back when I was climbing the ladder, I had many women colleagues and friends but there weren't many women who were senior to give advice," Barker recalled. "We were sort of a new  phenomenon."
Compared to years past, current challenges women face to taking a seat on a judicial bench are fewer in number and scope, said Indiana Court of Appeals Judge Elaine Brown. That's all thanks to the many women who were legal trailblazers.
"It is easier today; not easy, certainly, but I believe there is a general perception that women have demonstrated competence and indeed excellence in both appointed and elected judgeships, and will continue to do so," Brown said.
But taking those first steps in confidence can still be a challenge, no matter the timeframe.
When she used to practice before former Northern District of Indiana Judge Theresa Lazar Springmann, now-Indiana Court of Appeals Judge Elizabeth Tavitas noticed that only one woman judge was pictured on the walls of the courtroom.
"There is something that stands out about that. It's more subconscious, but it does make you think, 'Do I belong here?' I'm a woman in federal court and what if I want to be federal court judge? There are no women on the wall, does that mean it's not available to me? It has an impact on women,"
Tavitas said.
For DeBoer, the biggest obstacle she faced was within herself. She had to come to grips with the reality that she was capable of joining the bench.
"Judges to me were these enigmas, all-knowing people, and I never saw myself as being that. I'm not, and none of us are, but it was more of an internal struggle that I had to get over," she said.
Speaking from experience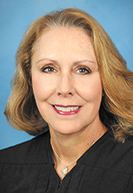 The experienced judges offered advice from lessons learned during their individual journeys to becoming judicial officers, starting with believing in yourself.
"Don't listen to people who tell you that you don't tell you have a shot. Which happened to me," said Indiana Court of Appeals Judge Melissa May.
May, who has served on the appellate bench since 1998, said people told her that because she was never formally involved in politics, she wouldn't make it. They were obviously wrong, she noted.
"Sometimes we think there are a lot more hurdles than perhaps there are," May said. "Sometimes it's, 'Oh, the questionnaire is so long, it will be a hassle to get these letters of recommendation, who will recommend me, who do I talk to, how do I go
through this?"
When such thoughts come, Barker said to grab the brass ring when it comes around.
"One thing I would tell her is to trust her instincts," Barker said of women considering the bench. "If you feel like you want to do it and you can and you will do it well, but you have some modesty or reservation or caution – trust your instincts that you will be able to learn what you need to do to do the task."
"You've got to take that risk," Rush added. "You have to see it in yourself. You will have ups and downs, but keep trying."•
Please enable JavaScript to view this content.