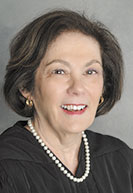 Court of Appeals of Indiana Judge Margret Robb plans to retire this summer, leaving a seat on the bench open.
Currently, there is the first ever female majority on the appellate bench, but that may change with Robb's retirement. There are three women out of nine applicants for the position. Robb was also the COA's first female chief judge.
While Robb is a member of the Fifth District, she also represents counties in the middle of the state, so only candidates residing in the Second District were eligible to apply.
The Indiana Judicial Nominating Commission will be holding interviews April 24.
Interviews are open to the public and will be in the Supreme Court Conference, Room 319, in the Indiana Statehouse, 200 W. Washington St. Indianapolis, 46204.
The schedule is as follows:
9:15 a.m. – 9:45 a.m.: Stephanie K. Bibbs, Indiana Supreme Court Disciplinary Commission of Anderson
9:45 a.m. – 10:15 a.m.: Judge Timothy P. Spahr, Miami Circuit Court of Peru
10:30 a.m. – 11 a.m.: Paul C. Sweeney, Ice Miller LLP of Carmel
11 a.m. – 11:30 a.m.: Judge Paul A. Felix, Hamilton County Circuit Court of Carmel
11:30 a.m. – 12 p.m.: Carol N. Joven, Williams & Piatt, LLC of Indianapolis
1:30 p.m. – 2 p.m.: Judge Marc T. Rothenberg, Marion Superior Court of Indianapolis
2 p.m. – 2:30 p.m.: Elizabeth C. Green, Indiana Department of Workforce Development of Fishers
2:45 p.m. – 3:15 p.m.: Andrew R. Falk, Public Defender Commission of Indianapolis
3:15 p.m. – 3:45 p.m.: Justin P. Forkner, Office of Judicial Administration of Indianapolis
After the interviews, the commission will deliberate before publicly voting on its top three candidates that Gov. Eric Holcomb will have to pick from for the final selection.
Please enable JavaScript to view this content.