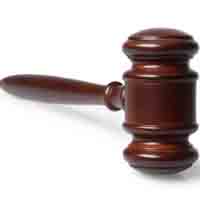 Muncie-based First Merchants Bank and the U.S. Department of Justice have agreed to end a settlement agreement that had been put in place in 2019 after the bank was accused of discriminatory lending practices in certain Indianapolis neighborhoods.
The four-year agreement, which took effect in August 2019, was terminated early because First Merchants had "met or exceeded" all the terms of the order, according to court documents filed late last month in U.S. District Court in the Southern District of Indiana. The parties asked the court on Dec. 23 to terminate the settlement early, and the court approved that request on Dec. 28.
The Department of Justice sued First Merchants in June 2019 over allegations that, between 2011 and 2017, the bank had intentionally avoided lending in predominantly Black neighborhoods in Indianapolis. This practice, which is also known as redlining, is a violation of the Fair Housing Act and the Equal Credit Opportunity Act.
To address the allegations, the two parties entered into a settlement agreement in which the bank committed to taking specific actions.
According to the court document filed last month, First Merchants successfully completed those actions, which included:
Conducting fair-lending training for its employees;
Conducting a community credit needs assessment of Indianapolis and Marion County;
Creating and distributing a $1.12 million loan subsidy fund aimed at the census tracts in which the Department of Justice said the redlining took place;
Increasing its lending in majority-Black census tracts in Indianapolis and Marion County;
Devoting $500,000 to advertising, community outreach, credit repair and education initiatives in these census tracts;
Employing a director of community lending and development, and;
Hiring a third-party consultant to assess the bank's fair-lending risk management program.
Opening a full-service bank branch in a majority-Black neighborhood and a loan production office accessible to multiple majority-Black neighborhoods The bank branch, at the corner of East 38th Street and Meadows Drive, opened in December 2020.
First Merchants had also been operating under a separate settlement agreement with the Indianapolis-based Fair Housing Center of Central Indiana. That three-year agreement ended in June, said the organization's executive director, Amy Nelson.
Please enable JavaScript to view this content.