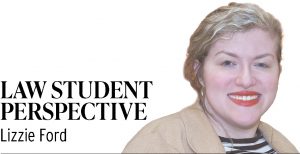 Starting law school can be challenging, but it is safe to say that beginning law school as a person with a disability in the middle of the coronavirus pandemic was one of the greatest challenges I have faced so far in my life. I remember questioning whether I should continue school during my first semester because I was struggling to adjust to hybrid and online law school classes, the large amount of reading and the unique challenges I faced as a person with a disability living in downtown Indianapolis. Not only did I have to protect myself from COVID-19 as a high-risk individual and deal with daily struggles related to putting a mask on by myself, but I also had to deal with the daily struggles that come with my disability. As a wheelchair user and a person with a physical disability that limits my movements and mobility, I have to utilize resources and programs available to people with disabilities, such as vocational rehabilitation and attendant care services at home. The coordination of these services and resources for people with disabilities requires extra time and effort on top of work and law school. The difficulty I had coordinating care, transportation and my reading/study schedule had me worried that I would not be able to handle the rigorous schedule of a law student.
However, during my second semester of law school, I learned more about health care law and developed an even greater passion for it. As a person with a disability who has dealt with the health care system routinely as a consumer, and as a recipient of a Master of Arts degree in clinical mental health counseling, I felt that pursuing health law would provide me with opportunities to help both patients and providers as the health care system can be difficult for both of these groups. As a result, I decided to push myself to do the best I could in classes in order to continue to pursue this passion. That semester, I raised my GPA and got more involved at the law school.
Following my first year of law school, with the help of Indiana University Robert H. McKinney School of Law and connections in Indianapolis, I was able to participate in excellent practical opportunities, such as working with the Eskenazi Hospital general counsel as a Fehribach Center intern, working as an IU Health general counsel extern and working as an intern for Indiana Disability Rights. I also had the opportunity to work with amazing professors, including professor Brad Desnoyer and professor Nicolas Terry at IU McKinney. Thanks to all these experiences, I have been able to work at Barnes & Thornburg LLP, allowing me to grow in my understanding of health care and data privacy law. I am working at a firm and in a position I truly enjoy, but I would not have been able to do that without personal determination and support from co-workers, professors and other students.
I hope that my story can show that people with disabilities can be effective in the legal field. Too many people with disabilities do not even pursue a legal career because they do not feel they will be successful in the field. I hope that people with disabilities can see that there are people in the legal field who will take a chance on them, and I also hope legal professionals continue to do what many have done for me and support individuals with disabilities who work hard to pursue a career in this profession.•
__________
Lizzie Ford is a 3L at Indiana University Robert H. McKinney School of Law. Opinions expressed are those of the author.
Please enable JavaScript to view this content.