Norman Lefstein, dean emeritus of Indiana University Robert H. McKinney School of Law and renowned legal scholar in the fields of criminal justice, indigent defense and professional responsibility, died Thursday. He was 82.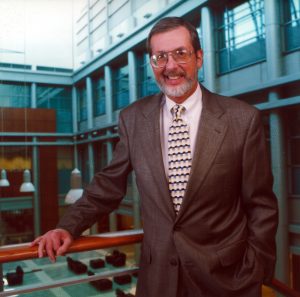 Lefstein was the longest serving dean in IU McKinney's history, leading the Indianapolis law school from Jan. 1, 1988, until June 30, 2002. He is credited with increasing the financial support for faculty research and promoting the expansion of the clinics, internships and pro bono opportunities for students.
Also, Lefstein spearheaded the fundraising and planning for the law school's $37 million building, Lawrence W. Inlow Hall. The three-story structure, which stands on the IUPUI campus, was dedicated in 2001.
"Norm was a wonderful person and transformational leader for our law school and the legal community," IU McKinney Dean Andrew Klein said in a statement. 
A graduate of the University of Illinois College of Law, Lefstein started his career practicing in a private law firm and directing a Ford Foundation research project that provided legal representation to juveniles in three metropolitan cities. He subsequently held positions as the director of the Public Defender Service for the District of Columbia and as an assistant U.S. Attorney in Washington, D.C.
Prior to moving into the dean's office at IU McKinney, Lefstein taught for 12 years at the University of North Carolina School of Law in Chapel Hill. Throughout his career, he published extensively about indigent defense, ethics and related subjects. In addition, he lectured and testified frequently as an expert witness.
For 17 years, Lefstein was chair of the Indiana Public Defender Commission and was a special advisor to the Indiana Task Force on Indigent Defense, which produced a series of recommendations to the Indiana Public Defender Commission in 2018.
Lefstein was awarded IU's highest honor, the Indiana University President's Medal, at a special ceremony on Aug. 2. At the same event, he was also made an honorary alumnus of IU McKinney and received the Indiana Supreme Court Commendation.
Presenting the commendation to Lefstein, retired Indiana Chief Justice Randall Shepard said, "Norm, it does not overstate the case to say that thousands upon thousands of people have lived better lives because of how you have lived yours."
Please enable JavaScript to view this content.