Hugh E. Reynolds, a longtime Indianapolis lawyer whose father co-founded the firm that would become Frost Brown Todd, has died. He was 92.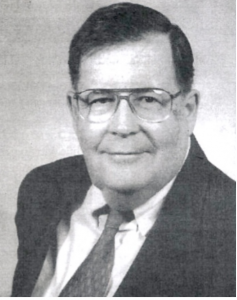 Reynolds, who served as managing partner of Locke Reynolds for more than a decade, died Dec. 22 in Pompano Beach, Florida.
"Hugh was an extraordinary person, truly one of a kind: an exceptional lawyer, leader, mentor, devout Catholic, and family man. His death is mourned by all lucky enough to have known him," according to an obituary released by Frost Brown Todd and drafted with the help of the firm's lawyers.
Born and raised in Indianapolis, Reynolds attended St. Joan of Arc Catholic School and Cathedral High School before earning an undergraduate degree from the University of Notre Dame and a law degree from the University of Michigan School of Law. He was admitted to the Indiana bar in 1953 and had no disciplinary history, according to the Indiana Roll of Attorneys.
After graduating from law school, Reynolds served on active duty in the U.S. Army's Judge Adjutant General's Corps, attaining the rank of captain. He then served in the Army Reserves until 1989, retiring with the rank of lieutenant colonel.
Reynolds began his legal career as a litigator alongside his father at the firm Slaymaker Locke and Reynolds, which the elder Reynolds had co-founded. The firm was later known as Locke Reynolds Boyd & Wiesell, then Locke Reynolds.
"Hugh was a versatile, talented and passionate litigator, handling cases of remarkable complexity, breadth and scope," according to the obit. "He specialized in construction and surety law, a specialty in which he was a nationally recognized expert.
"His incisive and succinct arguments often concluded with encouragement to the court to rule in his client's favor 'for reasons too obvious to require discussion,'" the obit continues. "Judges usually did."
Reynolds served as managing partner of the firm from 1976-1987. Locke Reynolds would later merge into Frost Brown Todd, where Reynolds continued to practice until 2010.
"Hugh was the bedrock of the firm that now is the Indianapolis office of AmLaw 200 firm Frost Brown Todd. The lasting impact of Hugh and his father is commemorated in the Reynolds Conference Room at Frost Brown Todd's Indianapolis office," according to the obituary.
Throughout his career, Reynolds held multiple national leadership positions within the legal community, including serving in the American Bar Association's House of Delegates, an elected position; chair of the ABA's Tort and Insurance Practice Section, or TIPS; president and chairman of the board of the Federation of Insurance & Corporate Counsel, now the Federation of Defense and Corporate Counsel; and admission to the American College of Trial Lawyers and American College of Construction Lawyers, among other positions and honors. Additionally, Reynolds was the 7th Circuit representative to the ABA's Standing Committee on the Federal Judiciary, and he was awarded the Defense Research Institute's Lewis Potter Award for outstanding service to the defense bar.
Outside the office, Reynolds enjoyed reading, history, social gatherings, traveling and time with his family, among other interests. He and his wife Rita moved to southeast Florida in 2006 to be closer to family.
He is survived by his wife, children Maureen Reynolds, Hugh (Kathy) Reynolds, Tom (Cindi) Reynolds and Paul Reynolds, seven grandchildren and four great-grandchildren.
A funeral mass was held Monday for family and close friends. His final resting place is at the Our Lady Queen of Peace Catholic Cemetery in Royal Palm Beach, Florida.
In lieu of flowers, the family is requesting prayers for Reynolds or for a Mass intention to be celebrated in his memory.
"To our friend, leader, and mentor," the obituary concludes, "you will be missed but never forgotten."
Please enable JavaScript to view this content.