The Indiana General Assembly has introduced two identical twin bills that would change how court martial hearings are called — specifically, who could call or demand those hearings.
Senate Bill 279 and House Bill 1076 would change Indiana Code to allow the adjutant general of the National Guard to convene a court martial. Currently, only the governor has that authority.
The bills would also remove a provision permitting a commanding officer to order a member of the officer's command to be confined under correctional custody for a maximum of eight days. Additionally, the legislation would change the disciplinary punishment an officer exercising command may impose.
Finally, and perhaps most importantly, the bills would remove the ability of National Guard members to demand trial by court martial in lieu of nonjudicial punishment — an ability members have had for two centuries.
While many are very supportive of the former provisions of the bills, it's the court martial demand change that's raising concerns.
Convening the court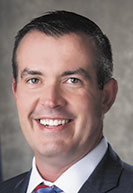 Sen. Aaron Freeman, the Indianapolis Republican who authored the Senate bill, said he was asked to bring the legislation.
Due to a lack of resources, Freeman said, the Indiana National Guard doesn't convene a court martial very often.
"I mean, they have some limitations in terms of actually calling for court martials," he said. "They don't have the resources, they don't have the staff, they don't have a courtroom, they don't have enough lawyers, they don't have the investigative resources to do these kinds of things."
In fact, Indiana Gov. Eric Holcomb — who is the only person in the state that can convene a court martial — hasn't called one in the last three years.
But Major General Dale Lyles, the adjutant general of Indiana, testified during a recent committee hearing that there had been cases during that three-year period that warranted a court martial. Col. Tim Baldwin, who is a staff judge advocate with the Indiana National Guard, said in committee that four members had been removed from its ranks in the last year based on sexual assault accusations.
Rep. Chris Jeter, R-Fishers, who authored the House version of the bill, acknowledged that while the feedback for the legislation has been mostly supportive, many feel like the provision removing a member's ability to demand a court martial is equivalent to stripping members of a right.
"But it's not really the case, because there is no right for that," Jeter said. "I mean, you can refuse to be administratively punished, but then you're just getting separated — you're not getting to go to a court martial, because that's ultimately the commander's decision."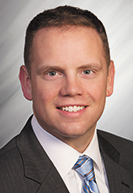 Offenses that can result in discipline for a Guard member are varied and can include misconduct, insubordination, tardiness and being absent without leave. Typically, a court martial is reserved for more serious alleged offenses.
While administrative separations from the Guard don't go on permanent records, court martial convictions do.
"Our military system is very friendly to the service members. It should be, and that service member can actually review that punishment," Jeter said. "There's sort of this misnomer going on up there that if they do that, then they'll get a court martial, which isn't really true, because a commander can decide what forum to send disciplinary issues to and they probably would never send such a small issue to a court martial, because it's expensive and it takes a long time and the person gets a criminal conviction. You wouldn't want that for somebody that's coming in a couple of hours late."
Jeter also said he thinks members are leaving the Guard because they think they could face trial for fighting offenses.
"We want to try to keep them. We want to try to sort of mold them and make them into the soldiers that make for a good fighting force," he said. "I think this bill is very helpful to do that."
In a statement to Indiana Lawyer, the Indiana National Guard said nonjudicial punishments — also known as Article 15s, referencing Article 15 of the Uniform Code of Military Justice — are difficult to track at the state level with 12,000 members and more than 100 company-level units.
"The change in legislation is to streamline and modernize nonjudicial punishment to give commanders a better tool to maintain good order and discipline throughout the ranks. This change brings the Indiana National Guard in line with the recommendations of the American Bar Association's Model State Code of Military Justice," the statement said.
Demanding a hearing
The American Legion Department of Indiana strongly opposes the bills, particularly the provision dealing with the ability to demand a jury trial.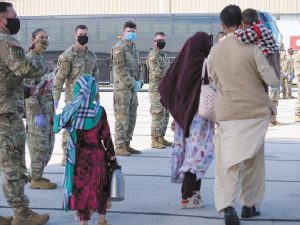 The Indiana American Legion's legislative committee has reached out to Freeman and Jeter but told Indiana Lawyer that it was unable to connect with them. The organization has also been in contact with Senate President Pro Tempore Rodric Bray, R-Martinsville, Sen. Jim Tomes, R-Wadesville, and the National Guard Association.
"Some of the bill is good. But the issue arises with the second provision of the bill that removes the guardsmen's right to demand a court martial when presented with an Article 15, or nonjudicial punishment," Indiana American Legion commander Mark Gullion said. "Rather than just saying, 'Here, you need to take this punishment or we'll transfer or discharge you out of the military,' it's the right to defend yourself."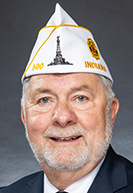 The Indiana American Legion is so bothered by the bills that it recently pulled out of the "Big Four," which consists of the American Legion, Veteran of Foreign Wars, Disabled American Veterans and National Guard Association of Indiana. The Big Four combined represented 135,000 Hoosier veterans, with about 65,000 of those coming from the American Legion.
Gullion explained that his organization had been thinking about leaving the Big Four for a while. But when a representative from the Big Four testified on SB 279 and said the American Legion supported it, the decision was made.
"We felt that it would be best for the service of our members to represent ourselves rather than having other people represent us," he said.
Both bills have passed their original chambers and have been sent to the opposite chamber. HB 1076 has been assigned to the Senate Committee on Veterans Affairs and the Military. SB 279 has not yet been assigned to a House committee.
"My job is to get the bill out of the Senate, and I've done that work," Freeman said. "I'm sure that whoever the committee chair is of the committee we go to I'm sure will give it due attention, and we will have a conversation over there just as we did in the Senate. I look forward to it ultimately passing the House and becoming law."
Jeter said he expects a decision on what happens next to come soon.
"One of them will have to pass both (chambers) so we can get it over to the governor's desk," he said.•
Please enable JavaScript to view this content.