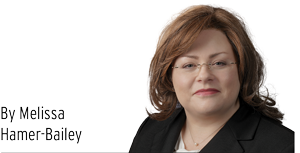 Over the last few years, one of the most talked about — and confounding — topics in environmental law has been the issue of PFAS contamination (of per- and polyfluoroalkyl substances). A pervasive part of our modern lives, from Teflon to Scotchgard to firefighting foam, PFAS compounds now seem to be both a blessing and a curse. Their very nature to be heat-resistant and extremely stable for a variety of commercial uses also makes them persistent in both the environment and our bodies. The evidence of PFAS toxicity and its wide-ranging negative health effects is mounting. This was even a topic of the 2019 movie "Dark Waters" starring Mark Ruffalo and Anne Hathaway, which was based on a book by fellow attorney Rob Bilott.
The reality is that almost every human on the planet has PFAS chemicals in their blood. Since 1999, our Centers for Disease Control and Prevention have found four PFAS compounds in nearly every human blood sample analyzed in the U.S.: PFOS, PFOA, PFHxS and PFN. And almost every piece of real estate in this country likely will have PFAS impacts. Every single environmental consultant I've spoken with who has sampled for PFAS has found it every time they've looked. I've been on the Midwestern States Environmental Consultants Association's PFAS Workgroup for two years, and that's been the case in every report.
For me, the debates over whether and how to regulate PFAS given the exposure of its dark side have really shined a spotlight on a big problem in environmental law and litigation: We really need to rethink the current "Phase I" Environmental Site Assessment, aka the ASTM E1527. Most practitioners in real estate and commercial transactions know now to do environmental due diligence before a commercial real estate purchase (and, hopefully, leases). But they mistakenly bet the farm on doing a good ol' ASTM E1527 Phase I and think that if followed to the letter, they're golden.
There are certainly plenty of environmental consultancies out there that will happily churn out Phase I's like cars off the assembly line at the old General Motors plants in Indiana. The crash of 2008-2009 put a dent in that market, yet it's still out there. But relying on those baseline, cookie-cutter reports can be highly problematic not only for prospective purchasers but their lenders, their insurers, etc.
To get on my soapbox, the ASTM E1527 standard is one way to show "all appropriate inquiries" (AAI) were undertaken to evaluate environmental conditions and potential liability, to obtain certain liability protections under Superfund (Comprehensive Environmental Response, Compensation, and Liability Act, Sections 101 and 107). But it is hardly the only one and is often insufficient. Anyone buying or leasing property (lessor or lessee) should perform robust environmental due diligence well-tailored to the specific property but also to the needs and goals of the user(s).
Yes, the U.S. Environmental Protection Agency generally adopts the ASTM E1527's for use in performing AAI, most recently on Dec. 30, 2013. As noted in the Federal Register then: "Today's action offers parties the option of using an additional ASTM International standard to conduct all appropriate inquiries. Parties purchasing potentially contaminated properties may use the ASTM E1527-13 standard practice when conducting all appropriate inquiries pursuant to CERCLA. However, today's rule does not require that any party use this standard. Any party who wants to conduct all appropriate inquiries under CERCLA may follow the All-Appropriate Inquiries Rule at 40 CFR Part 312 or use the new standard recognized in today's final rule, the ASTM E1527-13 standard." (Emphasis added).
Courts in various jurisdictions have recognized this issue, such as our Chief Judge Tanya Walton Pratt, in one of the latest iterations of the ongoing Moran Electric/Von Duprin/Major Tool dogfight in Indianapolis: "This Court is inclined to agree with Goodson that Congress did not intend to make a Phase I Environmental Site Assessment [ESA] the exclusive means by which a purchaser could satisfy the BFPP [bona fide prospective purchaser] defense's all appropriate inquiries standard." Von Duprin LLC v. Moran Elec. Serv., Inc., 2019 WL 535752, at *15 -16 (S.D. Ind. Feb. 11, 2019) (not reported, emphasis added). (Citing R.E. Goodson Const. Co., Inc. v. International Paper Co., No. 4:02-4184-RBH, 2006 WL 1677136, at *6 (D.S.C. June 14, 2006)).
As of the writing of this article, the older 2013 ASTM E1572 standard had sunset as of the end of 2021 (after eight years), but the U.S. EPA had not adopted the new standard. Thus, there finally is the ASTM E1527-21, but no adoption. This is rather unprecedented and largely due to the conundrum of PFAS regulation for such a ubiquitous and widespread contaminant.
Which leads me back to the "PFAS thing." The ASTM E1527-21 version barely begins to address potential concerns with the assessment of potential PFAS contamination at a property. Much of the hold up over the rewrite was over how to adequately address risks posed by this group of contaminants that we're just beginning to understand. We can likely assume the delays at the U.S. EPA on adopting the new version are a continuation of the same lack of understanding.
When it comes to looking at emerging contaminants like PFAS, the Phase I ESA has long been woefully inadequate by only addressing the small list of "hazardous substances" specifically defined under CERCLA in 42 USC § 9601(14). Even the definition of "Brownfield site" in the 2018 BUILD Act reflects a more modern reality, speaking to property that may be "complicated by the presence or potential presence of a hazardous substance, pollutant, or contaminant." 42 U.S.C § 9601.
And while the ASTM E1527 is typically adopted by the U.S. EPA, ASTM International and its standards are supposedly independent. Yes, part of the explicit purpose of the ASTM E1527 is to address contaminants under the scope of CERCLA and petroleum products, and to establish landowner liability protections. (ASTM E1527-21 § 1.1). Yet as an independent standard, the E1527 fails to reflect the real-world and business realities of most users. The goal is to establish a legal defense against later claims, regardless of the U.S. EPA's latest position or CERLCA definitions.
Free from outside control and with now-international governance, one of the ASTM International's strategic goals is to "[a]lways be relevant and continuously enhance the technical quality of standards … ." In Indiana, like many other states, there are multiple environmental statutes to bring private claims against landowners regardless of CERCLA, not to mention the tort claims that could be brought. A vigorous Phase I could provide a defense. But the ASTM E1527-21 still only considers emerging contaminants and other issues as "non-scope considerations" or "business environmental risks" — even when the potential contaminants are notorious, high risk and lurking around the corner like PFAS.
Yet PFAS is only directly addressed in section X6.10: Substances Not Defined as Hazardous Substances of the ASTM E1527-21: "[W]here a Phase I Environmental Site Assessment is performed to satisfy both federal and state requirements [where state requirements for PFAS exist], or as directed by the user of the report, it is permissible to include analysis and/or discussion of these substances in the same manner as any other Non-Scope Consideration."
The big issue during property transfers really isn't whether there may be potential sources on the transaction property that could be a liability for the purchaser, but more likely, what are the kinds of contaminants and how many sources are there? To ignore the reality of emerging contaminants in the ASTM E1527 standard is a real vulnerability in conducting defensible due diligence. And so, until the standard is adequately updated or the definition of "hazardous substances" is expanded, property owners, lessees, their lenders, their insurers and especially their environmental consultants should be conscientious about this in their due diligence activities.•
__________
Melissa A. Hamer-Bailey, CHMM, is an associate at Kroger Gardis & Regas and a member of the firm's Construction and Environmental Law practice groups. Opinions expressed are those of the author.
Please enable JavaScript to view this content.