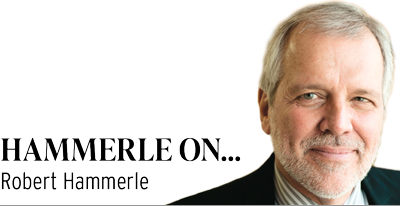 "Jojo Rabbit"
This is clearly the most innovative, magical film of 2019. From my standpoint, New Zealander Taika Waititi is the most creative director working today. Following up his sensational "What We Do in the Shadows" (2014), "Hunt for the Wilderpeople" (2016) and "Thor: Ragnarok" (2017), he now gives us a tear-jerking comedy about a 10-year-old German boy in 1943 who has an imaginary friend named Adolf Hitler. Quite frankly, it is impossible to describe the magnificent texture of this film, and I can only urge all of you to get quickly to the theater and see it.
Roman Griffin Davis plays Jojo, a kid with a single mother who was required to participate in the Nazi Youth Movement given his country's need for soldiers of any age. With the help of advice from Hitler, who could appear to him at any time, he enthusiastically embraces the Nazi party.
The problem arises when Jojo is urged to step forward at a camp meeting and demonstrate his dedication to gladly take the life of a German adversary by killing a rabbit that is handed to him. Finding it to be impossible, Jojo flees to the forest with derision raining down on him.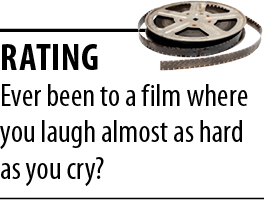 Trying to regain his standing with his comrades, Jojo grabs a grenade and hurls it forward, only to have it bounce off a tree and leave him limping and with facial scars. With even Hitler telling him that he looks like a scarred beast, Jojo seeks advice from the caustic, alcoholic Nazi Youth leader played in a highly amusing fashion by Sam Rockwell. Having suffered his own injury that forced him off of the front, Rockwell embraces his task of training young boys and girls as long as it doesn't interfere with downing a flask of whiskey.
But while Jojo's relationship with Hitler reaches a level that will leave you transfixed, his life dances on disaster when he discovers that his mother is hiding a 14-year-old Jewish girl in their attic. Scarlett Johansson gives a spectacular performance as Jojo's mother Rosie, a wine-drinking German woman trying to make sense out of a war that has left her husband away on what is alleged to be combat. Johansson is remarkable in every scene trying to help her son find some joy in the world, and there is a scene where the Nazis catch up to her that will leave you literally sobbing beyond description.
This film has many strengths from various talented actors, including Rebel Wilson as a Nazi assistant to Rockwell's Captain Klenzendorf. She is at her flamboyant best as a dimwitted Nazi supporter who considers the principal role of German women to find a way to quickly procreate.
And while Archie Yates gives an outstanding comic performance as Yorki, the 10-year-old pal of Jojo, it is Thomasin McKenzie who will capture your heart as Elsa, the young Jewish girl hiding in Jojo's home. Initially startled to discover her, wait until you see the interaction of these two young people as Jojo seeks information on why all Jews should not be exterminated. As their relationship grows, you find two kids finding meaning in life as they try to avoid being exposed to Nazi investigators while Allied bombers start to destroy their city.
This film also has a fabulous score that will leave you standing and tapping your foot during the closing credits. Waititi's film has to be in the running for numerous Oscar nominations, and I can safely say that it will challenge for Best Picture of 2019.
"Harriet"
To understand the effect of racism that still permeates our country, you have to focus on the simple fact that slavery existed in our country for centuries. Supported by the legal system, politicians and Christian ministers, African-Americans lived in bondage where family members were frequently sold to owners of other plantations. "Harriet" is a film about an inspirational woman who you can almost hear screaming from the grave, "Look at me! Don't forget me!"
Director Kasi Lemmons has given us a film that focuses on Cynthia Erivo's Oscar-worthy role as Harriet, known on her Maryland slave plantation as Minty. Erivo gives one of the most emotionally stirring performances you will see on film from the beginning, where she escapes alone on foot and travels 100 miles to safety in Philadelphia despite being pursued by dogs and the forces of her owner traveling on horseback. This occurred within 15 years of the start of the Civil War, and Minty takes her new name of Harriet Tubman under the guidance of William Still (Leslie Odom Jr.), an African-American dedicated to helping slaves reestablish themselves as free people.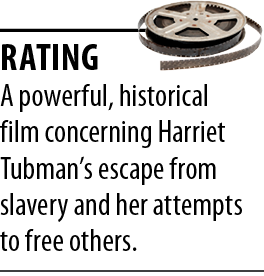 But it was Tubman's insistence on returning to Maryland alone to try to free her husband and family that raises her to the status of an American heroine. Tragically, though her husband has remarried under the impression that she had died trying to escape, Harriet was able to lead another group of slaves to what can only be described as the promised land. Repeatedly escaping death, she returned on her quest several times despite being urged not to risk her life.
Though the film is not able to spend a great deal of time focusing on the abusive nature of a slave's existence, Jennifer Nettles and Joe Alwyn provide hateful recreations of the mother and son slave owners who compare their human possessions to raising pigs. In particular, Alwyn is stunning playing a white southerner lacking any type of moral fiber. His only goal in life was to catch Harriet, now known in the South by the name of Moses, and slowly kill her in public.
One of the most fascinating traits defining Tubman was her dedication to faith and religion. Like many slaves, she could only find peace and hope in a Sunday church service, and she retained her dedication by closing her eyes and trusting in God's direction. You see her doing that frequently as she sought to help her comrades escape pursuers, and you leave the theater feeling that Harriet Tubman was living proof that there is a divine presence willing to lift a helping hand to the downtrodden.
I admired this moment even though I personally rejected church attendance years ago. Was Tubman able to see something that escapes me?
As referred to above, the importance of this film has meaning to this very day. Though slavery ended in 1865, it was followed by segregation, Jim Crow laws, the Ku Klux Klan and laws banning interracial marriage. Though freed slaves traveled in large groups to relocate to the North, the government basically told all of them to live on their own and do the best they could. Sadly, many African-American kids were raised in dysfunctional families, to this very day resulting in them dropping out of school and pursuing a life that for many leads to crime and imprisonment.
As a result, I have a small suggestion to make concerning our country finally making meaningful reparations to a large group of people whose ancestors were brought here in bondage. First of all, we should require all public schools in major metropolitan areas to be in session 12 full months of every year through the last year of high school. Let's feed and clothe these kids in a proper manner and help them find joy and meaning in life. Secondly, it's time that we replaced Andrew Jackson, the slave owner on the $20 bill, with Harriet Tubman.
A small step in the right direction, don't you think?•
__________
• Robert Hammerle practices criminal law in Indianapolis. When he is not in the courtroom or the office, Bob can likely be found at one of his favorite movie theaters preparing to review the latest films. To read more of his reviews, visit www.bigmouthbobs.com. Opinions expressed are those of the author.
Please enable JavaScript to view this content.