"1917"
Taking place in April 1917, director Sam Mendes' "1917" follows the journey of two English lance corporals as they try to save the lives of 1,600 comrades. The soldiers, played in low-key fashion by Dean-Charles Chapman and George MacKay, have 24 hours to cross enemy lines to deliver their message, exposing them to death at every turn.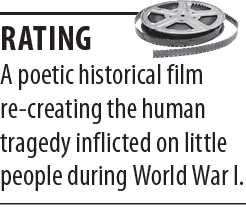 Some critics have ripped this movie for losing its momentum the longer it lasted. I profoundly disagree. What you see are two of the millions of young men who became human carnage as if they were cattle waiting to be butchered.
This film deserves the rewards it received at the Golden Globes, as well as its multiple Oscar nominations. Our two young Englishmen are decent, average guys who want to survive and return home to families and lovers. On top of that, the cinematography and musical score are compelling beyond description.
During the four years of this war, the Western world betrayed its alleged dedication to uplifting the lives of its citizens. To this day, multiple cemeteries cover parts of Europe filled with thousands of crosses simply reading "Unknown Soldier."
As I became emotionally attached to Mendes' story of guns and mustard gas devouring young men on both sides of this Satanic struggle, I was reminded of other great films covering this conflict. Start with "Testament of Youth" (2014), where you see Alicia Vikander and Taron Egerton begin their careers as young English citizens whose lives are destroyed when they follow their government's call to serve in a "short, glorious war."
And while no one should ever overlook "All Quiet on the Western Front" (1930) or Kirk Douglas in "Paths of Glory" (1957), the little gem "Joyeux Noel" (2005) will bring a tear to your eyes. Think of a Christmas truce between young German and Allied opponents who share laughter and booze before resuming their orders to kill each other.
As for "1917," it is helped by stirring cameo performances from Colin Firth, Mark Strong and Benedict Cumberbatch. All three play Allied officers who are forced to swallow their pride as they send young men to an early grave.
Though we are frequently told that mankind is the most evolved life form on Earth, this film and its predecessors flatly disprove that theory. Then again, most of us understood that long ago.
"A Hidden Life"
This is an intriguing film that unfortunately beats both the lead actor and audience to death. Saved with some stunning cinematography of various beautiful sections of the Austrian landscape, writer/director Terrence Malick tells the story of a happily married Austrian farmer with three small daughters who pays the ultimate price for refusing to declare loyalty to Adolf Hitler in 1942.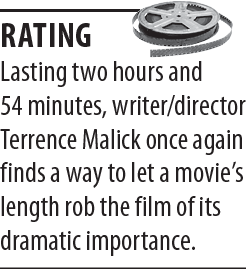 August Diehl plays Franz Jagerstatter, the Austrian farmer who will not violate his conscience. He lives a quiet little life with his wife, Franziska, as they plow, plant and harvest a field of hay along with tending their small herd of cows. Clearly in love, their hard work is always done with a smile as they take time to play with their three darling girls.
Playing Franziska, Valerie Pachner matches Diehl's performance, and she has to stand strong when her husband's opposition to Hitler results in harassment from neighbors after he is arrested and deported to a prison. While she wants her husband back in her arms, she recognizes he cannot sacrifice his honor in order to return to their home.
The weakness of this film is that it focuses far too long on our Austrian couple laboring in the fields, as well as his stay in prison. While the couple's relationship is extraordinarily warm, you reach the point where you wish that Malick had shortened the length of this film to no more than two hours.
That includes Franz's incarceration, where he is left in a cold cell for months while enduring agony both from beatings and being away from his family. In other words, you find yourself feeling that you were locked up with him.
But the movie had a hidden strength, namely, to force the viewer to wonder what he or she would do if put in the same position.•
• Robert Hammerle practices criminal law in Indianapolis. When he is not in the courtroom or the office, Bob can likely be found at one of his favorite movie theaters preparing to review the latest films. To read more of his reviews, visit www.bigmouthbobs.com. Opinions expressed are those of the author.
Please enable JavaScript to view this content.