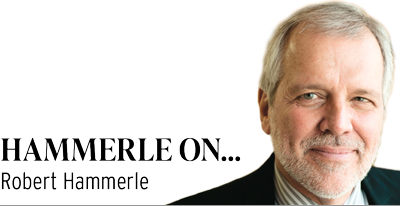 "Parasite"
As I begin my review of director Bong Joon-ho's remarkable film "Parasite," let me offer some apologies concerning my review of "Joker" that many found unfair. Though I stand by my opinion that it remains the most disturbing film I have ever seen, I feel I missed the importance of the movie.
"Joker" focused on our society's inability to help the mentally ill and emotionally disturbed. Joker was one of them. Equally important, the scenes I found so disturbing were, in hindsight, largely a product of Joker's hallucinations that he could not control.
With "Parasite," Bong follows the theme lying at the center of his memorable 2013 film "Snowpiercer." The failure to address climate change has left the world reduced to a frigid temperature, and a train carries some of the last human survivors as they blast through ice and snow. The wealthy on the train live in luxury as the poor endure the miserable conditions in the caboose. The film focuses on the latter's attempt to gain control of their lives.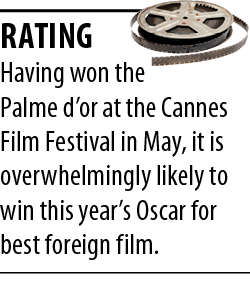 "Parasite" covers the same concept. Taking place in South Korea, you watch a poor family living in an underground alley apartment find a convincing way to become employed by a rich household that allows them to greatly benefit. While their small apartment has but one window, the wealthy family that becomes their prey live in a castle-like setting.
The wealthy family is known as the Parks, and access to their home is achieved when they first hire Kim Ki-woo (Woo-sik Choi), who is posing as an English tutor for their daughter. Given that Mrs. Park only hires through recommendations, Ki-woo was able to get his sister Ki-jung (So-dam Park) hired as an art tutor, his mother Chung-sook (Hye-jin Jang) as a maid and his father Ki-taek (Kang-ho Song) as a driver.
The rest of the film deals with the poor family's deception as the Park family becomes dependent on their services. This involves everything from sexual attraction to the discovery of a man hidden in an unknown basement who had been helped by the Parks' prior maid who had been fired under false pretenses.
The rich and the poor are bound to clash under these circumstances, and things come to a head when the Parks return quickly from a vacation while Ki-taek and his family stay in the home and make a mess of things as they party and drink to excess.
Given that I begin this review by revisiting my opinion on "Joker," I've got to admit this film has many of the latter's disturbing shortcomings. Enormously well-done from an artistic and cinematic perspective, it is not an easy film to watch.
Then again, given our daily dose of our lamentable president on TV, what is?
"Midway"
As a history lover, I learned long ago that the Battle of Midway, which took place in June 1942, helped the United States regain its pride lost in the Pearl Harbor disaster. However, if you want to see the film that captures the drama and intensity of this three-day battle, go see either "The Battle of Midway," a documentary released by John Ford in 1942, or the original 1976 film.
Ford was actually on Midway Island when the battle began. As he filmed the Japanese fighters bombing the island, you hear explosions throughout the poignant documentary.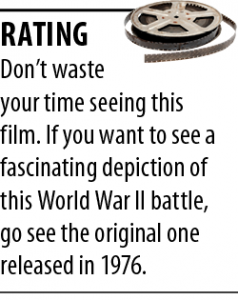 On top of that, Ford was actually injured, though he recovered.
The 1976 film puts the present release to shame. Unfortunately, nearly all of the characters in director Roland Emmerich's movie are sadly one-dimensional, and I found it profoundly annoying that many of the male actors are seen with protruding lower lips for unknown reasons.
On top of that, most of the women in this film appear with dark hair, red lips and wearing the same red, flowing gowns at home as they meet their husbands. All of this left me shaking my head as I wanted to yell out, "Cut the crap and get on with the battle!"
Though the battle scenes were the high point of this film, it still doesn't compare to the drama and sophistication of the 1976 film directed by Jack Smight. Wouldn't you rather see a film starting Charlton Heston, Henry Fonda, James Coburn, Glen Ford, Robert Mitchum and Hal Holbrook rather than one starting Luke Evans, Patrick Wilson and Dennis Quaid?
While the talented Woody Harrelson plays Adm. Chester W. Nimtz in the most recent release, even he pales in comparison to Henry Fonda's performance as that legendary Navy hero. Regardless, the 1976 film has far more sophistication and depth, so leave the recent addition to die slowly on the big screen and hunt down my recommendation at home.
"Terminator: Dark Fate"
Quite frankly, I fear director Tim Miller's "Terminator: Dark Fate" is being ignored at the box office because it is a girl-powered film. On top of that, this is the film that rejects elements seen in "Hustlers" and the upcoming reboot of "Charlie's Angels." While Linda Hamilton recreates her role as Sarah Connor that she brought to the big screen 30 years ago, she is 63 and has the audacity to look like she is 63. Though she is still very attractive, she has the courage to accept her age while silently expressing no desire to look like she is 30 again.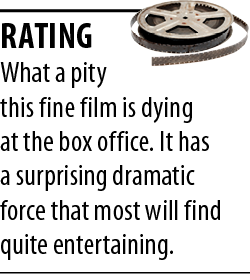 Forced again to try to save the human race when a new Terminator is sent from the future to kill a young woman (Natalia Reyes) who represents the possibility of human survival, Connor is joined by an enhanced human from the future played magnificently by Mackenzie Davis. The two of them form one of cinema's great duos as Davis' multiple skills are matched by Connor's foul mouth and powerful handguns.
Despite their skills and dedication, our women dance on the edge of destruction as they are pursued by a Terminator seemingly impossible to eliminate. Played in memorable fashion by Gabriel Luna, this is a monster who has put mankind on the eve of destruction.
However, it is here that Connor is forced to reunite with her old antagonist, T-800. Again played in convincing fashion by Arnold Schwarzenegger, this old Terminator is facing his ending years taking care of a mother and child in a remote rural area. While the girls run the show, Connor has to swallow her pride and seek the help of a Terminator who long ago killed her son.
Though I have noted Hamilton's age, this film finds its magic by deploying Schwarzenegger in a fashion that recognizes that he is 72. Though it should be noted that the film has some great special effects, Hamilton is only able to get off the ground slowly, while Schwarzenegger's statement to his human family, "I won't be back," has meaning you can't ignore.•
__________
• Robert Hammerle practices criminal law in Indianapolis. When he is not in the courtroom or the office, Bob can likely be found at one of his favorite movie theaters preparing to review the latest films. To read more of his reviews, visit www.bigmouthbobs.com. Opinions expressed are those of the author.
Please enable JavaScript to view this content.