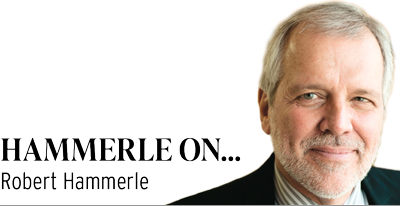 "Birds of Prey"
Filled with dazzling special effects and a pounding soundtrack, the entertaining "Birds of Prey" focuses on four women who join together to fight injustice. However, we have to start with Margot Robbie's magnificent performance as the eccentric Harley Quinn, whose role as The Joker's girlfriend saved "Suicide Squad" (2016) from dissolving.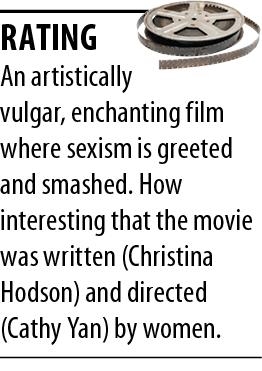 Having now been dumped by her demented boyfriend, who mercifully doesn't appear on screen, Harley is hunted by a collection of police and thugs. A sexy creation out of the mind of a modern-day Michelangelo, her skintight attire, outrageous boots, pigtails and red lips should challenge for Best Costume and Makeup Oscars next year.
Kicking ass and taking no names, she is pursued by two sinister Gotham characters played with devilish charm by Ewan McGregor and Chris Messina. McGregor, known as the Black Mask, and Messina, his top aid Victor, torture and kill with the glee felt by an 8-year-old on a first trip to Disney World.
As Harley dances on the edge of destruction, she is saved by three women who join as a team for different reasons. Mary Elizabeth Winstead and Jurnee Smollett-Bell match Robbie's performance as The Huntress and Black Canary, two women who seek vengeance and justice with a crossbow and an electrifying singing voice. Rosie Perez plays a police detective who finds it impossible to tolerate the sexism that dominates her profession, which drowns her grace and charm.
I also need to mention the important role played by Ella Jay Basco. Thirteen years of age, she embraces the role of Cassandra Cain, a streetwise pickpocket who joins with Harley after picking the wrong pocket.
While this is a film that will likely appeal first and foremost to a female audience, I saw it with four male friends. Though I sensed they joined me a bit reluctantly, we all were laughing and praising the film as it ended. One of them, a cryptic surgeon, said it was the best film I ever took him to see over many years.
Curious?
"Just Mercy"
With "Just Mercy," director Destin Daniel Cretton brings us the story of the early career of renowned death penalty attorney Bryan Stevenson. A Harvard graduate, Stevenson traveled to Alabama, where he opened a small law firm so he could try to help those awaiting execution on death row.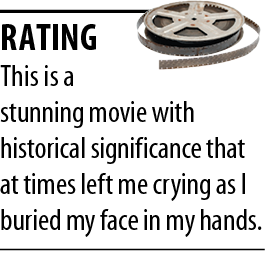 An extraordinarily decent man with no interest in making money in the legal system, Stevenson simply sought to save human beings who were wrongly convicted. As the title of the film suggests, he thought fairness and mercy had to play a role in our criminal justice system.
Coming off his incredible performances in "Fruitvale Station" (2013), the "Creed" films (2015 and 2018) and "Black Panther" (2018), Michael B. Jordan gives a quietly powerful performance as Stevenson. As he explores every document in a death penalty case, he is not intimidated by judges or prosecutors as he confronts them to acknowledge critical mistakes in a case they handled.
In addition, Brie Larson is again superb in her role as Stevenson's associate Eva Ansley. A dedicated, foul-mouthed young woman, you should never forget Larson's lovely performance as the kidnapped mother in "Room" (2015).
Jamie Foxx gives his best performance since "Ray" (2004) and "Django Unchained" (2012), here playing Walter McMillian, the death row inmate who was convicted on perjured testimony. As you watch Foxx's character interact with other death row inmates, you find yourself emotionally rooting for him as Stevenson gradually provides him a reason to care.
Though Tim Blake Nelson gives a compelling performance as a prison inmate who was compelled to give false testimony as the alleged sole eyewitness at McMillian's trial, I was overwhelmed by the performance of Rob Morgan as the death row inmate Herbert Richardson.
Wiping tears away to avoid irritating other moviegoers, Richardson's case took me back to my client Gregory Resnover becoming the last Hoosier to die in the electric chair in 1994. Though I and my co-counsel, Monica Foster, Rhonda Long-Sharp and Joe Cleary, only got involved in Resnover's case after his appeals were exhausted, we discovered critical errors that even convinced the two lawyers who prosecuted him at trial, Greg Garrison and David Cook, to join us in asking that his death sentence be set aside.
We visited Resnover frequently on death row in Michigan City, and we did so on the day he was executed. To add to the horror, we were forced to stand behind a line and talk to him where we couldn't even embrace him at our last meeting.
I was the one lawyer who sat in chairs as we watched our client die. The electric chair was so faulty that they had to twice apply electricity, which resulted in a small flame arising from his hooded body as noxious smoke filled the room.
Though we couldn't save the life of an innocent man wrongly executed, the entire ordeal persuaded the Indiana Legislature to subsequently eliminate the electric chair as a form of capital punishment in Indiana. I am at least comforted that Resnover's death resulted in his contribution to ending such suffering for any other Hoosier citizens.
Let me close with reference to a card I received from Resnover two months before his death. On the front of it is a picture of him standing with his family in prison, and the following is what he wrote to me on the flip side of the card, signed with the name he took after converting to Islam: "Words can not begin to describe what the years of knowing you have meant to me. So I won't try. Let me simply say that I am grateful to the Almightly Creator for permitting our paths to cross. With Love, your friend, Ajamu."•
• Robert Hammerle practices criminal law in Indianapolis. When he is not in the courtroom or the office, Bob can likely be found at one of his favorite movie theaters preparing to review the latest films. To read more of his reviews, visit www.bigmouthbobs.com. Opinions expressed are those of the author.
Please enable JavaScript to view this content.