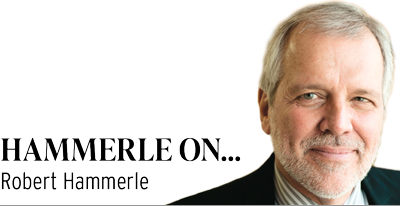 "Dune"
Though it is not my favorite film of 2021, it is a must-see movie. And let me encourage you to see it at an IMAX theater and not at home. The special effects credited to Marc Bitz and his crew are mesmerizingly captivating.
Directed by Denis Villeneuve and based on the book by Frank Herbert published in 1965, the story takes place thousands of years in the future. It tells the story of two competing warrior-kings who are trying to control the planet known as Dune to reap the financial rewards flowing from the ability to grow valuable spice.
The planet is dominated by a landscape of drifting sands occupied by large, underground worms. Indigenous people known as the Fremen occupy the planet, and their fate in this battle reminded me of Native Americans' struggle to survive in North America as Europeans sought to occupy the continent.
The film has a powerful cast that holds its slow moments together. Oscar Isaac and Rebecca Ferguson play Duke Leto and Lady Jessica Atreides. With their son Paul (Timothée Chalamet), they move to the planet Arrakis/Dune to control the mining operation. But a battle quickly ensues as the evil Baron (Stellan Skarsgard) seeks to eliminate them and capture its wealth.
While Isaac gives a moving performance as expected, Ferguson and Chalamet control most of the movie. Chalamet has constant dreams of joining the Fremen and linking up in some fashion with a mysterious young woman played by Zendaya. In many ways he reminds me of a young James Dean. The film's ending makes it all but certain that a sequel involving these two would-be lovers waits in the cinematic weeds.
Ferguson gives a dynamic performance as a mother who can both console and kick ass. All of you should hunt her down in both "Mission Impossible-Rogue Nation" (2015) and "The Greatest Showman" (2017).
Let me also recognize some special performances by well-known actors in supporting roles. Jason Momoa, Josh Brolin, Javier Bardem and Stephen McKinley Henderson risk their lives to help Paul and his father succeed. In addition, Charlotte Rampling, Chang Chen and Sharon Duncan-Brewster play small but significant roles that allow Paul to survive.
Finally, look for Hans Zimmer to be remembered at Oscar time for a musical score that adds a roar to the film's many battle scenes. I suspect most of you will have a good time rooting for a futuristic version of American Indians fighting to survive defeat and subjugation.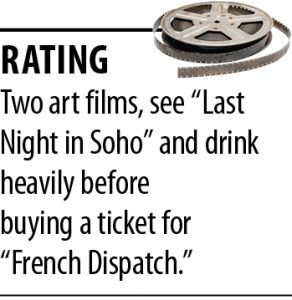 "Last Night in Soho"
As noted, the movie industry has sent us two art films to distract us from traditional Halloween films. Let's start with the best one, "Last Night in Soho."
I was challenged by the simple fact that director Edgar Wright previously brought us the engaging "Shaun of the Dead" (2004), "Hot Fuzz" (2007) and "Baby Driver" (2017). As it turned out, I was not disappointed.
In summary fashion, Eloise, played by the dynamic Thomasin McKenzie, is a fashion student who has moved to London. She quickly has surreal nighttime adventures when she sees "Thunderball" with Seal Connery on a blazing marquee and realizes that she is back in 1960s London.
But things get worse when she is transformed into Sandie (Anya Taylor-Joy), a blond lounge singer. They become mirror images of each other as Sandie descends into a sexual hell, becoming a victim of men in the audience under the guidance of asinister nightclub charmer played by Matt Smith.
What ensues is a horror story where both Eloise and Sandie try to survive. At times they can't tell fact from fiction, and neither can you.
But the film has some powerful performances, beginning with McKenzie and Taylor-Joy. Both have emerged as special actresses, as seen by the former in "Leave No Trace" (2018) and "Jojo Rabbit" (2019), and the latter in "The Queen's Gambit" (2020).
In addition, watch for the legendary Diana Rigg in her final performance as she plays Eloise's landlady with a hidden past. Also, the memorable Terence Stamp plays a menacing street nuisance who haunts Eloise to perfection.
Finally, what escalates this dark film to a special level is its soundtrack. Songs range from "A World Without Love" (Peter and Gordon) and "Wishin' and Hopin'" (Dusty Springfield) to "(Love is Like A) Heat Wave" (Martha and the Vandellas), to name a few.
This film will not disappoint you movie fans.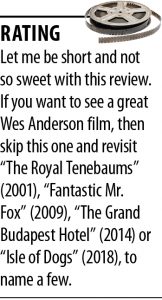 "The French Dispatch"
Filled with a great cast ranging from Benicio Del Toro, Tilda Swinton, Frances McDormand, Timothée Chalamet, Owen Wilson and Bill Murray, this film fails to capture their great talent. It tells the story of a suspended newspaper, The French Dispatch, trying to republish three articles after the editor (Murray) dies. The movie becomes completely disconnected as it attempts to recreate these articles in a cinematic form.
While there are some inventive Wes Anderson moments, the film slowly sinks under its own rather dull weight.
You are warned.•
• Robert Hammerle practices criminal law in Indianapolis. When is not in the courtroom or the office, Bob can likely be found at one of his favorite movie theaters preparing to review the latest films. To read more of his reviews, visit www.bigmouthbobs.com. Opinions expressed are those of the author.
Please enable JavaScript to view this content.