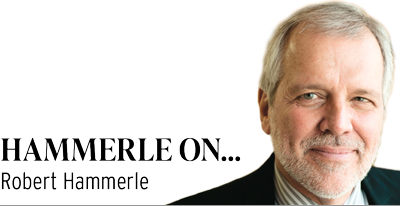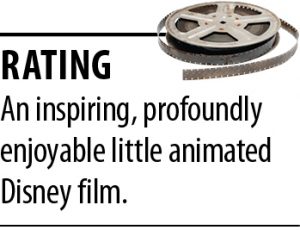 "Encanto"
First of all, the film is loaded with great music. The original songs are written by Lin-Manuel Miranda. You want to dance in the aisle during the closing credits. Isn't it time he receives Oscar consideration?
Though the story takes place in Colombia, it really serves as a metaphor about the lives of immigrants in our country. You watch Alma Madrigal flee with her husband, three infant children and others from armed pursuers.
Though her husband is killed saving them, Alma has a magic candle that allows them to create a beautiful village. All her children and grandchildren develop magical powers, with the exception of Mirabel. The movie unfolds as Maribel seeks a path to save the village as the magic disappears and everything begins to decay.
The film tells a beautiful story that will leave many of you wiping away tears by its ending. (By now most of you know I cry easily!) I kept thinking of immigrants trying to create a new world where they hold their families together.
"Encanto" involves adventures, marvelous special effects and songs that add meaning to the plot. This is a multidimensional film that will cause you to wish to visit Walt Disney's grave and say, "Thank you."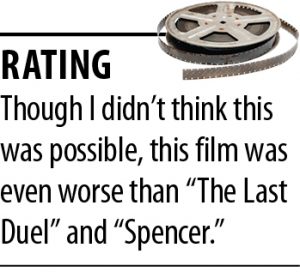 "The Power of the Dog"
While I hate to admit this, I walked out of this film. It was a DOG — no pun intended.
Though I have only walked out of a movie twice in my life, this film left me so profoundly disgusted that I had no choice. It made no difference that it has a legendary director, Jane Campion, and great actors, Benedict Cumberbatch and Kirsten Dunst, among others.
The bottom line is that it is a profoundly boring film. It is tedious beyond words and goes nowhere from beginning to end — not that I saw the conclusion! It takes place in Montana in 1925, and it made me question my love of Westerns.
It is ironic that it is praised by critics across the country. A.O. Scott and Manohla Dargis of The New York Times pick it as one of the Best Movies of 2021. They left out both "Coda" and "Belfast," so need I say more?
And what is more troubling about both Scott and Dargis is that they included the awful "Spencer" and "The Card Counter" in their list of top films. They even added the lackluster "Summer of Soul." What on earth has happened to our talented reviewers?
Put another way, if these are really the best films of this year, then it is no wonder that the theaters are all but empty. So unless you want to be taken to the edge of cinematic mental torment, leave the "Dog" film to quickly fade away.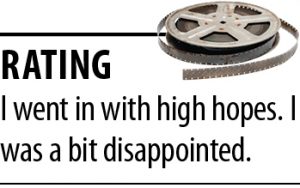 "Being the Ricardos"
As a grade school kid in the 1950s, I became hooked on TV like most Americans of all ages. While there were great weekly shows like Jackie Gleason's "The Honeymooners" (1955-56), none was better than "I Love Lucy." It ran from 1951-57 and close to 60 million Americans watched it at home each week.
Lucille Ball, Desi Arnaz, Vivian Vance and William Frawley formed a great comedy team. Unfortunately, director Aaron Sorkin failed to capture that magic. On top of that, it didn't make sense that Sorkin turned the film into a mini-documentary where several surviving members of the show's production were called upon for commentary.
The film takes place over one week as the characters prepared with screenwriters for the next weekly show. None of the actors had a great deal of affection for their co-stars, and Sorkin chose to concentrate on this subject.
Ball and her husband Desi were in a troubled marriage. Played by Nicole Kidman and Javier Bardem, Lucy suspected him of having affairs because he frequently did not return home in the evening. She hated the line Ricky used in their TV script, "Honey, I'm home!"
On top of that, Lucy was pregnant and the show's director and sponsor, Phillip Morris, did not want that shown or referred to in the scripts. Lucy prevailed though everyone, and I mean everyone, smoked constantly. It was no wonder that Arnaz died of lung cancer in 1986.
But another problem for Lucy was the public revelation that she had registered as a communist as a young girl. Rep. McCarthy was attacking Hollywood on this subject in the 1950s, and Lucy and Desi had to join together to fish her out of this nasty pond.
What saved this film were the performances of J. K. Simmons as William Frawley, Nina Arianda as Vivian Vance and Alia Shawkat as the scriptwriter Madelyn Pugh. They held your attention in every scene and added some needed zing to the film.•
• Robert Hammerle practices criminal law in Indianapolis. When is not in the courtroom or the office, Bob can likely be found at one of his favorite movie theaters preparing to review the latest films. To read more of his reviews, visit www.bigmouthbobs.com. Opinions expressed are those of the author.
Please enable JavaScript to view this content.