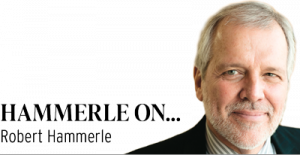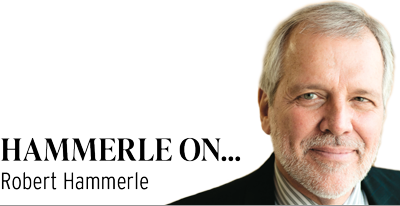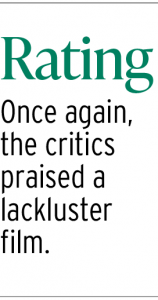 "Glass Oinion: A Knives Out Mystery"
I find it fascinating that critics are stumbling over themselves as they give great reviews to films that lack emotional pleasure. While they unite to see films like "Tar," "The Fabelmans" and "The Banshees of Inisherin" garner major award nominations, all of them have multiple dull moments that leave you thinking you are watching another forgettable film.
"Glass Onion" falls in this category. It goes on and on for two hours and 19 minutes as you watch a group of great actors get together on a Greek island. When one turns up dead, Detective Benoit Blanc (Daniel Craig) is brought along to solve the mystery.
Edward Norton plays Miles Bron, a billionaire who owns the island. He has secrets involving his co-founder, played by Janelle Monáe. The rest of the gang (Kate Hudson, Kathryn Hahn, Dave Bautista and Leslie Odom Jr.) are involved, and the entire movie involves multiple throwbacks that destroy the plot.
Craig repeats his creative role in "Knives Out" (2019), and his acting skill keeps the film from descending into cinematic boredom. It died quickly in the theater, though many have been attracted to it on Netflix.
I watched it over a three-day period, and it made it easier to temporarily shut it down when boredom became too irritating to handle.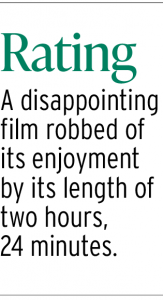 "Whitney Houston: I Wanna Dance with Somebody"
This will be a short review given the boring nature of the entire film. Following Whitney Houston's life from her discovery in 1983 to her death in 2012, the movie amounts to little more than following her destruction from drug abuse.
Naomi Ackie gives a credible performance as Whitney. The highlights showed her singing the National Anthem at the 1991 Super Bowl and her concert performance for Nelson Mandela in 1994 following his release from prison.
Sadly, this lengthy movie largely centers on her relationship with her caring mother Cissy (Tamara Tunie) and demanding father John (Clarke Peters), who controls her schedule and finances. Quite frankly, the only memorable performances are from Nafessa Williams as Robyn, her assistant and lover, and Stanley Tucci as Clive Davis, the record producer who discovered her and helped her select songs.
Whitney died after losing control of her life with husband Bobby Brown (Ashton Sanders). She gradually became lost to the music world despite her dynamic songs in the 1990s and her several movie roles.
Go see her star with Kevin Costner in "The Bodyguard" (1992) and skip this movie.

"See How They Run"
This film will not appeal to everyone, but it had me laughing from beginning to end. Saoirse Ronan has already demonstrated her great talents in "Lady Bird" (2017), "Brooklyn" (2015) and "Hanna" (2011). Sam Rockwell won a best supporting actor Oscar for "Three Billboards Outside Ebbing, Missouri" (2017) and was a standout in one of my favorite films, "Jojo Rabbit" (2019).
Here, Rockwell plays Inspector Stoppard, a London detective investigating a murder in 1953. It took place offstage of Agatha Christie's "The Mousetrap," the longest-running play in history. A loathsome American movie director, Leo Kopernick (played by Adrien Brody), is killed when he arrogantly wants the film rights to a play he has never seen.
Inspector Stoppard's efforts suffer two challenges. The first is a drinking problem, where he fakes dental appointments to get loaded. The second is being assigned Constable Stalker (Ronan), an eager rookie who takes notes of everything she sees and hears.
Their interaction is the highlight of the movie. That includes interviews with cast members and police superiors.
Watch for a great ending where invitations from the killer attracts the entire cast to Christie's home. An encounter occurs that is saved by the arrival of our struggling heroes.
Hunt this quaint film down and let me know what you think. Like it or not, it is not a waste of time.•
__________
Robert Hammerle practices criminal law in Indianapolis. When he is not in the courtroom or the office, Bob can likely be found at one of his favorite movie theaters preparing to review the latest films. To read more of his reviews, visit www.bigmouthbobs.com. Opinions expressed are those of the author.
Please enable JavaScript to view this content.