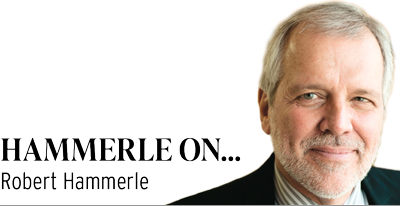 "If Anything Happens I Love You"
This review is an update to the review posted April 28 on theindianalawyer.com.
To begin with, the film was a deserving winner of this year's Oscar for best animated short film. It tells a story involving a family's loss that will leave you transfixed. You will cry without any embarrassment.
To give you an outline of what you are in for, you see an obviously depressed husband and wife eating on opposite ends of a dinner table. Their shadows hang over them. They say nothing. He ends up watching TV while drinking and she forces herself to do the laundry.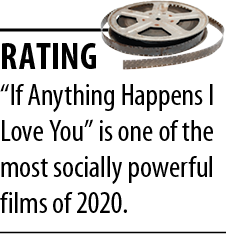 While removing clothes from the dryer, she finds a child's shirt. Wrapping it around her face, she cries uncontrollably. You then learn their daughter has died.
After their cat opens their child's bedroom door, the couple sits on her bed and recreates memorable moments of her life. That leads them to the day they dropped her off at school, where her life ended.
You see an empty school hallway that is followed by screams and gunshots. You then see the child's cellphone on a classroom floor with a text to her parents: "If anything happens I love you." You will never experience such agony in any film.
As I left the theater, I was reminded of one important thing. The sad fact is that we do nothing to address gun violence in this country. Children are shot and killed in school, shoppers are gunned down in Colorado, a doctor, his wife and grandchildren are killed in their South Carolina home, and eight FedEx Ground employees die tragically here in Indianapolis. Our political response? "I'll pray for them."
That is shocking nonsense, and we know it. The death of children and relatives devastates families. We need to do something more than pray. We cannot just turn our backs on these emotionally battered Americans while our political leaders refuse to support background checks for anyone purchasing a weapon.
Let me close with a poignant letter written by a parent of a first-grade child who, along with 19 other students, died at Sandy Hook in 2012. It appeared in The New York Times on Sunday, May 2, 2021: "Everybody talks about how we're this 'strong' and that 'strong' and, 'We will get past this,' and, 'This isn't who we are.' Maybe it's time for us to look at ourselves and say, 'This is who we are. This is what happens to us in this country. This happens. And maybe we're not strong, and maybe this town will be defined by this forever and ever and ever.'"
Let's act in the name of these suffering Americans and stop sticking our heads in the sand, shall we?
"The Truffle Hunters"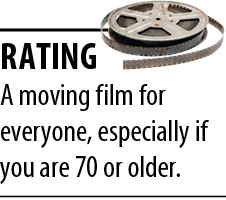 Taking place in the woods surrounding Piedmont, Italy, this documentary follows the lives of 70- and 80-year-old men who hunt for the rare white Alba truffle with their loyal dogs. Most live alone as they interact with the public only when necessary.
These hunters are a vanishing human breed. Given that Alba truffles are wildly expensive and defy cultivation, wealthy competitors make their lives increasingly difficult through deforestation and planting poisonous food to kill their dogs. And few young people find joy in following in their footsteps.
Yet you aging movie fans will find pleasure in their simplistic existence. I saw this tiny film with my friend Belle Choate. We both laughed as we watched an 85-year-old hunter contemplate life after death as he talked to a priest. As he asked the priest if he thought God would let him again hunt truffles with his beloved dog, Belle and I thought that few lawyers would make a similar request!
Though this film has great cinematography and a memorable musical score, I admit that it won't be for everyone. Nonetheless, as one critic noted, these old hunters found a secret to a rich and meaningful life.
"Nobody"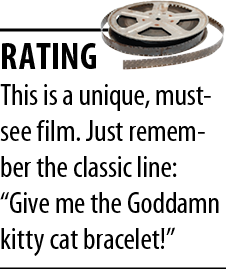 Why should anyone be surprised by a film directed by Ilya Naishuller? After all, his first film was "Biting Elbows: Bad M—–f—–" (2013)! In addition, the movie is produced by David Leitch, who previously demonstrated his nasty talent by directing "John Wick" (2014), "Atomic Blonde" (2017) and "Deadpool 2" (2018).
With "Nobody," Bob Odenkirk gives a devasting performance as Hutch Mansell, a suburban family man with a hidden past. Despite a loving wife (Connie Nielsen), he detests his boring existence. He can't even take out his trash in a timely manner.
But all hell breaks loose when his home is robbed by two masked thugs. In the process he stands silently by, earning the disgust of his teenage son.
Yet everything changes when Hutch rediscovers his violent past while riding a bus. As five young hooligans terrorize a young female passenger, he decides to kick some ass while taking no names.
He should have, as one of the mortally injured thug's fathers is a Russian mob leader played with an acerbic comic flair by Aleksey Serebryakov. This defines the balance of the film as we wait to see who kills or is killed.
Hutch repeatedly gets the crap kicked out of him to his own apparent delight. In the process, he teams up with his aging father, David, in some humorous moments that have seldom been equaled on the big screen. That is especially true given that the father is played by the legendary Christopher Lloyd.
This film has some great special effects involving car crashes and gunfire. It also has a fabulous musical score that includes "Don't Let Me Be Misunderstood" (Nina Simone), "Heartbreaker" (Pat Benatar), "I've Gotta Be Me" (Steve Lawrence) and "You'll Never Walk Alone" (Gerry & The Pacemakers), among others.
Intrigued, aren't you?•
• Robert Hammerle practices criminal law in Indianapolis. When he is not in the courtroom or the office, Bob can likely be found at one of his favorite movie theaters preparing to review the latest films. To read more of his reviews, visit www.bigmouthbobs.com. Opinions expressed are those of the author.
Please enable JavaScript to view this content.