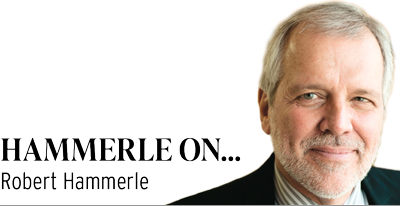 "Judas and the Black Messiah"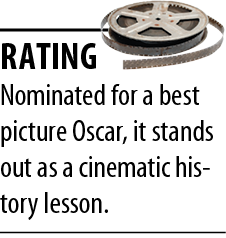 As demonstrated with the police killing of George Floyd, racism is alive and well in our country. With "Judas and the Black Messiah," director Shaka King brings to the big screen the turbulent 1960s in Chicago after the death of Dr. Martin Luther King Jr.
In summary fashion, the film tells the story of William O'Neal (LaKeith Stanfield) who, after a plea deal, infiltrates the Chicago Black Panther Party. The purpose was to gain access to party chairman Fred Hampton (Daniel Kaluuya). Both received Oscar nominations in the supporting actor category but deserved leading role recognition.
As the conflicted O'Neal, Stanfield embraces his brilliant performances in "Knives Out" (2019), "Sorry to Bother You" (2018) and "Get Out" (2017). Here, he is an intelligent thief caught by the FBI and forced to cooperate to avoid prison. Watch his agony as he is forced to put on the FBI's chopping block the head of a man he has come to admire.
Jesse Plemons is compelling in his role as FBI agent Roy Mitchell and Martin Sheen as J. Edgar Hoover. You quickly learn all you need to know about Mitchell when he compares the Black Panthers to the Ku Klux Klan. And Hoover's racism surfaces when he demands to know what Mitchell would say to his 8-month-old daughter if she came home with a black date.
But Kaluuya's role as Hampton defines the film. Just as he demonstrated in a series of great films like "Get Out," "Black Panther" (2018), "Widows" (2018) and "Queen & Slim" (2019), his emotional range rivals any actor working today.
Here, he embraces the dual role of leading a revolutionary organization that armed all of his followers while simultaneously fighting to feed the poor. Though he loved his caring, pregnant girlfriend Deborah (Dominque Fishback — and she was memorable), he knew that death waited around every corner.
It is no secret that the Chicago Police Department was a violent racist organization at that time, as set out in this film. You expected their motto to be, "The only good Black Panther is a dead Black Panther."
This is a brilliant film filled with sorrow. Though it is a long shot in the best picture category, I am thankful that after receiving my second vaccine shot I was able to get back into the theater and experience a movie of this magnitude.
I embrace the opportunity to sit in a dark theater with strangers to watch an intriguing film. The old "normal" is slowly returning to our country.
"Crip Camp"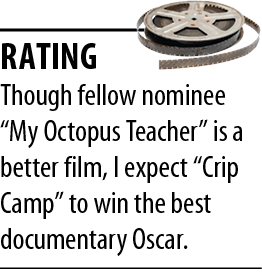 A documentary that won the Audience Award at the Sundance Film Festival, "Crip Camp" serves to remind all of us of how disability discrimination in the U.S. was ended in the latter half of the 20th century. Directed by Nicole Newnham and James Lebrecht, one of the lead characters, Barack and Michelle Obama were two of the executive producers. I sense an Oscar coming.
The film's magic is found with its beginning at Camp Jened in the Catskills in 1971. It was a summer camp for disabled young people that reflected the "Make Love, Not War" movement of that period.
Using footage from that time, you watch with tears in your eyes as handicapped kids live for the first time in a free atmosphere. Their interactions at meals and playing sports boosted their confidence and left most of them laughing.
Though the film loses a bit of its emotional charm when the camp closed in 1977, it was transformed into a valuable educational seminar. The camp inspired several participants to move to California and participate in a 25-day sit-in in San Francisco, where they demanded federal regulations to acknowledge civil rights for the disabled. You are reminded how these Americans were denied access to buildings, vehicles and entertainment venues because of their physical impairments. Lacking the ability to walk, wait until you see them protest by climbing steps of a government building backward!
Judith Heumann emerges as the leader of the movement, becoming a civil rights icon. HolLynn D'Lil, a journalist who became a paraplegic after a road collision, preaches the motto that disabled rights are rights for everyone.
Presidents from Richard Nixon to Jimmy Carter turned a deaf ear to their pleas, and it took George H.W. Bush to sign enforceable legislation. Though the film's message suffers a bit from its unnecessary length, it serves to remind all of us that discrimination comes in many colors.
"Sound of Metal"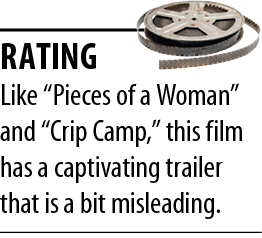 If beauty is in the eye of the beholder, I don't understand how this film garnered six Oscar nominations. Though it has the courage to focus on a powerful theme while being filled with great acting, its unfortunate length of 2 hours, 10 minutes produced repetitive scenes and a lackluster ending that sucked the emotion out of the film.
However, the performances alone require you film fans to hunt it down. Riz Ahmed's best actor Oscar nomination speaks for itself. He is captivating as Ruben, a heavy metal drummer left in agony after suddenly losing his hearing.
Though not nominated, Olivia Cooke matches Ruben's emotional trip into hell as his bandmate and girlfriend, Lou. Traveling together in a large RV, Ruben is forced to seek help at a small deaf country commune where he has to say goodbye to Lou. Keep a Kleenex in your pocket.
Nominated for a best supporting actor Oscar, Paul Raci is wonderful playing Joe, a Vietnam veteran who lost his hearing in the war and who runs the commune. Filled with deaf adults and young people, he teaches them to find strength in sign language and fight the intolerance directed at the deaf.
But Ruben bridles at his affliction and has no desire to embrace stillness. Joe forces him to leave the commune and his deaf friends as he seeks to get cochlear implants to recover his hearing.
It was here that the film began to lose its strength. Nonetheless, as I watched Ruben wrestle with his hearing loss, I was reminded of the sad fact that I have to wear hearing aids after an accident years ago. Even with them, hearing becomes difficult in places ranging from a courtroom to a movie theater.
To make matters worse, one of the biggest drawbacks of this pandemic is trying to understand people wearing masks. It is embarrassing to continuously respond, "I'm sorry, what did you say?" But unlike Ruben, I've gradually discovered that this world is a lovely place even if devoid of sound.•
• Robert Hammerle practices criminal law in Indianapolis. When he is not in the courtroom or the office, Bob can be found at one of his favorite movie theaters preparing to review the latest films. To read more of his reviews, visit www.bigmouthbobs.com. Opinions expressed are those of the author.
Please enable JavaScript to view this content.