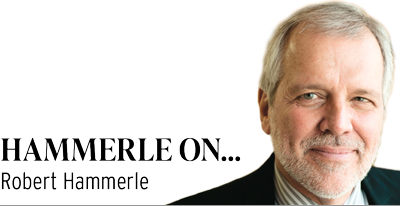 "Judy"
As most of you know, Judy Garland became trapped in the Hollywood exhaust pipe that resulted in her death at the age of 47. Addicted to various pills provided to her as a teenager by MGM Studios, she eventually embraced alcohol in the hopes of discovering a bit of joy in her life. As a tragic consequence, Dorothy was poisoned by the Wicked Witch of the West.
"The Wizard of Oz," released in 1939, remains one of the most popular films in history. Joining forces with the Scarecrow, Tin Man and the Lion, Dorothy fought to find a way to return to her loved ones in Kansas. Ironically, in real life, Garland was never able to leave the yellow brick road.
Renee Zellweger resurfaces after an absence from the big screen in a remarkably stunning role as Garland in her last year of life. Broke and with nowhere to live with her two minor children, she was forced to leave them with an uncooperative ex-husband as she set off for England to try to reawaken her career.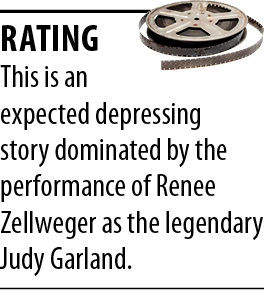 Zellweger literally becomes Judy Garland as she performs sold-out shows at the Talk of the Town nightclub. Doing her own singing, Zellweger gives an Oscar-worthy performance as a woman whose addictions kept her from sleeping, forcing her to appear onstage with a hangover that left her giving some utterly rude and foul performances.
Flashing back occasionally to her childhood in Hollywood, where she was required to take pills instead of eating to watch her weight, you also see her under the control of Louis B. Mayer (Richard Cordery), the head of MGM who did not hesitate to use a "hands on" approach with his young female stars. It wasn't hard to see her unfortunate demise as a relatively young woman.
Though Michael Gambon was given little to do as the Talk of the Town owner, Jessie Buckley gives the film a bit of style, here playing Rosalyn Wilder, assigned by the nightclub to be Garland's personal assistant. She follows up her brilliant performances in "Beast" (2017) and last year's "Wild Rose" as a young professional who watched Garland unravel while still admiring a suffering, legendary actress.
As for the film itself, it really functions as a Broadway play that leaves you almost as depressed as Garland. Her quick marriage to Mickey Deans (Finn Wittrock), her fifth trip to the altar, quickly dissolves as his attempt to help her pursue shows in New York is destroyed by London performances that alienated audiences.
Then again, you couldn't help your emotional reaction when watching Garland sing "Somewhere Over the Rainbow" in her last performance in London, where she appeared unannounced. Sitting onstage as she sang this memorable song, you wished she had found a way to return to her loving family in Kansas.
"Linda Ronstadt: The Sound of My Voice"
Directed by Jeffery Friedman and Rob Epstein, "Linda Ronstadt: The Sound of My Voice" allows the movie audience to rediscover the importance of our recent past. Though Ronstadt did not participate in being personally interviewed for this film, Dolly Parton, Emmylou Harris, Bonnie Raitt, Jackson Browne, Don Henley and Glenn Frey appear to help all of us again experience Ronstadt's beautiful voice.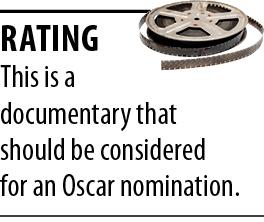 Ronstadt's entire life is covered in this film, which stretches from birth on the Mexican border to Parkinson's disease, which robbed her ability to sing. As you watch her grow up in a family with a rich Mexican heritage, you see her depart for L.A. to pursue a career. In the process, she begins recording with a group known as Stone Poneys, only to be forced to explore recording as a solo artist.
You watch her appear on TV as a guest on shows hosted by Johnny Carson, Dick Cavett and Johnny Cash. For all of her accomplishments, nothing will bring a wider smile to your face than the moments she sings with The Muppets on one of their shows.
Ronstadt did not hide her politics, from opposing nuclear proliferation to trying to help immigrants be fairly treated long before Donald Trump became president. She further became a pioneer in a music industry dominated by men. Nearly all of the band members for all female singers were male, and she had to survive on her dedication and professional instincts. Furthermore, many of you remember her relationship with California Gov. Jerry Brown. She is one of the few female national figures never to marry.
Ronstadt had a wide range of singing styles, including folk, rock, country music and an album recorded entirely in Spanish. On top of that, she also appeared on Broadway, where she became an elite singer in "The Pirates of Penzance," proving she was a woman impossible to categorize.
The most powerful moments of this film flow from watching Ronstadt sing such beloved songs as "You're No Good" (1974), "Blue Bayou" (1977), "When Will I Be Loved" (1974) and "Poor, Poor, Pitiful Me" (1977). In addition, there are memorable moments where she sings with Parton and Harris, not to mention Aaron Neville.
This is a heartwarming movie you should really take the time to see. She asked for no pity given that she was robbed of her ability to sing, seeking only to live quietly as she relishes her past, where we all benefit from her magnificent singing voice to this very day.
"Hustlers"
Before the economic crash of 2008, many New York strippers were making a handsome living in high-end clubs where Wall Street executives had more money than sense. However, after the crash, Wall Street financial resources dried up. "Hustlers" focuses on that issue as four strippers form a team where they drug the booze of wealthy patrons and proceed to empty their credit card accounts.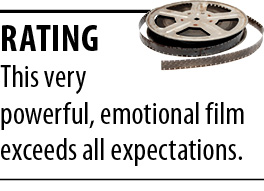 As you watch the story unfold, the cast is led by the magnificent performance of Jennifer Lopez, here playing the stripper Ramona. No one is better at her craft, and she befriends Destiny (Constance Wu), a young stripper seeking to perfect her skill. They then are joined by Cardi B, known as Diamond, and Julia Stiles, appearing as Elizabeth, to become one mean foursome.
The movie has a first-rate musical score that adds to its momentum. When they are confronted by patrons who discover their credit card accounts have been emptied, Ramona deals with them in a dismissive tone, knowing full well they could never go public and expose their dark sides.
While there is some provocative pole dancing, particularly by Lopez, the film really tells the story of the greed and shamelessness that has infiltrated our capitalistic system. Many Wall Street wheeler-dealers love to throw thousands of dollars away on strippers who would then handle them in a fashion that made them think the girls really cared if they lived or died.
Though the law eventually catches up with them, Lopez's Ramona was one smart and perceptive cookie. She made the perceptive observation that our entire country functions as an intricate stripper organization where men buy influence.
I couldn't help but think of the late Jeffrey Epstein, the sexual history of our president, Harvey Weinstein and Robert Kraft. Ramona was right.•
__________
• Robert Hammerle practices criminal law in Indianapolis. When he is not in the courtroom or the office, Bob can likely be found at one of his favorite movie theaters preparing to review the latest films. To read more of his reviews, visit www.bigmouthbobs.com. Opinions expressed are those of the author.
Please enable JavaScript to view this content.