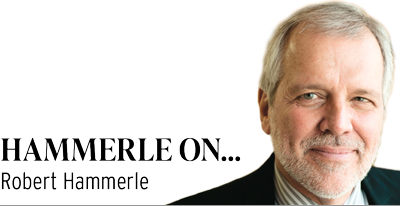 Before beginning reviews of two emotional films to be seen at home, I'm thinking of friends quarantined who are alone following the death of a spouse. Let me begin with Jack Thar and Jim McKinley, who died this year. McKinley was a respected criminal defense lawyer in federal court, and Thar and I became great friends after battling each other in a jury trial when he was in the U.S. Attorney's Office. I think of their courageous wives, Cynthia and Cathy.
And then there were the deaths of two other admirable lawyers, Sarge Visher and Ken Reese. I was close to both of them, and no one loves their widows, Belle Choate and Rita, more than me. Belle, a great lawyer in her own right, combined with me on several trials over the years, ranging from a drug case in Bloomington to representing multiple air traffic controllers fired by President Ronald Reagan.
But I must also mention Tommy Thompson and Mark Inman, old friends. Tommy and I helped start the felony screening program while working as interns in the prosecutor's office in 1972, and the death of his beloved wife, Jeanne, last year left him battling his courageous instincts few men possess. Mark is a lawyer who has battled injustice his entire life, and the death of his beloved wife, Kathy, left him in an understandable deep emotional hole. We cried with him.
Yet they all mocked the world with a smile on their faces, and I feel that Thar, Visher and Reese are somewhere yelling for me to "shut up, open a bottle of wine and do your reviews!" So here they are.
"Mrs. Miniver" (1942)
This is a historically important film in these troubling times. Directed by William Wyler and an Oscar-winner for best picture, "Mrs. Miniver" tells the endearing story of a middle-class rural London family trying to survive the Nazi Blitz in 1940.
Greer Garson earns her Oscar for best actress playing Mrs. Miniver, an intelligent matriarch who helps her family dodge bombs while her husband (Walter Pidgeon) departs on a rescue mission to Dunkirk. On top of that, her son Vin (Richard Ney) becomes a fighter pilot in the Royal Air Force.
These English families were living in a life-or-death struggle. They fought for normalcy in an abnormal world. Young lovers embraced marriage while knowing death waited around the corner for one of them.
Look for the remarkable performances of Teresa Wright and Henry Travers. Wright, who was also devasting in both "The Best Years of Our Lives" (1946) and "The Pride of The Yankees" (1942), earns her Oscar for best supporting actress playing Vin's wife, Carol, a young woman who values each minute with her pilot husband.
Travers, as heartwarming here as his role as an angel in "It's A Wonderful Life" (1946), plays Mr. Ballard, an aging station master longing to finally win a Rose competition. Without saying more, the result allows him to endure the Nazi assault with a smile on his face.
"Casablanca" (1942)
One of the great movies in history, "Casablanca" tells the story of a man who learns in World War II that the widow who captured his heart discovered her rebel husband did not die in combat. His anguish has no cure as she wrestles with the love of two men.
Humphrey Bogart, Ingrid Berman and Paul Henreid form the most captivating threesome to appear on film. On top of admiring her husband's (Henreid's) role in the war, Bergman's Ilsa loves them both. As she walks into Rick's (Bogart's) "gin joint" in Casablanca, her request to Sam (Dooley Wilson), the piano player, to play "As Time Goes By" will leave you thinking of the consequences of today's pandemic.
This movie is loaded with some great dialogue, as most of you know. Unforgettable is their departure where Rick tells Ilsa, "We'll always have Paris." Or, as he says goodbye, "Here's looking at you, kid."
Yet what summarizes the importance of this classic is his statement to Ilsa that she has to leave him behind and get on the plane with Victor. "Ilsa … it doesn't take much to see that the problems of three little people don't amount to a hill of beans in this crazy world. Someday you'll understand that."
Well Rick, I hope all of us understand that. As I hunker down at home with Monica, each evening I hope that my good friends Belle, Tommy, Rita and Mark find hope and inspiration after the death of their spouses over the past several years. To them, Cynthia and Cathy, please remember the great song by Warren Zevon entitled "Keep Me In Your Heart," released on his last album as he was dying of lung cancer in 2003:
"Sometimes when you're doing simple things around the house,
Maybe you'll think of me and smile.
You know I'm tied to you like the buttons on your blouse,
Keep me in your heart for awhile."•
• Robert Hammerle practices criminal law in Indianapolis. When he is not in the courtroom or the office, Bob can likely be found at one of his favorite movie theaters preparing to review the latest films. To read more of his reviews, visit www.bigmouthbobs.com. Opinions expressed are those of the author.
Please enable JavaScript to view this content.