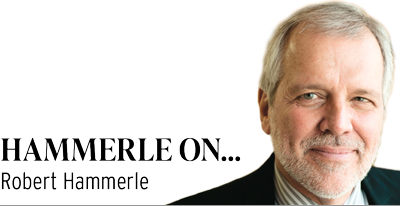 "Once Upon a Time in Hollywood"
As I sat down in the theater to see Quentin Tarantino's "Once Upon a Time in Hollywood," I was filled with great anticipation. I was not disappointed. Recreating Hollywood in 1969, this inventive movie shines a camera on a film industry that embraced booze and cigarettes.
The film centers on Rick Dalton, a struggling television Western star reduced to roles as a villain as his career slowly erodes. Spending most of his days in a gradual state of intoxication, he returns each night to his home where he lives in the Los Angeles hills next to a married couple by the name of Roman Polanski and his wife, Sharon Tate.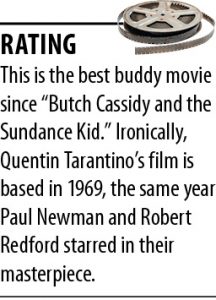 Leonardo DiCaprio is flat-out mesmerizing as Dalton, a depressed actor trying to hang on to his career. While alcohol helps him overcome his increasing depression, his friendship with Cliff Booth, his dedicated longtime stuntman, makes this R-rated film a sure bet as an Oscar nominee this year.
As good as DiCaprio is, Brad Pitt elevates his career to the stratosphere playing Booth, a quiet guy dedicated to helping his friend. Living alone in a trailer with his faithful pit bull Brandy, Pitt's Booth serves as little more than Dalton's driver and housekeeper. Both a handsome and intelligent man, Booth harbors none of Dalton's angst. On the other hand, he has a hidden physical strength you don't want to challenge, and wait until you see him fight with Bruce Lee (Mike Moh) on the set of a film that costs him his job.
While you know from the beginning that this film will end with the Manson family's encounter with the pregnant Sharon Tate and her houseguests, this is largely a nonviolent movie until then. While there are some occasional fights, almost everything has a comic angle where you will surprise yourself by laughing rather than watching a Tarantino film in a constant state of horror.
The film's powerful magnetic effect centers on largely small roles from multiple well-known actors. It begins with Margot Robbie as Sharon Tate, a beautiful young woman who gains intense pleasure from going to a theater to watch herself in a small role on screen. While contributions are made by Al Pacino, Timothy Olyphant, Kurt Russell, Emile Hirsch and Luke Perry in his last role, four other performances need to be acknowledged.
Damian Lewis appears as Steve McQueen in a role where it looks like this great actor was brought back from the grave. Julia Butters gives a spectacular performance as a 10-year-old child who is appearing with Dalton in his latest role. Wait until you see what happens when she sits on his knee.
And then there are the performances of Bruce Dern as George Spahn and Dakota Fanning as Squeaky Fromme. Dern is funny beyond words as the bedridden owner of the old farm frequently used as a movie set where the Manson family now resides. Squeaky is a nasty little woman who finds a way to keep Spahn satisfied.
While you see the chilling relationship of the Manson family when Pitt gives a female hitchhiker known as Pussycat (Margaret Qualley) a ride to the farm, be prepared to watch some incredibly fascinating developments in the film's conclusion. Tarantino finds a way to rewrite history in the same fashion as Danny Boyle in "Yesterday," and the violence that occurs will leave you unexpectedly shocked in a fashion you would have never anticipated.
The film finds a way to center on Dalton's use of a flamethrower both on- and off-screen. See this film quickly and find a way to satisfy your curiosity.
"The Lion King"
No film operating as a remake can capture the surprises of the original. Despite its magnetic allure, the same thing holds true with Disney's "The Lion King."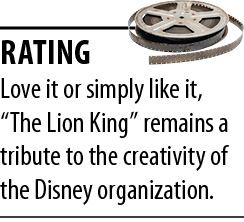 Ironically, the music lacks the impact of this year's "Aladdin." Sure, listening to Pumbaa (Seth Rogan) and Timon (Billy Eichner) sing "Hakuna Matata" is funny beyond words, but Beyoncé's "The Gift" is tolerable at best. On top of that, if you want to listen to the original music done by Elton John, then my advice is to make sure you see "Rocketman."
Regardless, the original release in 1994 took the audience on a cinematic emotional roller coaster ride no one will ever forget. Additionally, the Broadway play, which Mo and I saw with our grandchildren several years ago in New York, is an experience that concluded with a standing ovation.
Ironically, applause erupted from much of the theater crowd when I saw this movie on its opening weekend, though I was not one of them. Yet I must admit that I couldn't help but appreciate the movie's impact, particularly on adolescents and children who were watching it for the first time. The film's enormous box office success is rightfully due to a story involving love, death and the meaning of our short life here on Earth.
What Disney did with "The Lion King" when it was first released was to rediscover the ingenuity of Walt Disney himself. All of Disney's early releases — "Snow White and the Seven Dwarves" (1937), "Pinocchio" (1940), "Dumbo" (1941) and "Bambi" (1942) – tugged at your heartstrings as the principal characters sought to survive in a cruel world. Though Disney lost that commitment with a series of lightweight films over the next several decades, it was re-discovered with "The Lion King."
Quite frankly, the story of young Simba being ordered out of his kingdom as he was falsely accused of killing his father by the villainous Scar reminded me of what is going on in our country at this very moment. Our president's actions in rallying support for his call to send four congresswomen of color "back to their country" is no different than the actions of Scar. Equally important, Scar rallied the support of the ravenous hyenas to feast upon antelopes in the same fashion that our president reawakens the American zombie known as racism as he demonizes immigrants who are just looking for a way to lead a better life.
Having said that, I must admit that the appeal of "The Lion King" flows from its artistic recreation of life in the animal kingdom. Unfortunately, the dialogue that involves Chiwetel Ejiofor as Scar, Donald Glover as the adult Simba, James Earl Jones in his recreation of Mufasa, the father, and Alfre Woodard as Simba's mother Sarabi grew a bit methodical and tiresome at times.
In closing, let me acknowledge that "The Lion King's" box office results will not support lukewarm criticism from me or anyone else. After all, I was one of those who profoundly took offense at many critics who found fault with the recent "Dumbo," a film that I liked better than this far more popular movie. But what do I know!•
• Robert Hammerle practices criminal law in Indianapolis. When he is not in the courtroom or the office, Bob can likely be found at one of his favorite movie theaters preparing to review the latest films. To read more of his reviews, visit www.bigmouthbobs.com. Opinions expressed are those of the author.
Please enable JavaScript to view this content.