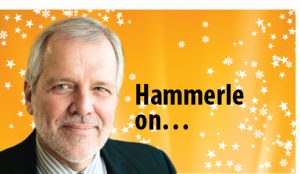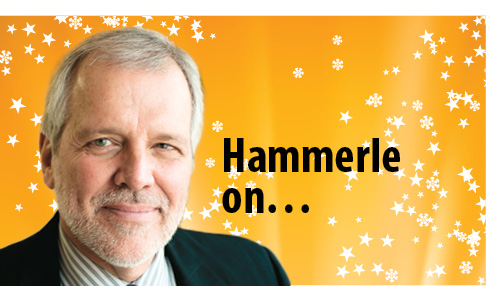 "Scary Stories to Tell in the Dark"
"Scary Stories," directed by Andre Ovredal and co-written by Guillermo del Toro, is a film with depth that defies most movies of this nature. Let me start with the fact that it takes place in 1968, and Richard Nixon's presidential campaign appears repeatedly in the background as kids try to survive. To be quite frank, I had to laugh thinking that Nixon's election was the real scary story of that year.
In addition, one of the opening scenes finds our teenagers at a drive-in where "Night of the Living Dead" is playing. I also saw it in a drive-in that year while in college, and I remember my roommate quoting a reviewer who warned parents that this movie would leave many young people crying in agony.
The historical significance of this movie grabbed my interest from the opening scene. The film begins on Halloween in a small town called Mill Valley. Five teenagers end up forcing their way into a haunted house where Stella (Zoe Margaret Colletti) finds an old book that she takes home, something that she soon profoundly regrets. It seems the haunted house is the old abandoned home of the Bellows family, whose daughter Sarah wrote the book after being held by her parents in a basement asylum setting.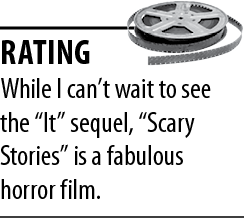 Stella was soon shocked to observe stories being written on empty pages in the book, which describes teenagers by name and the method of their death, which would soon follow. The first tragedy centered on one of their high school antagonists whose fondness for carrying a baseball bat resulted in him striking a hideous scarecrow as he walked through a cornfield. The scarecrow got even, and what happened to this boy is too ghastly to describe. Let me simply say that he transformed into a scarecrow replacement that would not qualify him in any remake of "The Wizard of Oz."
However, things proceed to get worse as the names of Stella's close friends Tommy (Austin Abrams), Auggie (Gabriel Rush), Chuck (Austin Zajur) and Ramón (Michael Garza) start to appear in the book with ominous predictions. As all but Ramón are confronted and literally consumed by various monsters of the dark, Stella frantically tries to figure out a way to make contact with the deceased Sarah and stop her obvious need to seek vengeance for her horrific treatment by her family.
Secrets are revealed about Sarah and her family that I won't give away. Let me simply say that her creation of various vicious ghosts is her attempt to get even with the community for its failure to help her in a time of need. Stella's re-entry into the haunted house with Ramón reaches a fever pitch when Ramón's name appears in Sarah's book.
All of these young actors give wonderful performances, and you will never forget the performance of Natalie Ganzhorn as Ruth. She was a friend of the young man who met his fate with the scarecrow, and wait until you see her trying to participate in a school play as a boil starts to form on her cheek with what appears to be a dark hair emerging from it. It gets exceedingly worse, and at that moment you will regret not having an amblyopic left eye like me, as I can cover my good eye to minimize the extraordinary horror onscreen.
In closing, the film also captured another of the scary stories taking place in 1968, namely the Vietnam War. It seems that Ramón, whose dead brother had just been returned from that tragic war, had failed to report for his induction after being drafted. Let me just say that I knew how Ramón felt given that my college deferment was coming to an end and I had a very low draft number.
Most young men such as myself were experiencing our own sense of horror at that moment, and it was as if Sarah had written my name in her book. While I was eventually rejected for service given my profound visual problem as noted above, to this very day I am haunted by the feeling that had I been forced to serve in that dishonorable conflict, my name would now be engraved in the Vietnam Memorial Wall in Washington, D.C.
Sarah was kind to me.
"Sword of Trust"
Directed and co-written by Lynn Shelton, who also has a small supporting role, "Sword of Trust" is a wildly inventive film. Surprisingly, it will capture you with a ridiculous premise that will leave you repeatedly laughing.
An R-rated film, the movie centers on Cynthia (Jillian Bell) and her gay partner Mary (Michaela Watkins) trying to figure out what to do with a Civil War sword she inherited from her late grandfather. The sword is also accompanied by some paperwork that purports to prove the South actually won the Civil War.
Seeking to make some money, they take the sword to a pawn shop in Birmingham, Alabama, owned and run by the caustic Mel. Helped by Nathaniel, a confused young man that he employs, Mel offers a few hundred dollars for the sword while shaking his head at its historical significance.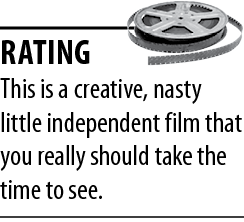 After the ladies leave, Mel and Nathaniel research what appears to be the foolish claim that the South prevailed, only to discover that there is a large organization that will offer a lot of money for items that will help them prove their point. Thereafter, our pawn shop boys and the two ladies engage in negotiations that seemingly put their lives in danger as they try to make a lucrative sale of the sword.
There are a number of fascinating performances in this loveable little movie. And it begins with Marc Maron as Mel and Jon Bass as Nathaniel. Maron, who has appeared frequently as a TV stand-up comedian, will immediately capture your attention as a store owner trying to make a profit where he can find one. In the process, he is continually confronted by Deirdre (Shelton), an old girlfriend who has failed to conquer her drug addiction as he has.
And then there is Bass as the emotionally damaged Nathaniel. Both well-meaning and lacking an ounce of common sense, one of his challenges in life is to prove the Earth is flat. And while there are some very funny performances from Toby Huss as Hog Jaws and Dan Bakkedahl as Kingpin, the two cynics seeking to buy the sword, the film swirls around Bell and Watkins as two women committed to each other. They are both wildly funny and very engaging, and they will undoubtedly surprise you with their joint ability to make use of a gun.
One of my favorite films of all time is "Harold and Maude" (1971), the best quirky independent film to ever hit the big screen. "Sword of Trust" follows in that same category, and its soundtrack rivals the music by Cat Stevens in "Harold and Maude." Find a way to see this film while it still plays in the theater.•
• Robert Hammerle practices criminal law in Indianapolis. When he is not in the courtroom or the office, Bob can likely be found at one of his favorite movie theaters preparing to review the latest films. To read more of his reviews, visit www.bigmouthbobs.com. Opinions expressed are those of the author.
Please enable JavaScript to view this content.