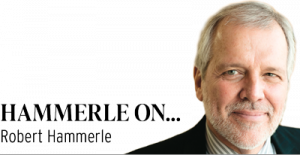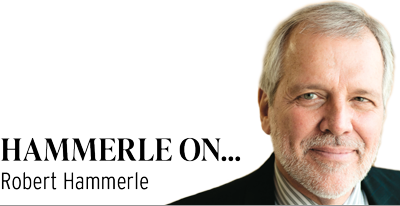 "The Fabelmans"
How could a film directed by Steven Spielberg not have you sitting on the edge of your seat? Think of "1941" (1979), "Catch Me If You Can" (2002), "Amistad" (1997), "A.I. Artificial Intelligence" (2001), "Jurassic Park" (1993), "E.T. the Extra-Terrestrial" (1982), "Schindler's List" (1993), "Jaws" (1975) and "Saving Private Ryan" (1998), to name a few.

But "The Fabelmans" lacked the emotional force of those films. Here, Spielberg tells the story of his childhood and teenage years, when he fell in love with making movie pictures in the 1970s-80s. In the process, I could only imagine if I wanted all of you to attend a lecture where I pointed out "Inherit the Wind" (1960) and "To Kill a Mockingbird" (1962) as two films that inspired me to be a criminal defense lawyer. I'd anticipate a small crowd!
I do want to point out that the film had some great moments lost in its two-hour, 31-minute length. As you watched the Fabelman family move from New Jersey and Arizona before landing in California, Jewish prejudice is on full display. It served as a powerful reminder that the hatred of Jews didn't die with Hitler. Think of Kanye West today.
In addition, there were some fine performances that will likely garner some Oscar consideration. While Paul Dano and Gabriel LaBelle do a fine job playing father Fabelman and his son Sammy, Michelle Williams is unforgettable as the mother. She has given up being a concert pianist to raise her children, and she likely will be knocking on Oscars' door.
I must also mention the brief appearances of Judd Hirsch and David Lynch. Hirsch plays Uncle Boris, and his brief visit to the Fabelmans' house is hysterical. Lynch appears at the end of the film as the legendary film director John Ford. His devotion to cigars rivals his film production.
Finally, I can't end this review without commenting on Seth Rogen's regrettable role as Dano's old friend and business associate Bennie Loewy. Yes, he was funny at times, but his dalliance with mother Fabelman led to their divorce.
This film is in the Oscar mix for Best Picture. But quite frankly, that is regrettable. While critics will rave over it much as they did "Tar" and "The Banshees of Inisherin," there is a reason that they had monstrously low attendance numbers.
I really wanted to like this movie. While I continue to wrestle with my reaction, let me know your thoughts if you hunt it down.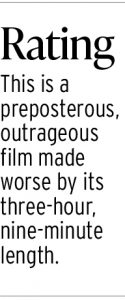 "Babylon"
Who would have thought a film directed by Damien Chazelle and starring Brad Pitt and Margot Robbie could be such a colossal flop. I'm not exaggerating when I say there will be multiple moments when you resist the urge to walk out of the theater.
Beginning in 1926, you watch Hollywood as it wrestles with the transition from silent to talking films. But in the process, the film repeatedly loses its focus. More to the point, if you want to watch a lovely film addressing this issue, then skip this cinematic mess and go see "Downton Abbey: A New Era."
Here you watch a movie where everyone, and I mean everyone, is smoking while getting intoxicated on liquor and cocaine. Pitt plays Jack Conrad, a silent film star working his way through multiple wives. Constantly drunk, you watch the introduction of sound end his career.
Robbie plays Nellie LaRoy, a cocaine-snorting aspiring actress who considers herself to be a movie star before appearing in her first film. Constantly dressing as a beautiful whore, her vomiting on party guests rivals the puking scenes in last year's "Triangle of Sadness."
You will seldom see any film filled with lengthy scenes that will leave you shaking your head in disgust. Let me just mention the film's opening, when an elephant defecates on the face of one of the guys hauling him to a party. Then there's the 20-minute party seen in the movie trailer that may very well be one of the most profane moments of human excess ever seen in the history of film.
Rather than go on, let me just refer to the film's conclusion. Without giving anything away, Tobey Maguire plays a psychotic studio character who escorts two decent guys to an underground den of grotesque debauchery. Among other things, you watch a guy entertain a crowd by eating a live mouse! I'll quit there.
There are only three likeable characters in the entire film. Diego Calva plays Manny Torres, a Mexican American whose honest approach to making films is destroyed by his love for LaRoy. Jean Smart does a great job playing journalist Elinor St. John, and Jovan Adepo is memorable as a Black trumpet player quietly fighting Hollywood's racial discrimination.
So unless your definition of a good time is to watch an orgiastic bacchanal, I'd suggest that you let "Babylon" quickly disappear into the sunset.•
__________
Robert Hammerle practices criminal law in Indianapolis. When he is not in the courtroom or the office, Bob can likely be found at one of his favorite movie theaters preparing to review the latest films. To read more of his reviews, visit www.bigmouthbobs.com. Opinions expressed are those of the author.
Please enable JavaScript to view this content.