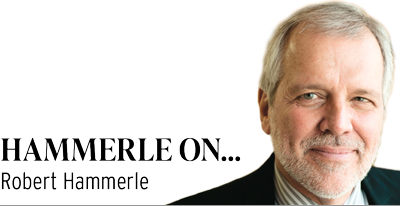 So how are all of you enjoying your state-imposed sentence of home detention? From my standpoint, my daily hours of working in my gardens have allowed me to reflect on the role movies have played in shaping my life.
I was raised in the small community of Batesville. Before I turned 16, my first loves were Annette Funicello in "The Mickey Mouse Club" (1955) and the British actress Hayley Mills in the films "Pollyanna" (1960) and "The Parent Trap" (1961).
Though my father, a rural mail carrier, was not a hunter, my mother's two brothers were dedicated deer and rabbit sportsmen. However, after seeing "Bambi" (1942), I embarrassed them when I cried the only time I joined them to gun down a beautiful animal. I wanted no part of shooting either Bambi's mother or his rabbit friend Thumper. I was an early version of last year's "JoJo Rabbit"!
Yet what inspired me in my teenage years to want to find a way to become a criminal defense lawyer were the films "Inherit the Wind" (1960) and "To Kill a Mockingbird" (1962). Both Spencer Tracy and Gregory Peck give dazzling performances as defense lawyers who fight bigotry in the form of state power on behalf of the wrongly accused.
I have repeatedly used their inventive cross-examination methods in many cases over the past 40 years. From them I learned that defense lawyers don't keep a won/loss record, as victory is frequently found by the courage and dignity you bring to a client and his loved ones.
Yet, as I contemplate the ordeal now facing many Americans as both death and unemployment ravage our country, I am reminded of the great film "On the Beach" (1959). Directed by Stanley Kramer and starring Gregory Peck and Ava Gardner, it tells the story of mankind facing extinction after the World War III nuclear conflict.
It takes place in Australia, where the last humans on Earth await a cloud of radiation that has killed the rest of mankind. Suicide pills are given to families, and the performance of Anthony Perkins and Donna Anderson as a married couple with a small child will leave you sobbing.
"On the Beach" is a reminder of what all of us face while confined to home. Will we survive? If we do, what will the world be like? If we are forced to say goodbye to lovers, as happened to Peck and Gardner, can we at least listen to the great song "Waltzing Matilda" as they were able to do?
Let me close with the lyrics from the great Beatles song and recent fine movie of the same name, "Yesterday":
"Yesterday all my troubles seemed so far away/
Now it looks as though they're here to stay/
Oh, I believe in yesterday."
Do the words sound familiar?•
• Robert Hammerle practices criminal law in Indianapolis. When he is not in the courtroom or the office, Bob can likely be found at one of his favorite movie theaters preparing to review the latest films. To read more of his reviews, visit www.bigmouthbobs.com. Opinions expressed are those of the author.
Please enable JavaScript to view this content.