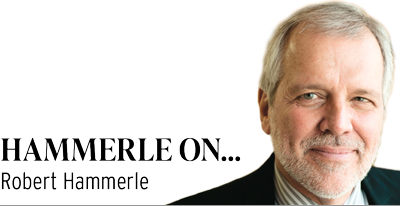 "The Personal History of David Copperfield"
As a movie lover, normalcy disappeared when the theaters were shut down in March of this year. I was always a great fan of Gary Larson's "The Far Side," and I have a treasured coffee cup that accurately describes my emotional despair: An old man in pajamas sulks on the edge of a bed as he stares out a window where a chicken sits on the sill. The caption reads: "The Bluebird of Happiness long absent from his life, Ned is visited by the Chicken of Depression."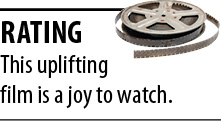 However, I sent Ned packing when I went to an AMC Theatre to watch "The Personal History of David Copperfield." Filled with great acting that includes the super talented Dev Patel, it gradually evolves into an emotional powerhouse.
Director Armando Iannucci, whose last work was his interesting comic film "The Death of Stalin" (2017), brings to the audience a fresh retelling of Dickens' classic story. Patel is just as engaging as Copperfield as he was in the memorable "Slumdog Millionaire" (2008), "The Best Exotic Marigold Hotel" (2011), "Lion" (2016) and "Hotel Mumbai" (2018).
Here we have the movie beginning with Copperfield telling his life story. He recreates his childhood in Victorian England where his tyrannical stepfather sends him to work in a bottle factory that he subsequently flees as a teenager. Thereafter his life becomes a series of adventures where he learns how to cope with both poverty and financial success.
One of the reasons I loved this film is its racially diverse cast. Sure, Tilda Swinton and Hugh Laurie are splendid as two of Copperfield's flawed aging patriarchs, and Ben Whishaw is unforgettable as the sinister Uriah Heep.
But the film is able to rise to a noteworthy level with the performances of Benedict Wong and Rosalind Eleazar. Wong plays Mr. Wickfield, an alcoholic accountant whose love of booze of any kind hides the dangers represented by Heep. Eleazar is sensational as his smart, perceptive daughter who does her best to hide her attraction to Copperfield.
While there are multiple other special performances that are captivating in small ways, none is more compelling than those given by Aneurin Barnard, Paul Whitehouse and Daisy May Cooper. Barnard is a college friend of our star who tries to outrun his own weaknesses, while the latter two play a married couple living in an upside-down boat that gives needed comfort to Copperfield. This movie will hit a soft spot in your heart. You will find that the Bluebird of Happiness has found a way to again land in your life.
"Tenet"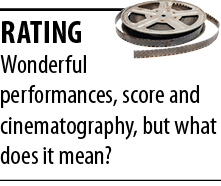 The only way to try to review Christopher Nolan's "Tenet" is to use Winston Churchill's description of Russia in October 1939: "It is a riddle, wrapped in a mystery, inside an enigma." Put another way, after sitting for a long two hours and thirty minutes, most viewers will leave the theater shaking their head, wondering, "What in the hell was that about?"
Don't get me wrong, as the film's musical score and cinematography are Oscar-worthy and the performances of John David Washington, Robert Pattinson and Elizabeth Debicki, all playing heroes, are wonderful. And Kenneth Branagh is unforgettable as a villain you will love to hate.
However, the problem with the movie, as voiced by some critics, is that you have to see it at least twice to understand the plot. You know that it deals with a form of time inversion that allows some device of the future to destroy the past by having it go in reverse, but the battle that ensues is hard to grasp.
While you want to like it beyond question, the film has another profound handicap. Given the very loud soundtrack combined with our heroes frequently having to wear various forms of gas masks, much of the dialogue becomes hard to understand. Sure, my hearing aids didn't help, but I kept wishing that Nolan had used subtitles to make sure nothing got lost.
As good as Washington is — after all, he is Denzel's son — Robert Pattinson's dynamic performance saves this film by any definition. While he will always be remembered for the "Twilight" series, I look forward to his turn as the caped crusader in next year's "The Batman."
So go buy a ticket quickly, as the only reason it is likely to last on screen is that it is a film playing in a movie desert. While it has some admitted strength, it simply doesn't measure up to director Nolan's previous accomplishments such as "Memento" (2000), his three "Batman" films (2005, 2008, 2012), "Inception" (2010) and "Dunkirk" (2017).
Churchill should have been a movie critic.
"The New Mutants"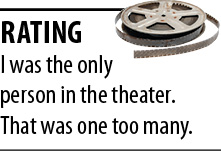 Though many of you still reject going to the movie theaters for good reasons, I decided to use an abundance of caution and take my chances. Then again, a great joke I heard may prove to have meaning. "Did you hear Hammerle died?" The response: "That's terrible. What theater was he in?"
So off I went to see "The New Mutants" in the museum IMAX in downtown Indy. To begin with, the movie was terrible despite the courage to focus on a lesbian relationship of two mutants played with some meaning by Blu Hunt and Maisie Williams. Yet the bottom line is that a better title of the film would have been "The Last Mutants." I was the only person in the large museum theater.
Let me confess that while I have seen all of the "X-Men" movies, they have run off the rails and lost their spunk. The last great mutant film was "Logan" (2017) with heartbreaking storylines involving Wolverine (Hugh Jackman) and Professor X (Patrick Stewart).
Ironically, the young Dafne Keen was tremendous in "Logan" as a female carbon copy of Wolverine. It contributed to the lackluster story in the new mutant film that she was not included in the young cast. Her energy and talent may have at least made the movie watchable.•
• Robert Hammerle practices criminal law in Indianapolis. When he is not in the courtroom or the office, Bob can likely be found at one of his favorite movie theaters preparing to review the latest films. To read more of his reviews, visit www.bigmouthbobs.com. Opinions expressed are those of the author.
Please enable JavaScript to view this content.