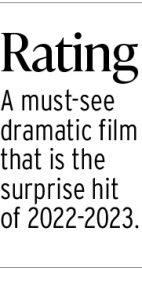 "To Leslie"
This is simply a captivating film from beginning to end. Andrea Riseborough, who just received a best actress Oscar nomination, gives an enchanting performance as Leslie, a single mother whose life is destroyed by her alcohol addiction. Having won $190,000 in a lottery when her son was young, she squanders her money as she is reduced to drinking morning to night.
In the process, she has alienated everyone. Her son James (Owen Teague) throws her out of his apartment when she steals money from a roommate and hides booze under her bed. Her old friend Nancy (Allison Janney) is forced to do the same thing. No one can tolerate her.
Left to live off the street with one suitcase, Leslie hustles vulnerable men in bars on a daily basis. Dancing on the edge of destruction, she is saved when Sweeney, played memorably by Marc Maron, offers her room and board at a motel he manages with his friend Royal (Andre Royo). Sweeney is a caring man clearly reliving his past.
The rest of this powerful film centers on Sweeney's kind efforts to help Leslie. Though she cleans rooms, she continues to drink. Despite this, Sweeney knows that under Leslie's drunken exterior is a kind, decent woman worth saving.
There are two great scenes that stand out. The first involves a local dance where Sweeney and Leslie acknowledge a relationship that offers hope to both of them.
The second scene deals with Leslie convincing Sweeney to help her open an ice cream stand that has been abandoned. In the process, Leslie is able to confront her many weaknesses and mistakes as she reconnects with those she loves.
You will see no better movie this year.

"M3GAN"
January and February are a down time at the movie theater. While most Oscar hopefuls have been released before Christmas, I have long felt that movie studios release a handful of films after the first of the year to try and salvage a few box office dollars.
Every now and then, a horror film will sneak in that deserves to be seen. "M3GAN" is one of them. Well-acted and widely inventive, it has an intellectual element seldom seen in such films.
Here we have Cady (Violet McGraw), a young girl whose parents were killed in a traffic accident. She is sent to live with Gemma (Allison Williams), her single aunt who is a brilliant roboticist. She produces M3GAN, a lifelike doll who is designed to be lonely Cady's companion.
The film, directed by Gerard Johnstone and produced by Blumhouse Productions, follows M3GAN as she develops unexpected talents and skills. She goes from Cady's friend and teacher to a protector with dire consequences.
M3GAN is a cute doll that grows to emulate humans. Aunt Gemma watches her invention, destined to sell for millions on the open market, become a beautiful hound from the bowels of hell.
This movie has a violent ending that left me peeking through my nearly blind left eye. But I will admit that I was smiling as I left the theater.•
__________
Robert Hammerle practices criminal law in Indianapolis. When he is not in the courtroom or the office, Bob can likely be found at one of his favorite movie theaters preparing to review the latest films. To read more of his reviews, visit www.bigmouthbobs.com. Opinions expressed are those of the author.
Please enable JavaScript to view this content.