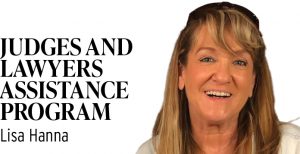 There is nothing more sobering than Christmas in a federal prison. Glimmers of hope can be hard to come by. I first contacted the Judges and Lawyers Assistance Program from a federal prison camp in Florida. A fellow inmate, who had practiced law in that state, sang the praises of JLAP and piqued my interest. I had passed the Indiana Bar Exam in February 1998 but was not sworn in to the practice before I was indicted in a 32-person drug conspiracy. I had become hopelessly addicted after the death of my only child, seven months prior to graduating from law school.
I understood throughout my 15-year incarceration that it would be an uphill battle but remained steadfast in my plans to practice law. I had a feeling that JLAP would play a role in making that happen. I got permission to travel soon after my release and drove to Indianapolis to get signed up with JLAP. I was referred to a monthly meeting in Fort Wayne and, from there, to a weekly attorneys' recovery meeting in the same location.
I was working for an attorney in Angola, who persuaded me to apply for the bar. I had recently begun my 60-month supervised release, having completed home confinement. I got through the application process and was elated to receive my seating ticket. Although the character and fitness interviewer for my county recommended I sit for the exam, the Board of Law Examiners decided they wanted to interview me. The board told to come back in four years or when my probation term was complete, whichever was later. They recommended I be proactive in my recovery and volunteer in my community. I was momentarily devastated but became more determined than ever.
I leaned into my JLAP mentors and recovery community. I volunteered for a battered women's shelter and halfway house, identifying with these populations, and joined the board of a homeless shelter, where I founded and chaired a weekly Narcotics Anonymous meeting. I prepared my own motion to terminate probation and sought direction from JLAP throughout the entire process.
The Fort Wayne attorney for whom I had worked prior to being indicted, having observed my recovery for a couple of years, hired me back to a now much smaller practice. This provided the professional environment and sense of belonging that would propel me through my studies. The bar review course was not a breeze, especially 25 years after completing law school. I went back to work for people I adore on the same day the judge signed an order terminating my probation.
With that order in hand, I went back to the Board of Law Examiners. I now had letters of recommendation from several attorneys, as well as 16 additional months in recovery and documented volunteer work. To my astonishment, I was allowed to sit for the exam!
After appearing before character and fitness once more, I got back to the review course and ultimately passed the exam. Fortunately, the Indiana Supreme Court decided that I would receive a license to practice law. Finally! At age 55. All I had ever wanted to do, from the age where little girls of my generation wanted to be teachers or nurses or mommies, was practice law.
I had graduated high school at 16, waiting just over a month to turn 17, get my mom's signature and enlist in the Army. I was a legal specialist and court reporter in the Judge Advocate General's Corps for five years. After separating from the military, I moved to the Chicago area and earned my bachelor's degree on a full academic scholarship. I earned a scholarship to Western Michigan University Thomas M. Cooley Law School and returned to my home state of Michigan to get my juris doctorate. I had a pretty normal, unremarkable life until my son died at 9½, followed three days later by my grandmother. I was divorced and suddenly inconsolable. I drank until I blacked out for months, moving to California with my best friend from the Army before final law school grades even posted. I ran away from the pain, and when it caught up with me, I numbed it even more with methamphetamine. I was so vulnerable to addiction at that point that the use became daily within a month.
I endured a horrible depression but was able to return to Michigan in a few years. After that, Xanax became necessary for the rocky comedowns. I had no self-worth. I was never suicidal but horribly self-destructive. I would have died of an accidental overdose if I had not been picked up in Florida by the FBI and U.S. Marshals on Sept. 24, 1999. My clean date.
I got sworn in to the practice on Oct. 16, 2018, in Indianapolis. Frank and Jill from JLAP were there and met my family and best friend. It was the most amazing feeling. While everyone else complied with the request to hold applause until the end, my sister could not contain her enthusiasm when I was called to state my name. This memory will always bring a smile to my face. I try to use it to replace the one of her sobbing as the Marshals refused her request to hug me when I was sentenced to 235 months in federal prison.
My admission was conditional at first. I was required to submit to random drug/alcohol testing, attend monthly meetings, submit quarterly reports, have a JLAP monitor and meet with her regularly. The conditional period ended in October 2021. I still attend the meetings, in addition to twice monthly JLAP recovery meetings for attorneys, facilitated by Eric. And now I am a JLAP monitor to others.
I quickly became an Allen County public defender and delivered the keynote address at the Indiana Public Defender Council Annual Update in June 2019. Jill, my case manager from JLAP, was not only there, but she also worked my PowerPoint presentation for me. Around this time, Jill and I jointly presented at the JLAP Annual Retreat on 12-step recovery for nonaddicts. I was able to attend the Women's Bench Bar Retreat in 2019 on scholarship and was thrilled to see Loretta from JLAP at the 2020 retreat in Napa.
JLAP is now like family to me. They have seen me through the loss of both parents since my release from prison. They have encouraged me through career transitions, helped me through my admission to the Michigan bar (with Terry introducing me to the Michigan Lawyers & Judges Assistance Program director for assistance in that process), cheered me on as I became the LaGrange County Drug Court coordinator and recommended me for the spot I was recently awarded in the Indiana State Bar Association's 2023 Leadership Development Academy.
I do not waste time lamenting my incarceration. Rather, I marvel at how the entirety of my addiction and prison time inform my practice and shape the ways in which I can serve my clients, peers and the recovery community. I never dreamed I would enjoy the successful law practice and restored relationships that I do today. I cannot imagine having undergone any part of this process without the support of JLAP. My ongoing relationship with them is a constant blessing to me and helps to keep me grounded. These are my people.•
__________
Lisa Hanna is an attorney in northeast Indiana and Michigan. She is an associate at Ernsberger & Helmer P.C. and the LaGrange County Drug Court coordinator. Opinions expressed are those of the author.
Please enable JavaScript to view this content.