"I saw a glimmering vision
It took my breath away
'Twas the silhouette of a shepherd
More regal than words can say"
I am a farmer's daughter. I grew up never too far from the nearest barn cat, hound dog, racehorse or cattle herd. I adopted them all and gave them each a name. My father, a true whisperer of horses, used to tell me that if you really "listen" with all your senses and an open heart, the animals will tell you what they are thinking. They will bring you comfort. Their spirits will give you direction. They will be attuned to the changes in the weather — alerting you before the storms come and begging you to pause and enjoy the lazy dog days of summer. They will teach you the most incredible lessons about life and yourself.
Seven Mother's Days ago, I fell in love with a little boy with floppy ears and snappy brown eyes. Charles Schulz was right: "Happiness is a warm puppy." There is no other like the fierce and noble German shepherd. With a tug at his leash and a sharply wagging tail, he wakes me up each morning with purpose, even when I'm not sure I have the energy to put one foot in front of the other. Together, hand and paw, we have survived the LSAT, law and graduate school, the bar exam, different jobs, life transitions, makeups and breakups, joys and sorrows, and now a global pandemic. He will never be just a dog to me.
"Everyone thinks they have the best dog (or pet). And none of them are wrong." (W.R. Purche). Are you like me and feel like the more people you meet, the more you love your dog? Or do you worry that you are the next crazy cat lady? Do you need intervention from watching pet videos on YouTube or TikTok? Don't sweat it, science has got us covered! The colors our pets bring to our lives is immeasurable.
HAB: The American Veterinary Medical Association Committee on the Human-Animal Bond defines HAB as "a mutually beneficial and dynamic relationship between people and other animals that is influenced by behaviors that are essential to the health and well-being of both." Bonding with our pets provides companionship, emotional support and psychological stability that mirrors a parent-child relationship. The benefits of such attachment fill "the need for humans to protect and be protected." (Fine & Alam, 2015). We are long familiar with the ability animals have to read body language, establish non-verbal forms of communication and perform acts of service to aid humans with visual, hearing, ambulatory and other physical impairments. But your pets, trained or untrained, do so much more!
The National Alliance on Mental Illness notes this "pet effect" lessens feelings of isolation and loneliness; reduces stress, anxiety, depression and negative thoughts; promotes healthy exercise; and creates stable routines for our lives. Pets improve social connections, boost immunity and improve our moods. According to Johns Hopkins Medicine, our furry friends lower blood pressure and cortisol, may ward off cardiovascular disease and keep us young. I guess you can teach old dogs (humans) new tricks!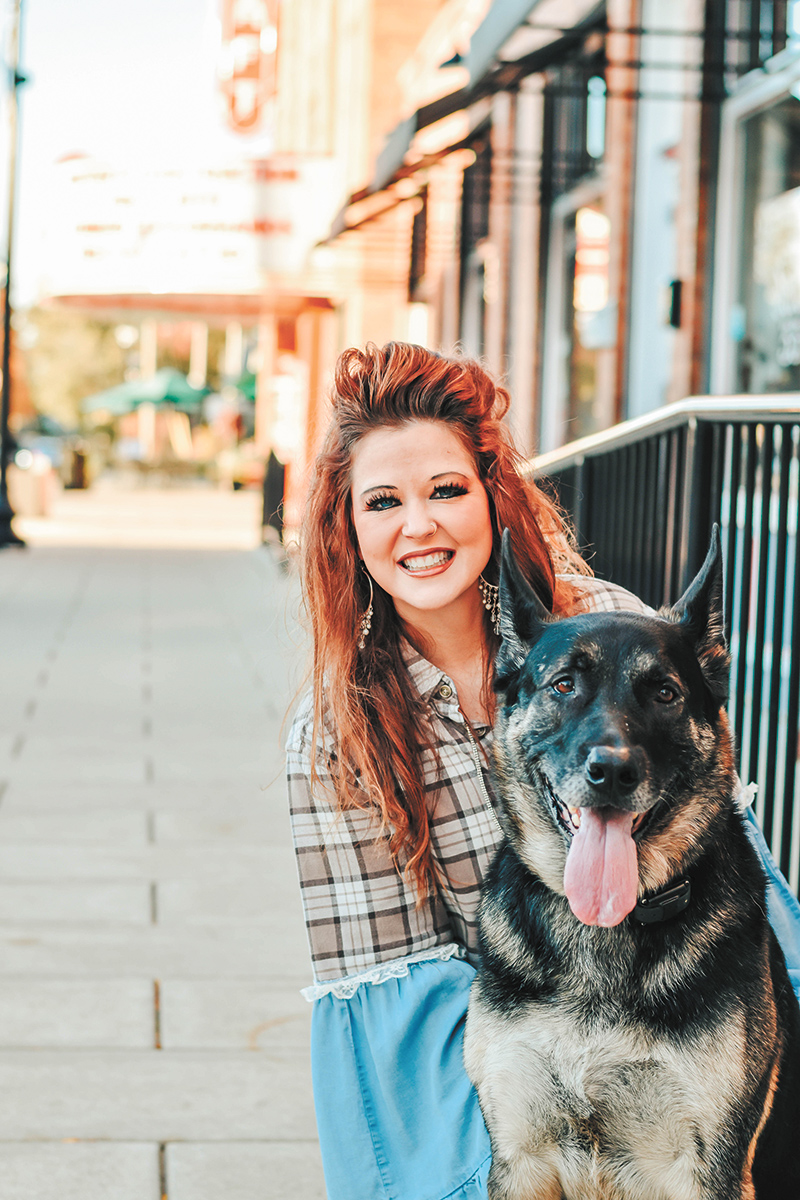 Oxytocin and empathy: Even Donny Osmond knew my K-9 love story was more than just surface affection: "And they called it puppy love. Oh, I'll guess they'll never know." (Paul Anka, 1960). Can I get a little oxytocin please? This "love" or "feel good" hormone is plain chemistry! Originally found in mother-infant bonding, OT exchange also occurs between human and animal. Specifically, OT is a neurochemical that communicates with dopamine, serotonin and noradrenaline neurotransmitters to create homeostasis in the brain. (Tedeschi et al., 2015).
Studies show that OT increases during playful interaction between dog and owner, compared to other activities not involving pets. (Miller et al., 2009). If your heart is warmed by staring into a puppy's eyes, it is likely because the longer the duration of dogs and owners gazing at each other, the bigger the boost of OT! (Nagasawa et al., 2009). Karen B. London, Ph.D., a certified applied animal behaviorist, says: "Petting our dogs can increase our oxytocin levels (and theirs!); even thinking about our dogs can make them rise," and this "can reduce stress, increase pain tolerance and enhance well-being." Ever think your pet can sense your distress? Research shows that "dogs are highly responsive to human crying" and "empathetically respond," even if the human is a stranger to them. (Sanford et al., 2018).
Life lessons: When the world as we know it is out of control, take some life lessons from your pet. Mine has taught me that every day is a chance to find adventure. No matter if we have walked the same dog park a thousand times, each day is gift to stop and appreciate the moment. Be present; we are only here for a little while. With every move I make, or snack I take out of the pantry, my dog is never far from my side. That's unrivaled loyalty – this 120-pound German shepherd bodyguard knows no concept of space, and I couldn't lose him if I tried. My dog doesn't care if I have messy hair or no makeup on, or if I have no idea how I'm going to try to save the world today. He doesn't sit in judgment; he thinks I'm enough, just the way I am. He is the cardinal lesson in unconditional love. He teaches me to strive to love at that capacity. More importantly, he holds no bitterness or grudges when I fall short of that effort, teaching me the beauty of forgiveness and letting go. While he is well-versed in his commands, he doesn't always mind or take kindly to my control, reminding me that I, too, am rebellious and independent and need to adopt patience with others and myself. At the end of the day, he is "a heartbeat at my feet," and I am forever grateful for his unspoken guidance. (Edith Wharton).
After being a K-9 handler for many years, certifying my dog as a trained therapy animal of the Judges and Lawyers Assistance Program and studying animal assisted therapy, I can tell my dad that his horse whisperer wisdom is not an old wives' tale after all; the animals "listen" to us, too. It is my hope that my German shepherd, Judge, and I can bring the legal community some love and light soon as we get back to therapy dog visits. Until then, if your pet has helped you through these strange times, or life in general, the Honorable K9 Judge directs you to give them some extra love today, maybe even write them a love letter, too.
So ordered. So barked.
"Never shall I forget
The vision I saw that day
Of the mighty shepherd
Who took my breath away"
(Unknown)
To K9 Judge, with love. I hope I am half the person you think I am. Faithfully, Your Human.
Interested in having the JLAP therapy animals pay a visit? Call us at 866-428-5527 or 317-833-0370.•
• Ashley E. Hart is an attorney and licensed social worker in Indiana. She is a committee member and volunteer for JLAP and serves with her faithful therapy dog, the Honorable K9 Judge. Opinions expressed are those of the author.
Please enable JavaScript to view this content.