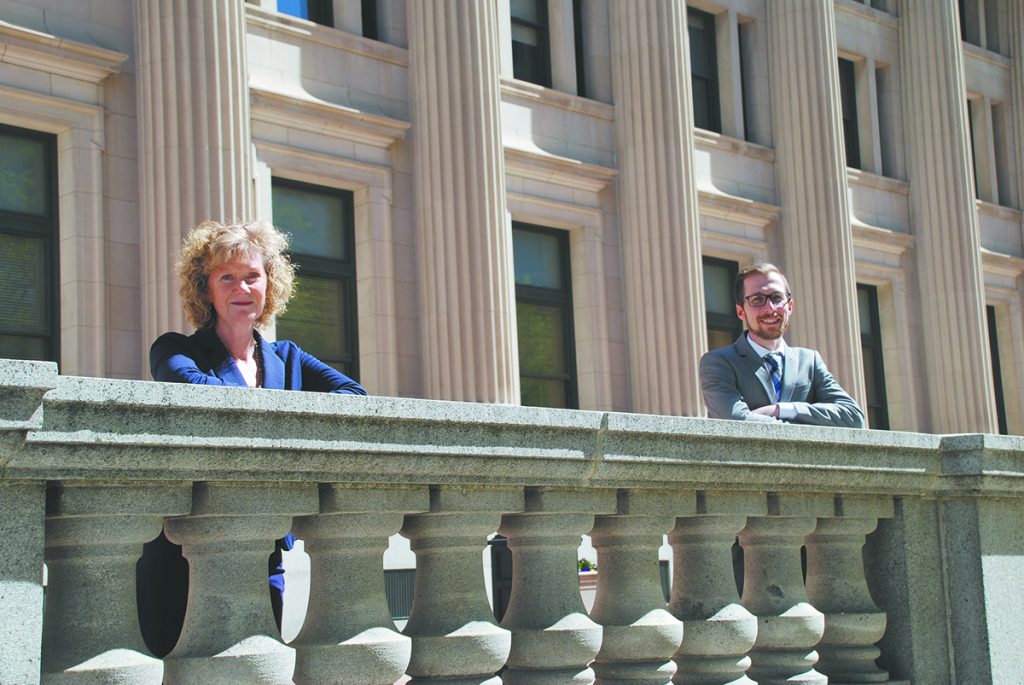 Three words best describe the past 21 years of Laura Briggs' time as clerk of the U.S. District Court for the Southern District of Indiana — meaningful, fulfilling and challenging.
As the longtime clerk stepped back from her post May 8 to pursue an adventure in retirement, Briggs said saying goodbye in the middle of a public health crisis is interesting and hard.
"It will also be hard for me not to be involved in something that is so integral for the functioning of American society," she said.
Before stepping into the role of clerk of the Indiana Southern District, Briggs worked at Barnes & Thornburg and in private practice for several years before taking a position as a staff attorney in the court. While serving in that role, Briggs said now-Senior Judge Sarah Evans Barker asked her what she thought about applying for the position of clerk.
"I thought, 'I have no idea whatsoever what this entails.' But I was quite a bit younger, so I thought, 'Yeah, I should do it!'" Briggs recalled.
"I jumped at the opportunity without any real thought, and about four months later, the permanent clerk position opened. By then, I felt really confident in my abilities. Probably inappropriately," Briggs said with a laugh.
As acting clerk, Briggs said the work was varied and fun. She particularly loved engaging with the people she worked with each day, coaching and creating opportunities for professional development among her staff.
"Something I had no experience with whatsoever, but it was just a wonderful opportunity to have a much more active role in the lives of so many individual people," Briggs said.
Making an impact
Not long after being selected as clerk, Briggs experienced firsthand what it meant to be a part of something bigger than herself.
Her first memorable moment as clerk for the Southern District came when then-District Court Judge David Hamilton granted habeas relief in the rape and murder case of Watkins v. Miller, 92 F. Supp. 2d 824 (S.D. Ind. 2000). In that case, DNA evidence and prosecutorial misconduct led Hamilton to overturn the conviction of Jerry Watkins.
"It just struck me that this individual had been in prison for a long time and he was going to be set free, and I had a little hand in that just by being the facilitator of communication," Briggs recalled. "It struck me, the power the federal judiciary has in protecting the constitutional rights of individuals. I was just sort of awed."
Since then, Briggs has become known as one of the leading district court clerks in the nation. She has sought to provide access to the court for all Hoosiers while maintaining a smooth-sailing ship in one of the nation's busiest districts.
In terms of managing her workload, Briggs said it's felt like running in front of a steamroller for 20-plus years. It's become normal for her to work 10-plus hour days with additional hours of work at home each evening and on the weekends just to keep her head above water. But that extra time spent is absolutely worth it, she said.
"I feel very personally responsible for the running of this court. That means that the judges have all of the support they need to get the work done and that the staff have all the support they need to do their work," Briggs said.
Those people, she noted, are what she will miss most.
"The judges and the staff, though they are colleagues, have become friends," she said. "It is not cliche to say that the people here are my family."
Tasting freedom
Briggs said her decision to retire at this point in her career started with a recreational vehicle.
"My husband and I bought a motorhome two years ago, and last summer we started traveling in the motorhome and were bitten by the bug of freedom," she said. "The draw and the allure of freedom and travel was too powerful for me to overlook."
Although restrictions posed by COVID-19 have put a slight damper on their plans to immediately visit state and national parks across North America, Briggs said she and her husband, Dave Brown, will pursue traveling at some point.
"After that, I'm not sure if I will want to go back to work, if we will continue traveling, or if we will move on a sail boat and live there full time. The future is wide open."
Continuing a legacy
As she prepares to embark on a new journey, Briggs said her successor, Roger Sharpe, will be terrific in his new role, which he assumed May 10.
"He is just a natural. His instincts on leadership, supervision and operations are already at that point that took me 10 or 15 years to arrive at," the longtime clerk said. "He is also incredibly smart. He is a very warm person, and he finds humor even in the darkness."
Sharpe, whose career has been built solely in the federal courts, joined the Indiana Southern District Court in September 2013 and has served as attorney to the clerk, staff attorney and law clerk to Chief Judge Jane Magnus-Stinson. He eventually transitioned into the role as the Southern District's death penalty law clerk.
Before he and his wife decided to settle in the Midwest, Sharpe was a law clerk to Judge Sidney Fitzwater of the U.S. District Court for the Northern District of Texas from August 2011 to August 2012. He then served in a yearlong clerkship with Judge Jerome Holmes of the 10th Circuit Court of Appeals in Oklahoma City.
Becoming the Southern District's newest clerk wasn't even on Sharpe's radar until Briggs announced her retirement. After working with her for years and gaining a great respect for Briggs' impact, Sharpe realized he wanted to ensure her efforts of keeping the place running at top speed would continue after her departure.
"I really like working with the judges here. There is such an incredible team of really dedicated, brilliant and talented staff. I thought, 'Hey, why not?'" Sharpe said with a laugh. "I care about this place, so it's an opportunity for me to give more of myself to an entity of the federal courts that I care a lot about."
Since being selected to succeed Briggs, Sharpe has spent the past six weeks preparing to take the reins. While transitioning during a pandemic has been challenging for both of them, Sharpe said seeing Briggs at the helm of uncharted waters has been inspiring.
"She just charges at these problems, and that was neat because I got to see someone who is truly great at their job in a tough situation just nailing it," he said.
"It was nice to be like, 'Okay, that's what excellence looks like, so I can try to do that.'"
Sharpe said he hopes to learn as much as he can in his first year as clerk and continue running the court as Briggs has for the past two decades. "It's one of those things where, 'If it ain't broke, don't fix it,'" he said.
Although he's looking forward to digging into some projects down the road that would focus on continuing to improve the court's functions, Sharpe's sights are currently set on something that both he and Briggs consider vitally important.
"Laura has always ensured that our court is available to anyone who wants to access it, whether that is our most regular and experienced litigators with great attorneys or pro se individuals with no money or legal training," Sharpe said. "That is a value that she and I share quite a bit.
"We are a public body that serves the public, no matter what," he said. "That's something I want to continue and I think our court does an excellent job of right now."•
Please enable JavaScript to view this content.