Hundreds of CASA volunteers formed a wave of blue at the Indiana Statehouse on Wednesday in celebration of the 30th anniversary of the Indiana State Office of GAL/CASA.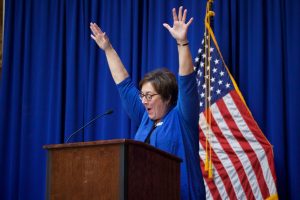 More than 350 volunteers gathered in the north atrium of the Statehouse on behalf of the abused and neglected children they advocate for daily, hearing speeches and declarations from a variety of supporters.
Established in 1990, the office certifies and provides training and support to local guardian ad litem and CASA programs across the state. The state office certifies local, volunteer-based programs, whose volunteers spend time with children involved in child in need of services cases. CASA volunteers also make child-focused recommendations to courts about what is in the child's best interests.
"When the state office was created and went into effect, there were 30 counties in the state that had a CASA program. That was about 33% of the state," GAL/CASA state director Leslie Dunn said. "At the end of 2019, we had 69 programs and 86 counties, which is 93% of the state. That is significant growth."
Last year, the office provided more than $6.2 million in grants to the counties its serves, Dunn said. Additionally, more than 24,340 Hoosier children have been served by nearly 4,500 volunteers.
"Not only have we seen growth at the state level with our expansion into new counties, but our local CASA programs have made incredible strides in their efforts to provide a voice for every child," she added.
Dunn acknowledged the strenuous efforts to reduce waiting lists for CASAs in numerous counties and applauded the counties that have completely eliminated their waiting lists, including but not limited to Hendricks, Clark, Monroe, Elkhart, Jefferson, Bartholomew, Jennings and Decatur counties.
"None of this work would be possible without the most amazing people in the room – our volunteers. They are the backbone and the heart of CASA," Dunn said. "CASA is the community coming together and wrapping their arms around these children at the worst time of their lives and giving them support and advocacy."
Longest serving CASA director Therese Miller raised her hands in victory as a celebration of the office's accomplishments, cheering along with the crowd of volunteers. The 30-year CASA veteran and Advocates for Children executive director said support from the judicial bench is essential.
"The support of our judges and magistrates is critical, both in establishing a CASA program and in helping the programs to continue developing to provide strong advocacy for abused and neglected children," Miller said.
Keynote speaker and Indiana Supreme Court Chief Justice Loretta Rush praised the office for the 54% waiting list reduction in the past few years but noted she still worries about the children that still don't have an advocate. Rush said she looks forward to working to get CASA programs in the remaining six Indiana counties.
"I could not love our CASA program any more," Rush said to the crowd of volunteers. "Thank you for what you do. What you bring to that case, I cannot tell you how important it is as we as judges parse through all of those facts, trying to do what's best for these vulnerable children that are before us."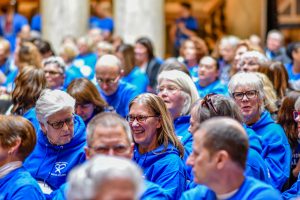 Dunn, in closing, said she knows one caring adult can make the difference in the life of a child. That's why CASAs do what they do, she said.
"The critical work of advocating for abused and neglected children and ensuring each child has a voice in court simply cannot be done without strong CASA programs," Dunn said. "While we know there is always more work to be done, today we can celebrate the lives that have been impacted as a direct result of having a court appointed special advocate."
For more on the 30th anniversary of the GAL/CASA Office, see the March 18 edition of Indiana Lawyer.
Please enable JavaScript to view this content.