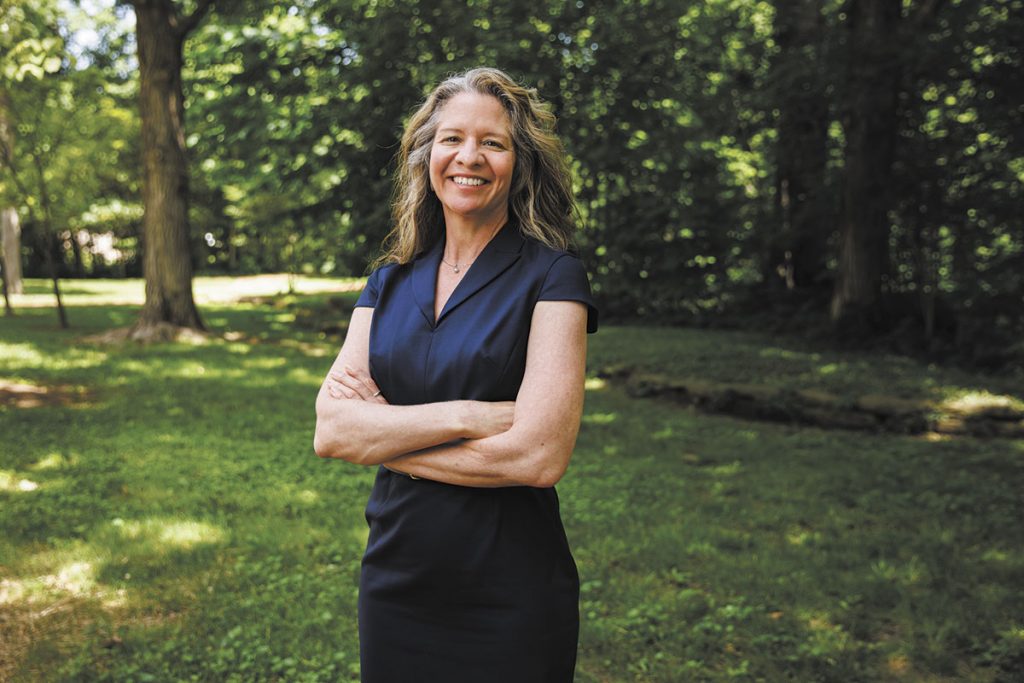 Displayed throughout Christiana Ochoa's office are sentimental photos and items she's collected from across the globe, but the most eye-catching print is propped behind her desk.
The new Indiana University Maurer School of Law dean has a red, blue and beige poster prominently displayed in her headquarters, depicting a Latina woman with a Mona Lisa-esque smile and a rose in her hair with the words, "WE THE PEOPLE — DEFEND DIGNITY," typed across the bottom.
"To me, it's a great piece of art with a Latino woman who clearly is confident, and confident in her belief that we are a vital part of this country and that it is important to uphold the principles of democracy and the rule of law," Ochoa said.
Last month, the law school announced Ochoa, 52, who has worked at IU Maurer for around two decades in various teaching, administrative and leadership roles, as the 17th dean in the law school's history.
Ochoa, who moved to the United States from Mexico when she was 8 years old, is proud of her heritage, so when she became the first person of color and second woman to be named dean of the Bloomington-based law school, it was an extra point of pride.
In fact, Ochoa is just one of eight Latino people to ever serve as the dean of a U.S. law school.
Indiana Lawyer recently sat down with the new law school dean — who moved into the full-time role Nov. 1 after serving as interim dean since July 1 — to discuss a variety of topics. A portion of that conversation, edited for space, follows.
A full transcript of the interview can be found here.
Why did you decide to pursue the deanship?
I really love this law school and I love my colleagues, and it is incredibly important to me to see them and to see this law school be as great as they can be. And it is not that I believe I'm the only person that can do that — I was very eager and open for the possibility of somebody else being in this position and my supporting their deanship. It was more that I believe I have ideas and I believe I have the spirit and motivation to support my colleagues and to advocate for this law school.
Are there any challenges that you see with the law school coming into this role?
The legal profession is still not adequately represented by underrepresented groups in the population. We still do not have sufficient numbers of people of color in the legal profession. Ensuring that we've got diverse communities that feel truly at home in their law schools and in the legal profession is incredibly important. It's important to ensure that the legal profession, in all its facets, is a profession that is responsive to the community that needs the assistance of lawyers. That is a constant challenge to ensure that we're developing the pipelines for students to apply and be prepared to study law. So that is an ongoing and really important challenge that we are aggressively involved in and taking into account and addressing.
You're the first person of color to hold the deanship position at IU Maurer. What does that mean to you?
I think the first thing to make clear is that, as the dean of the flagship public school in this state, I am clear that I'm the dean for all of our students and for our entire community, and that's incredibly important. I know, because of the reception that I've gotten from our students of color and our alums of color, that it is very, very meaningful to them — and I understand why that is, because when I was a law student, I couldn't have imagined having a dean who is a person of color. It just seemed so far away from the reality that I was in when I was a law student. What I hope it does, what I have heard that it is doing for our students, is that it is expanding their view of what's possible in their professional lives. And if I can have that effect on our students, and if I can help them feel more like this truly is their law school, then that is an incredibly gratifying experience to be able to do that and be able to reflect to them and reinforce to them that we're at a moment in history when there's nothing that is outside of their reach.

When we spoke previously, you said there are a lot of more external-facing responsibilities as dean as opposed to other administrative roles you've had before. What does that include?
We have relationships with the bench and bar that are incredibly important to us. It's very important to the law school to maintain a very strong relationship with the Supreme Court and with the courts inside the state of Indiana as well as with the federal court. So that is part of it. And then the Indiana State Bar Association and the community of lawyers — not just in the state, but also around the country and globally — that support this law school by sending us students, by employing our students, by keeping us well abreast of developments in the practice so that we can assure that our curriculum is responsive to the needs of those future employers and ultimately the legal profession over time. So those relationships, they're really, really important. The law school also depends on the generosity of alums and friends who have given up their time and effort and energy and spirit and funds, as well, to the law school, and so those are relationships that matter tremendously to the law school, and it requires time and energy to upkeep them.
What's your opinion on the Uniform Bar Exam?
We've watched really closely how our students are performing on the bar exam in every jurisdiction every year, and we're always very proud of our students. We know that they've performed well under the prior regime and under the current one. We know that there's increased conversation about the next generation of the bar exam and we're watching that really carefully, as well. It's incredibly important to us that we are confident that we're preparing our students for very viable legal practice and vibrant professional life. And part of that, of course, is being able to pass the bar exam. We're really attentive to all of those and all of the results of the bar exams. Ultimately, I don't have a strong view about the UBE, or before or the next-gen bar exam. I just am committed to ensuring that our students are prepared to practice and to take that bar successfully.
What are some things right now, in the immediate future and in the long run, that you're excited about?
I am really excited about working with our alums and our students and our staff to rethink the most vital roles for law schools in society today. I believe that law schools play a very important role in providing the infrastructure for a democratic society, and that is a role that when there is relative political tranquility inside a country, it is easy to overlook. But when we've got the kinds of discourse that are happening inside the United States right now, it becomes more evident how important it is to have well-trained lawyers and legal academics who are free to speak about the importance of the rule of law and the importance of democracy.
That's not the only area this is true. There are other spaces in our society today that are incredibly important and pressing and are causing folks to really ask a lot of new questions. So, what is the role of law in technology? How do we assure that technology is used for the improvement of the human condition rather than for the oppression of the human condition? How do we ensure that we are defining the best structures to support humanity as we become a much more technological society? So we're really expanding into a law and technology program. Questions about criminalization, mass incarceration are questions that are also, I think, pressing on the United States right now, particularly the ways that mass incarceration affects Black and brown people disproportionately in the United States, continues a legacy of disparate treatment that needs to be addressed. We've got a tremendous faculty here that is equipped to handle those questions and address those questions, together with law tech questions, together with the rule of law questions, in ways that I think will really speak to society at large, and I'm excited about defining, "What are the most pressing social issues and what role can we play in assisting the discourse on them and helping to solve social problems?"•
Please enable JavaScript to view this content.