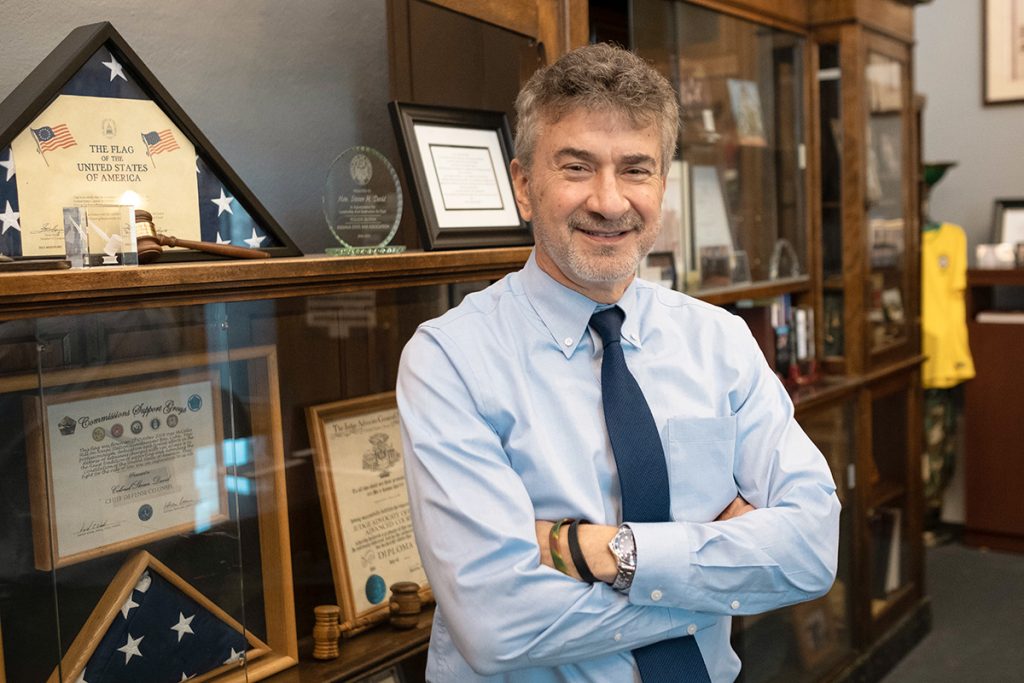 He'd been waiting for this moment for years.
Justice Steven David, then an attorney appearing in court in Bartholomew County, was about to try his first case in his hometown courthouse. The judge entered the room, asked the parties if they were ready to proceed. "Yes you are, we honor," a tongue-tied David replied.
"I sat down and the judge was like, 'Are you sure?'" David recalled.
It was a bumpy start to what David had hoped would be a lengthy career in Bartholomew County as a judge. His dream of being a judge would eventually become a reality, though he would ascend to the bench in Boone County, where he served for roughly 16 years.
His plans for a Bartholomew County career didn't pan out, but David's legal and judicial experience has allowed him to fulfill his core life goal: service. From his time in the Army Reserve to his community involvement to his work on wide-ranging court initiatives, David described himself as someone who is "all in" on any project he's asked to undertake.
But David was never specifically asked to be on the Indiana Supreme Court. Even so, when Justice Ted Boehm retired, David, now the longest-serving justice, said he decided to take a shot at serving Indiana at the highest judicial level.
"I'm not sure how I got here, but I'm here," David said. "I wanted to serve."
David recently sat for a wide-ranging interview with Indiana Lawyer.
Q. You were the start of the bench turnover in 2010. Does the court seem different now?
A. Certainly. I got to serve with some of the most remarkable justices to ever serve on this court. … But change is inevitable, change is a part of life, and as remarkable as the "Fab Five" were, I think it's our opportunity to leave our mark, and I'm proud to serve and honored to serve with my four colleagues. … I like to compare it to a really, really good basketball team — each of us average 12, 13, 14 points a game, but on any one night, any one of us is capable of scoring 40-plus points.
Q. Have you always felt that with all of the justices you've served with?
A. Oh yes. Everybody's different, and that's what makes this job so unique, and it makes it so different than being a trial court judge. Our trial court judges do all the heavy lifting and do a fantastic job, and so does our Court of Appeals. The advantage I have is, I'm surrounded by four extremely talented, caring people.
Q. Is there a case or issue that stands out as being a particularly big deal?
A. Everything we write on is a big deal, everything we review, even if we don't grant transfer, is a big deal. If I had to identify a case, I'm afraid I would minimize other important cases. I think it's unique that we all look at each petition to transfer individually, each chamber, each justice — that's not done everywhere. … It is not unusual for someone to advocate a discussion — in other words, if there's one justice that's interested in talking about a case after a petition for transfer has been filed, that gets the case on the conference. Occasionally you'll have one justice say, "I want to talk about this," and no one else is initially interested in it, but after conversation and discussion around the table, there may be one or two additional people that join, so then consequently we take that case. And that's happened several times where it ended up being a 5-0 opinion. … If someone has a difference of opinion, we'll work through those to the extent possible. It's not unusual to say, "I'm struggling with this part, would you consider writing your opinion more narrowly?" …
Q. Is there a particular area of law you enjoy looking at?
A. I can tell you what I don't like — nobody likes looking at the criminal cases, particularly the more violent criminal cases. Nobody likes reviewing whether or not an error is there to the extent that you have to reverse a petition to terminate parental rights. … I like the complexity and the variety of the different cases. … The uniqueness of our position allows us to see cases that are pretty consistent with what our practice expertise was, or what we saw as a trial judge, but yet, at the same time, some cases that we may not have ever otherwise been exposed to.
Q. What's been your administrative role as a justice?
A. I thoroughly enjoy our mission work — and that's our critical mission of deciding cases and writing cases and reviewing — but there is a super opportunity to be involved in, as a sort of member of the "board of directors," the practice of law and everything affecting the practice of law. I've been very involved in the State Bar Association's Leadership Development Academy since its inception … court technology and bringing e-filing to all 92 counties, and about to bring Odyssey to all 92 counties — that was under (Court of Appeals) Judge (Paul) Mathias and I's responsibility for several tough years. … The statewide implementation of (the Juvenile Detention Alternatives Initiative), just the tremendous success that it has had in the state of Indiana and not only in reduction of kids in detention, but cost savings to the counties, cost savings to the state, no adverse public safety consequences, reduced juvenile detention filings, and then all of the positive things that come from building relationships. … Certainly Criminal Rule 26, some of the lessons learned from JDAI were applicable to Criminal Rule 26 — how to be inclusive, bringing in the stakeholders that have an interest in this, working together, learning to listen, listen better, establishing those relationships…. You can't have those meaningful conversations after saying, "Hi, how are you? I'm Steve David, I'm with your Indiana Supreme Court." So it takes time, and I think the collaboration, the partnerships that the executive branch, the judicial branch and the legislative branch have in this state are nothing short of amazing. …
Being in a position to go out and do CLEs, go out and talk about civics, about citizenship and give substantive presentations, talk about the rule of law, talk about Guantanamo Bay and my service there and why that's important — I think I've done closing in on 500 presentations in the state, outside the state, outside the country, whether it's been in China or Vietnam or other places, to talk about the rule of law and just how important our system is and why, in my opinion, we're the envy of most of the world and the enemy of some — and that's our system of justice. … My newest assignment is to temporarily get started this Innovation Initiative. The thought is … what's the practice of law going to look like, and what's the practice of being a judge going to look like, what's the practice of being an appellate judge going to look like in five years, 10 years, 15 years? How do we get ahead of that?
Q. What do you think has been the court's biggest success and biggest challenge?
A. I think the biggest success — which has enabled so much other success to come from that — is the willingness and the hard work that is necessary to establish the relationships and enhance the existing relationships and to take those enhanced relationships to the next level, whether it's with our trial judges, with our appellate judges on the Court of Appeals, whether it's with the executive branch, the legislative branch, Department of Correction, Department of Education. …
The challenge, or the challenges, are the same: understanding the separation of powers, respecting the lanes … I think we've done a very good job of that, but that's the challenge — to continue to cultivate that and not rest on any laurels. My father accomplished many, many things and was part of many, many, many successes, but he always said, "That's history. What are you going to do today? What are you going to do tomorrow?" What you've done in the past usually only sets the expectations for what's expected in the future, so that's a fun challenge if you look at that from the right perspective. …
Q. What's the hardest part of your job, and what's your favorite part of the job?
A. My most favorite part of the job is the interaction with my colleagues, my chambers, our court staff — court family — our trial judges and our appellate judges and lawyers in Indiana, and the interaction I get to have, not as often as I like to, with John and Mary Doe, Indiana — just to pinch myself and say, "Wow, I'm having this conversation." …
The hardest part is making some of the decisions we have to make and angsting over those. We're trying to get it right — that's all we're trying to do. We don't have an agenda. There's no secret plan. …•
Please enable JavaScript to view this content.