In the weeks leading up to the Indiana General Assembly's special legislative session — as well as during the time lawmakers were in their Statehouse chambers drafting a new bill — Indiana's abortion laws changed.
Not in the sense of new legislation, but in the reality that old laws on the books could be enforced after years-old injunctions blocking them in federal courts were lifted.
With Senate Enrolled Act 1 — which bans abortion except in cases of rape or incest before 10 weeks postfertlization, to protect the life and physical health of the mother, and if a fetus is diagnosed with a lethal anomaly — now signed by Gov. Eric Holcomb, enforceable abortion laws will again change on Sept 15.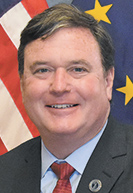 Days after Roe v. Wade was overturned by the U.S. Supreme Court in Dobbs v. Jackson Women's Health Organization, Indiana Attorney General Todd Rokita requested that multiple injunctions against Indiana abortion regulations be lifted by the U.S. District Court for the Southern District of Indiana and the 7th Circuit Court of Appeals. Rokita, a Republican, has been a vocal anti-abortion advocate and has used his office to promote that platform.
Since June 27, when Rokita first asked for the injunctions to be lifted, the Indiana Southern District Court and the 7th Circuit have vacated 12 injunctions against Indiana abortion regulations, Rokita's office told Indiana Lawyer last week. As of Aug. 10, there were six pending cases with injunctions that the Attorney General's Office hoped to have lifted.
A handful of those injunctions were directly linked to previous abortion laws that made it through the Legislature but ultimately were put on hold by the courts.
Enforceable abortion laws were changing via the lifting of injunctions in Indiana at the same time that state legislators were drafting a near-total ban on abortion in the state. For example, on July 27, an injunction was lifted in Planned Parenthood of Indiana and Kentucky, Inc. v. Kristina Box, et al., 17-2428, allowing Senate Enrolled Act 404 — which requires "mature minors" to notify their parents before getting an abortion — to take effect for the first time since it was passed in 2017.
That same day, the Indiana Senate convened to adopt committee reports. Second reading of SEA 1 occurred the next day.
Law professors at Indiana University Maurer School of Law and IU Robert H. McKinney School of Law say the new abortion laws will supersede the old ones, including the ones that only took effect recently when injunctions were lifted.
Some of the language in the new abortion law, however, mimics the laws that are no longer enjoined, such as the requirement that a fetus can't be aborted due to its race, sex or disability.
Indiana lawyers have largely had to keep up with the changes in the law on their own, as the Indiana Code on the General Assembly's website doesn't indicate which laws are and aren't in effect due to court actions.
"The Indiana Code is a record of the actions taken by the General Assembly," Legislative Services Agency Executive Director George Angelone told IL in an email. "Legislative Services Agency, as the publisher for the General Assembly, does not remove a provision from the Indiana Code or add a note to the provision to reflect actions taken by a court."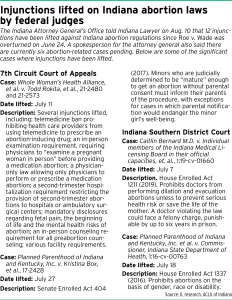 The Center for Reproductive Rights has kept up with the changes in Indiana's abortion laws on its website and has concluded that "medically unnecessary restrictions make it difficult for people to access abortion care in Indiana."
The Lawyering Project, a national nonprofit that is involved in several abortion-related lawsuits in Indiana, told Indiana Lawyer it is constantly looking at all the litigation regarding Indiana's abortion laws.
"The Lawyering Project is still analyzing Indiana's cruel abortion ban and working with our clients to determine its impact on their operations and any pending litigation challenging current abortion restrictions," Rupali Sharma, senior counsel and director at The Lawyering Project, said in a statement to IL.
Perhaps in a sign of how courts are going to handle abortion cases in the interim, Indiana Southern District Court Senior Judge Sarah Evans Barker on Aug. 5 — the same day SEA 1 was passed — stayed proceedings in the case of Whole Woman's Health Alliance, et. al. v. Todd Rokita, et al. 1:18-cv-01904, pending the outcome of the special legislative session. Now that the session has adjourned, the parties have 30 days to decide where the case goes.
While restrictions are tightening, Planned Parenthood wants Hoosiers to know abortions are not outright banned.
"It is important for our patients to understand that abortion is still safe and legal in Indiana until September 15, 2022, when Senate Bill 1 is set to become law," Rebecca Gibron, CEO of Planned Parenthood Great Northwest, Hawaii, Alaska, Indiana, Kentucky, said after SEA 1's passage. "Until then, we will be exploring every legal option available to stop this devastating outcome."
Rokita's office declined an IL request to speak with one of its attorneys about how pending abortion cases are being litigated and instead offered a statement saying the office has worked "aggressively" for Indiana abortion regulations, which "ens(ures) greater protections for the unborn and their mothers."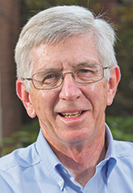 Rep. Ed DeLaney, D-Indianapolis, who is of counsel at DeLaney & DeLaney LLC, said the Legislature acted "as if this process of reviving dead laws wasn't going on." He said the topic of ongoing court actions didn't come up during the special session.
DeLaney, who was among the Democrats voting against the bill passed by the Republican supermajority, said lawyers need to look at what kind of records doctors are supposed to keep if they're performing abortions before SEA 1 goes into effect. He said there are several questions that need answered, such as issues surrounding interstate telemedicine use, and he called the legislation "overly vague."
"I think doctors (will be) incredibly cautious, and at the same time the attorney general will be incredibly incautious," DeLaney said. "If I'm in-house counsel, I'm gonna sit here saying, 'If it's gray, I don't want to go near it.' How do I [sic] a doctor who's got a patient sitting in his or her room (know) whether they can comply with this law when it hasn't been tested out and when there's somebody sitting in the corner salivating at the chance to take some doctor's license?
"I mean, this is a very difficult circumstance," he continued. "I expect there'll be very, very few abortions within the exceptions. Limited as they are, I think we'll not see it utilized very much because the doctors and their lawyers will be very nervous.
"… I'm really happy that I'm not an in-house counsel or any medical related business," DeLaney concluded.
An interview request to Sen. Sue Glick, R-LaGrange, who is the author of the bill and an attorney, was not met.•
Please enable JavaScript to view this content.