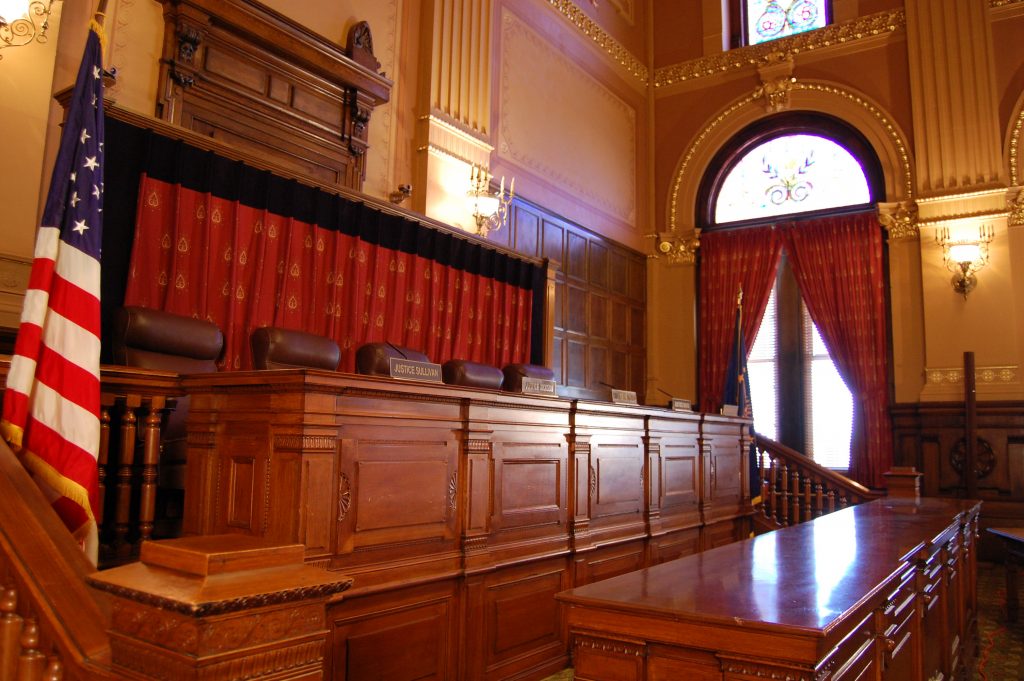 Indiana Supreme Court justices on Tuesday heard arguments in a commitment case concerning whether a trial court wrongly denied a woman's request to have her case heard in person during the COVID-19 pandemic – and whether it provided the necessary good cause as to why she couldn't.
In October 2021, Marion Superior Court held a commitment hearing remotely for B.N., a 69-year-old woman diagnosed with schizophrenia. Despite B.N.'s objection and request for an in-person hearing, the trial court proceeded remotely based on the circumstances posed by the COVID-19 pandemic.
At that time, Indiana's courts were operating under a May 13, 2020, Indiana Supreme Court order that authorized the use of "audiovisual communication to conduct proceedings whenever possible to ensure all matters proceed expeditiously and fairly under the circumstances."
The order also stated, "Any party not in agreement to the manner of the remote proceeding must object at the outset of the proceeding, on the record, and the court must make findings of good cause to conduct the remote proceeding."
A public defender who represented B.N. before the trial court didn't argue the court's reference to the pandemic as a justification for holding a remote hearing was either insufficient to constitute a finding of good cause or unsupported by existing circumstances. The trial court concluded that B.N. was " indeed suffering" from schizophrenia and was "currently gravely disabled," subsequently ordering for a commitment.
B.N. appealed, challenging the denial of her request for an in-person hearing, but the Court of Appeals of Indiana held B.N.'s arguments were waived and affirmed the trial court's order in a memorandum decision.
Joel Schumm, a professor at Indiana University Robert H. McKinney School of Law, stood before the Indiana Supreme Court on behalf of B.N. during oral arguments on Tuesday, asking the justices to accept transfer of his client's appeal.
Schumm pitched three arguments as to why transfer should be granted.
First, he argued B.N. should be permitted to sit with her counsel in person and be seen and heard by the trial court tasked with making a decision about whether she's gravely disabled.
Second, and serving as one of the major focal points of the Tuesday argument, Schumm asserted that the words "COVID-19 pandemic" are not a finding of good cause and thus the trial court didn't offer good cause for its denial.
Third, Schumm argued that a new hearing is automatically warranted because it deeply affected the proceedings from beginning to end.
"B.N. was able to appear remotely, but that is fundamentally different than being in the courtroom," Schumm argued. "This court's Administrative Rule 14 orders made clear it was important to return to in-person proceedings."
Chief Justice Loretta Rush noted that several commitment cases express  litigants' "dire" need for in-person hearings to be required. When asked if the high court should balance that against the good-cause showing of not allowing it, opposing counsel countered that B.N. was allowed to participate in the hearing and that her due process rights were preserved.
"During the hearing, there was the ability to confer with counsel, the ability to testify (and) cross-examine witnesses," said Seema Ramesh Shah, who is representing Sandra Eskenazi Mental Health Center. "So the proceeding wouldn't have turned out any differently had it been in person."
Shah likened B.N.'s situation to civil cases that also implicate liberty interests, like termination of parental rights cases.
"I think it would be hard to find a due process right to appear physically for a respondent in a commitment hearing when a parent doesn't have that same right in a termination hearing," Shah said.
Discussing what the right to be "present" means, Shah said she believes that right is met during remote hearings, but that the term could be modified to include virtual presence and physical presence.
Shah opined that instead of using B.N.'s case to scrutinize a "trial court on a particular day in a particular county," the justices already have a "perfect vehicle" to clarify what trial courts are required to do in terms of good cause through the public comment period on Administrative Rule 14.
On Sept. 30, the Supreme Court issued an order  rescinding its May 2020 emergency order effective Jan. 1. According to the order, proceedings occurring on or after New Year's Day shall be subject to Interim Administrative Rule 14.
Under the proposed rule, in all nontestimonial hearings or conferences, a court may, upon request or on its own order, conduct a hearing or conference as a remote proceeding. The order also states that a court shall conduct all testimonial proceedings in person unless there is a good reason not to.
On rebuttal, Schumm argued that the rules don't require for reasons to be explained as to why an in-person request is made.
"It says you have to ask for an in-person hearing. Counsel did what was expected under the rules. We shouldn't change the rules midstream and require more," Schumm said. "… The issues in this case are transfer worthy because they are issues that go beyond this case and continue today and go on under the interim proposed Administrative Rule 14 order."
The justices will deliberate to determine is transfer should be granted in the case, which can be watched online.
Please enable JavaScript to view this content.