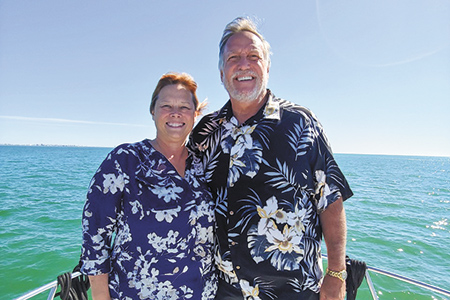 Hoosier attorneys Ann Marie Waldron and Mike Simmons just returned home after weeks on a boat they plan to work from for the next few years.
The couple — medical malpractice and personal injury attorneys, respectively — have decided to work remotely from their boat as they complete a tour of the Great Loop: thousands of miles of waterway along the riverbanks and shorelines of eastern North America.
They purchased a seasoned trawler, a 45-foot-long boat with twin diesel engines previously owned by Great Loop adventurers like themselves. Two weeks were spent learning how to drive the boat, getting familiar with the engine room and being trained on nautical terms and traditions.
Once they were ready to set sail, Waldron and Simmons set off in January on the first stretch of their trip. In the next two or three years, they plan to spend a few weeks on the water, dock their boat, return to Indiana for a few weeks, then head back out to continue their journey, all while continuing to practice law. Waldron plans to document their experience on a blog, twoboatinglawyers.com.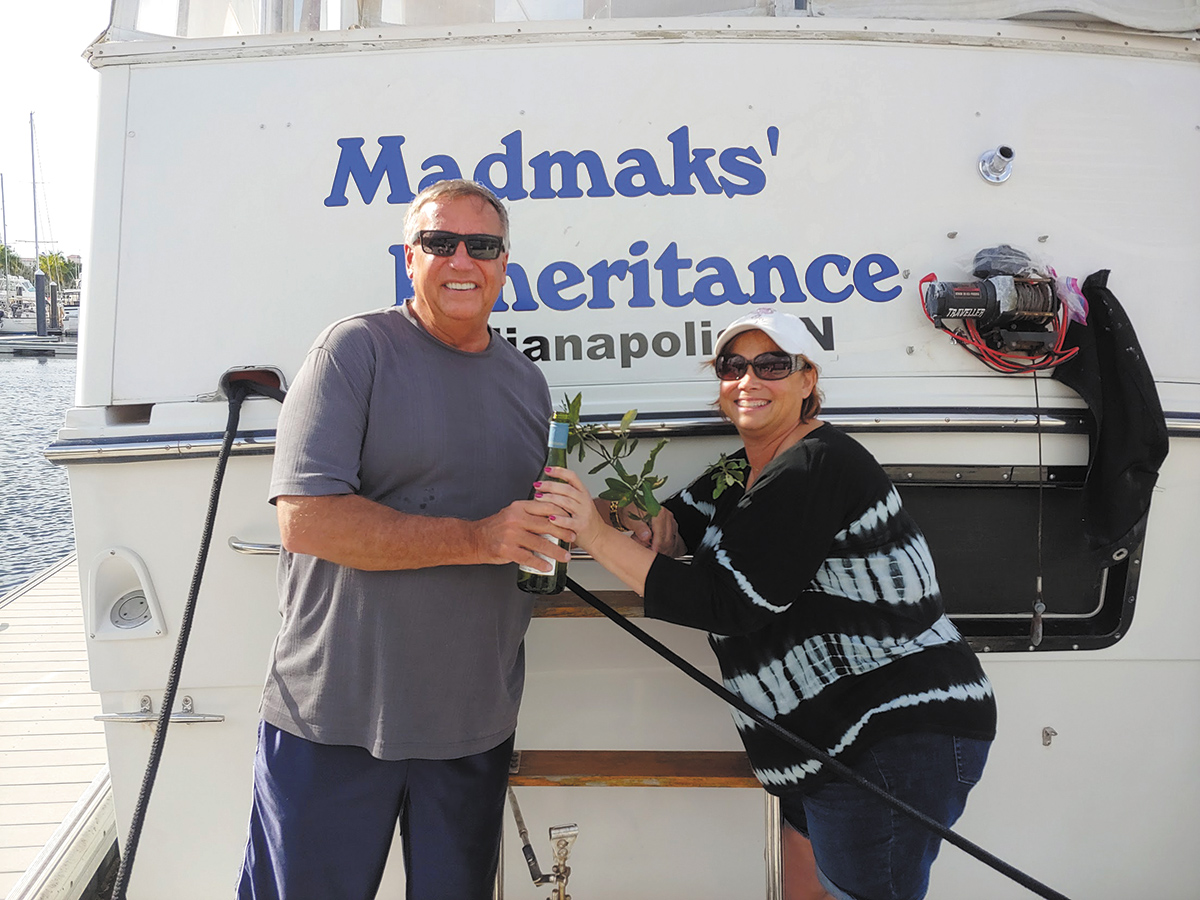 Work and play
When Waldron was diagnosed with breast cancer in 2014, she said the couple made a conscious decision after her recovery to "live life to its fullest."
"We would rather take more vacations and time away from the office, but work while we are gone, than to take just two weeks and be totally unplugged the way some people do," Waldron explained.
So, the couple has been working remotely off-and-on for the past six years. They come equipped and ready with their laptops and iPads, with access to their documents and files through the cloud.
"We're kind of used to doing this," Waldron laughed, recalling a time when she once had to close a commercial loan while in France.
"And we have great staff. We couldn't do it without the staff," Simmons added. "Between my secretary and my case manager, my partners allowing me to do this, everything gets covered."
It's now easier to work while traveling, Simmons said, as the courts embrace phone conferences and electronic filing, which has allowed the couple to work remotely more often. Since they must be in Indiana for depositions, trials and mediations, they simply schedule those during the clumps of weeks they are home.
"We both are workaholics. We both love being lawyers. So it's not the sense of, 'We want to get away from work,'" Waldron said. "This way we get to have the best of both worlds. We get to do what we love to do, but still have fun doing other things, too."
Discovering the Great Loop
At roughly 6,000 miles long, it takes most people a years' worth of cruising to complete the Great Loop, Kim Russo, executive director of America's Great Loop Cruisers' Association, said.
For example, if a looper were to set off from Chicago, they would head down the Illinois River, intersect with the Mississippi River, then turn off onto the Ohio River. That would lead them to the Tennessee River, and then the Tennessee-Tombigbee Waterway. Their boat would then travel down to Alabama's Mobile Bay and into the Gulf of Mexico.
"Then that goes southward into the Florida peninsula," Russo said. "You round Florida up to the Atlantic Intracoastal Waterway, through Chesapeake Bay, out the Delaware Canal to the tip of New Jersey, and then into New York Harbor. Then you go into the Hudson River, which leads you into the Great Lakes, and there are several route choices there. Then you'll end up back in Chicago."
Although the earliest completion of the Great Loop occurred at the turn of the 20th century, the waterway trek didn't pick up in popularity until the early 2000s. When AGLCA founder Ron Stob authored "Honey, Let's Get a Boat … A Cruising Adventure of America's Great Loop" after completing the journey, interest in the Great Loop began to increase.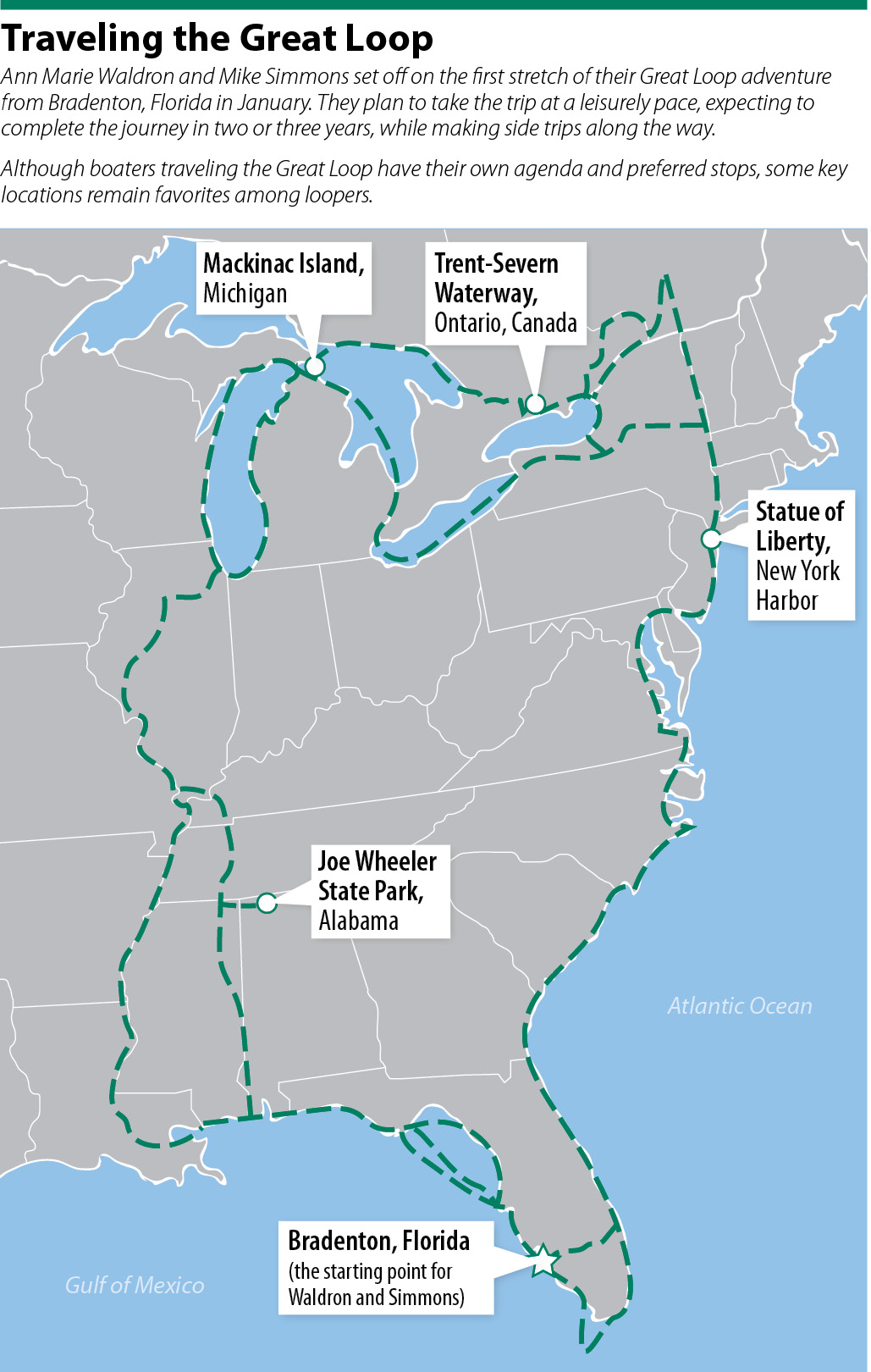 Currently, 150 boats report completing the Great Loop each year by AGLCA members hailing from all 50 states and 14 countries, Russo said. Completing the Great Loop is a unique accomplishment, she added, noting more people reach the summit of Mount Everest than finish the waterway tour.
"It's really a neat adventure. You're seeing so much of the country from a different perspective, and instead of highways, you're traveling the river systems. You're often traveling in the most historic parts of the towns, which makes it really interesting," Russo said.
One favorite stopping point for loopers is the Statue of Liberty in New York Harbor, where they gather and take pictures of one another's boats by the monument. Another is the historic Trent-Severn Waterway in Ontario, Canada. Russo said there's a place for everyone to enjoy on the Great Loop, whether rural inland rivers, bustling city harbors or easy-going coastal shores.
Ready for adventure
Waldron said she's looking forward to exploring the Florida Keys and Ontario, where the couple takes annual trips. She's particularly excited to visit Niagara-on-the-Lake just beyond Niagara Falls. For his part, Simmons is ready to explore the inland river systems and the Great Lakes.
But the trip will be slow and steady, taking them more than one year to complete. Experienced loopers advise not to make the trip too quickly, otherwise they'll regret rushing the journey.
But what both Waldron and Simmons are hoping to gain from their Great Loop experience is the adventure they'll encounter along the way: putting in the hard work to maintain their boat, making sure they are prepared and learning everything there is to know about sailing.
"We can get on a cruise ship or drive to these places. But it's different when you are responsible for being out there and you are on your own," Simmons said. "When you're out on the water and the wind is blowing through your hair and it's sunny, it's not like sitting indoors."
"You feel very free," Waldron agreed.
"The adventure of seeing the country in this way is our real goal," Simmons said. "Anybody can drive it. We're going to see it a little bit differently."•
Please enable JavaScript to view this content.