A total of 21 contested races for county prosecutor, circuit court judge or superior court judge in Indiana brought in tens of thousands of dollars in campaign contributions, resulting in new officeholders in several Indiana counties, including some who unseated incumbents.
The results of the Nov. 8 election proved a mixed bag for candidates of both major parties, with Republicans succeeding in 18 of the 21 contested races while Democrats, although with fewer wins, picking up victories in key contests. Among those was the race for Marion County prosecutor, where incumbent Democrat Ryan Mears took home about 60% of the vote to Republican Cyndi Carrasco's 40%.
An incumbent was ousted in six races, including in the contests for prosecutor in LaPorte, Perry, Switzerland and Wells counties and for circuit court judge in Knox and Marion counties. Each of those incumbents was a Democrat, except in the race for Marion Circuit Court, where GOP incumbent Tiffany Vivo was defeated.
Among appellate judges, Court of Appeals of Indiana judges Paul Mathias, Nancy Vaidik and Leanna Weissmann all received positive retention votes in each county where they were on the ballot. For Mathias, that's District 3, the northern third of Indiana; for Vaidik, that's District 5, covering all Indiana counties; and for Weissmann, that's District 1, the southern third of the state.
The final statewide retention vote numbers were not available at Indiana Lawyer deadline.
Following is a breakdown of the results in each contested race for county prosecutor or circuit or superior court judge.
Candidates in dozens of other judicial races statewide ran uncontested.•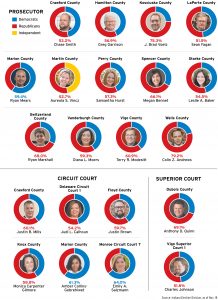 Please enable JavaScript to view this content.