During a jovial gathering on the north side of Indianapolis early Friday afternoon, Hoosier attorneys and judges alike rose from their seats, joined in unified chorus and recited words from a creed led by Indiana Supreme Court Justice Steven David in devotion to the legal profession.
"I am a lawyer; I am a protector of the rule of law, due process and fairness," Justice David began as he led the group in the recitation. "I am an officer of the court. I serve my clients with loyalty, competency and honesty."
More than 120 attorneys and judicial officers gathered at the BASH venue in Carmel on June 24 to celebrate the Indiana Bar Foundation's civic education milestones and civil legal assistance during its inaugural Annual Meeting and Awards Luncheon.
Scott Wylie, a member of the IBF board and managing attorney of the Volunteer Lawyer Program of Southwestern Indiana, emceed the event. He began the lighthearted luncheon by honoring longtime IBF President and CEO Chuck Dunlap, who is celebrating his 20th anniversary with the foundation this year.
Dunlap recapped a busy year by celebrating the return of an in-person We the People competition, which resulted in wins from Fishers Junior High School and Fishers High School.
He also praised the IBF's award of a two-year, $13.1 million grant from the Indiana Housing & Community Development Authority to help provide housing stability legal services around the state.
Additionally, the IBF's new branding was revealed and its accompanying website, inbarfoundation.org, was launched.
Caryn Glawe, incoming IBF board chair, honored outgoing board members Scott Barnhart, Robert Beasley and Wylie. Incoming members of the board were also welcomed, including Robert Dion, an associate professor of political science at the University of Evansville; Sharon Jackson, deputy general counsel in Gov. Eric Holcomb's office; and Judge Richard L. Young of the U.S. District Court for the Southern District of Indiana.
For his own legal aid contributions, Wylie received the Indiana Bar Foundation's Champion in Civil Legal Assistance Award.
Hamilton Southeastern High School educator Janet Chandler received the Indiana Bar Foundation Champion of Civic Education Award for her contributions to the promotion of civic education among Indiana students. Chandler is an IBF board member and the We the People teacher at her school.
Justice David received the Indiana Bar Foundation's inaugural Legend Award and was praised for his extensive legal accomplishments and quality character.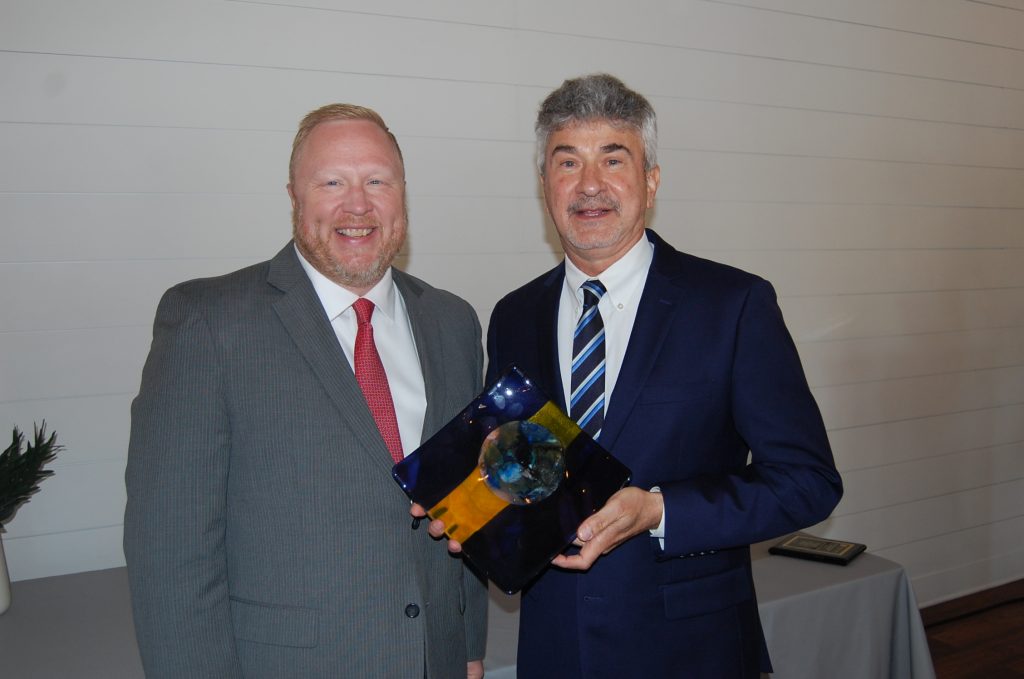 Senior Judge Nancy L. Gettinger, a board member, presented the award to David, defining the term "living legend" and describing David as a great mentor, cheerleader, and patient, humble and trustworthy friend.
"According to Miriam Webster, a legend is someone still living and famous for doing things extremely well. He does many things extremely well," Gettinger said. "Justice Steven David is not only a great judge on and off the bench. He is much more — he is truly a servant to the citizens of our state."
"He could not be more deserving of this award," Lucy Dollens, a board member and partner at Quarles & Brady LLP, added. "He truly is a legend in the legal profession, especially here in Indianapolis."
"I wouldn't be where I am in my career but for him," added Fernanda Beraldi, general counsel and corporate secretary at Inotiv Inc.
Taking the microphone, David deflected any praise to his family members and colleagues, saying he didn't feel worthy of receiving a "legend" award.
"You are all part of something very special, and the lesson here is, if you can do something you really love with people you really love and can make any bit of a teeny tiny difference, but together we do incredible good, then it's a pretty dang good situation to be in," David said.
The longtime justice, who will retire this fall after more than 12 years on the bench, concluded the recitation of the lawyer's creed by stating, "I am a guardian of justice, freedom and the American way of life. I am a lawyer."
Please enable JavaScript to view this content.