Indiana Republicans are pursuing legislation to ban abortions in the state except in cases of rape, incest or to protect the life of a mother. GOP leaders also announced economic packages to invest in Hoosier women and babies.
Senate President Pro Tem Rod Bray, R-Martinsville, and Sen. Sue Glick, R-LaGrange, on Wednesday detailed two abortion bills that will be introduced during a special legislative session beginning Monday.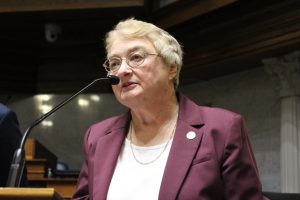 Senate Bill 1 and Senate Bill 2 are a package that prohibits abortions and increases funding for women and babies, the leaders said.
Senate Bill 1, authored by Glick, would prohibit abortions in Indiana with three exceptions: pregnancy that resulted from rape or incest or if an abortion is necessary to prevent a substantial permanent impairment of the life of the mother.
In discussing SB 1, Glick said that being "pro-life" is not about criminalizing women but about "preserving the dignity of life and helping mothers for happy, healthy babies in the world."
She maintained that the Senate's measure would not impact access to the "morning after pill," contraceptives, in vitro fertilization or the treatment of miscarriages. She also said SB 1 would not hinder the treatment of ectopic pregnancies or prohibit ending a pregnancy where the unborn child would not be able to survive due to a fatal fetal anomaly.
Bray said no new criminal penalties would be included in the bills' language that are not currently on the books in Indiana.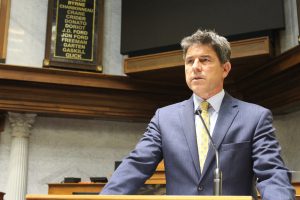 Under the proposed SB 1, "abortion" would be defined as the termination of the life of a human pregnancy with an intention other than to produce a live birth, remove a dead fetus or "terminate a pregnancy where the fetus suffers from an irremediable medical condition that is incompatible with sustained life outside the womb, regardless of when the child is born."
Senate Bill 2, authored by Sen. Ryan Mishler, R-Bremen, would allocate $45 million to the Hoosier Families First Fund for the distribution of money to a variety of state offices and programs to "support healthy pregnancies and families."
The proposed SB 2 would also increase the adoption tax credit from $1,000 to $10,000, with an estimated fiscal impact of $5 million.
Bray described the abortion discussion in Indiana as arguably "the most difficult, polarizing issue" this generation will face between two primary groups: those who believe that a fetus is a living human being and women who want to have an abortion.
"However, as you wade into the details, you very quickly realize it is much more complex than it may have seemed at first," he said. "And opinions differ on even the most nuanced issues in language. Our underlying goal is to protect human life, promote more adoption and less abortion by limiting abortion to the life of the mother, rape and incest. And by being compassionate and supporting pregnant women."
He added that debates on the issue need to remain "civil and substantive" and that "all sides (should) have the opportunity to be heard." He said that while Senate Republicans looked at some polling data, Hoosier opinions on abortion vary.
"I understand the passion that exists on both sides. Nevertheless, it is our job in the Indiana General Assembly to chart a course for Indiana and determine what our position is on this extremely difficult issue," the Senate leader said.
Although the proposed language of SB 1 provides exceptions for rape and incest, it does not include language requiring the charging or conviction of those perpetrators. The proposed measure does, however, allow physicians to consider an affidavit, signed by the pregnant woman or girl, when using their "reasonable medical judgment" in an abortion case.
Until Wednesday, not much was known about what the Republican lawmakers' abortion-related legislation would look like. Holcomb, Bray and Indiana House Speaker Todd Huston, R-Fishers, had all remained relatively quiet about their plans.
Holcomb remained noncommittal after Wednesday's announcement.
"When the General Assembly convenes next week, the more formal and public process begins," his press secretary, Erin Murphy, said in a news release. "Governor Eric Holcomb will continue with his discussions with legislative leadership and members about the multiple issues before Hoosiers today, including the best way to return hard-earned tax dollars to Hoosiers in a timely, meaningful way."
Huston said in a statement that House Republicans would "take time to review and consider the details of the Senate bill, and continue to listen to thoughts and input from constituents across the state."
For their part, House Republicans are planning to propose more than $20 million in tax exemptions and more than $58 million to boost programs for pregnant moms and babies.
"In anticipation of a bill protecting life passing during the special session, House Republicans will also pursue making significant investments to support moms, babies and families," Huston said. "… We share the Senate's goal in increasing protections for Indiana's unborn while also stepping up our investment in wraparound services to better support new and expectant moms, and babies."
Despite the limited exceptions carved out in SB 1, Senate Democrats blasted their counterparts on Wednesday.
"An abortion ban will result in women dying. Period," Senate Minority Leader Greg Taylor, D-Indianapolis, said in a statement. "When pregnant women cannot access vital components of health care, they are at greater risk of having their pregnancy end in a fatality — especially if they already have existing health conditions or illnesses."
Sen. Jean Breaux, D-Indianapolis, said the measure does the "bare minimum" for Hoosier women by including the three exceptions.
"However, this extreme legislation takes away a woman's right to choose and fails to account for the complicated and personal medical decisions that happen during pregnancy," Breaux said in a statement. "It is also absurd that this legislation will not be going to the Health Committee, which is clearly the most relevant committee for this legislation."
SB 1 will appear before the Senate Rules and Legislative Procedure Committee, consisting of one woman, Glick. In contrast, the Senate Health and Provider Services Committee is comprised of 12 members, six of whom are women.
"It is unconscionable that Indiana Republicans are gambling with the lives of Hoosier women to gain points in an ultimately unwinnable culture war," House Democratic Leader Phil GiaQuinta, D-Fort Wayne, said in a statement. "The choice to have an abortion is a personal decision that ought to be left up to a woman and her health care provider, not Republicans who are playing doctor in the Indiana Statehouse."
Also on Wednesday, lawmakers also revealed the Senate schedule for the special session, which will kick off at 11 a.m. ET on Monday.
Public testimony on SB 1 will be held from 1-5 p.m. in the Senate Committee on Rules and Legislative Procedure. Additional testimony will be taken from 9 a.m.-noon on Tuesday before a committee vote is held.
The Senate Committee on Appropriations is set to meet on Tuesday to hear SB 2 and Senate Bill 3, the latter of which deals with economic and financial relief.
Senate Bill 3, authored by Sen. Travis Holdman, R-Markle, would provide a six-month suspension of the sales tax on residential utilities, including electricity, water, gas, internet and phone bills. That measure would also cap the sales tax on gas at Indiana pumps at 29.5 cents per gallon through June 30, 2023.
"We have had ongoing discussions about what the best way is to provide relief to Hoosiers in this environment of high inflation," Holdman said in a statement. "By suspending the 7% sales tax on residential utilities, we can provide relief to nearly every Hoosier, with an estimated statewide savings of $260 million. This concept would benefit more people than the proposed taxpayer refund, and all of the savings would go to Indiana households."
The special session was initially set to begin on July 6. Indiana Republican Gov. Eric Holcomb called the session to pass a package that would send $225 refund checks to Hoosiers.
But after the U.S. Supreme Court ended the constitutional right to an abortion in Dobbs v. Jackson Women's Health Organization, abortion was added to the special session's agenda and lawmakers delayed the start date to study the issue.
Before the abortion legislation was announced, Indiana Democrats had heavily criticized the governor and GOP lawmakers for delaying the special session, calling for greater transparency and communication within the General Assembly.
Please enable JavaScript to view this content.