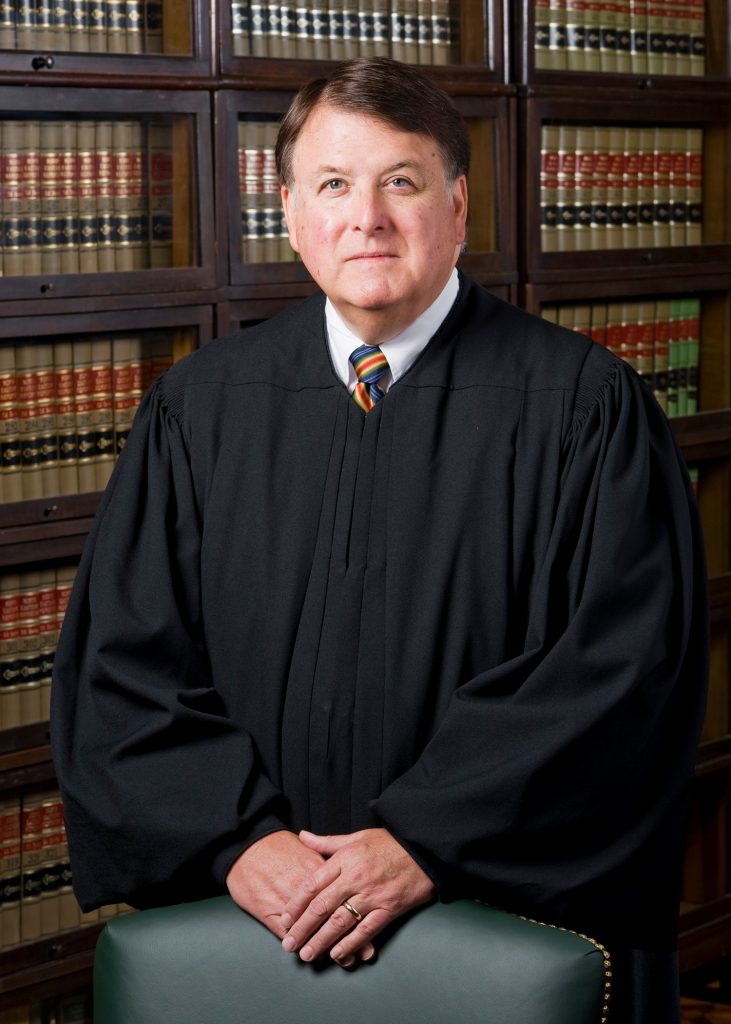 Retired Indiana Chief Justice Randall Shepard has been named the 2023 recipient of Indiana Lawyer's Lifetime Achievement Award, leading this year's group of 36 Leadership in Law honorees.
Shepard — Indiana's longest-serving chief justice and a current senior judge for the Court of Appeals of Indiana — will keynote the 2023 Leadership in Law awards breakfast on May 18. The breakfast will also feature this year's class of 15 Distinguished Barristers, 15 Up and Coming Lawyers and five Legal Support Stars.
Shepard is the fourth attorney to win the Lifetime Achievement Award, which was created in 2021 to recognize seasoned legal professionals whose exemplary careers have demonstrated excellence in community involvement, pro bono/volunteer service, mentorship and civility. Previous winners include former Indiana congresswoman Susan Brooks, Lacy Johnson of Taft Stettinius & Hollister LLP and Senior Judge Sarah Evans Barker of the U.S. District Court for the Southern District of Indiana.
Shepard was a member of the first class of Leadership in Law honorees in 2006, when he was named a Distinguished Barrister. The Distinguished Barrister award recognizes attorneys who have practiced for at least 20 years.
The 2023 class of Distinguished Barristers includes:
Cynthia Baker, Indiana University Robert H. McKinney School of Law
Jeffrey Featherstun, Plews Shadley Racher & Braun
Rob Foos, Lewis Wagner
Joseph Heerens, Office of Governor Eric J. Holcomb
Leslie Craig Henderzahs, Church Church Hittle & Antrim
David Hensel, Hoover Hull Turner
Robert Hill, Marion County chief public defender
Shontrai Irving, Purdue University Northwest
Judge Dana Kenworthy, Court of Appeals of Indiana
David McGimpsey, Dentons Bingham Greenebaum
Charles Meyer, Woodard Emhardt Henry Reeves & Wagner
Marisol Sanchez, Endress + Hauser
Rebecca Seamands, Ice Miller
Mark Wright, Faegre Drinker Biddle & Reath
Judge Richard Young, U.S. District Court for the Southern District of Indiana
The Up and Coming Lawyer awards recognize attorneys who have practiced for 10 years or less.
This year's Up and Comers include:
Lacey Berkshire, Ice Miller
William Cartwright, Stoll Keenon Ogden
Matthew Ciulla, MacGill P.C.
Lynsey David, Lewis Wagner
Stephanie Gutwein, Faegre Drinker Biddle & Reath
Andrew Hanna, Madison County chief deputy prosecutor
April Keaton, Office of the Indiana Attorney General
Elizabeth Klesmith, THK Law
Christopher Kozak, Plews Shadley Racher & Braun
Thomas Lyons, Barnes & Thornburg
Kyle Montrose, Dentons Bingham Greenebaum
Roya Porter, BCforward
Elizabeth Roberson, Krieg DeVault
Amina Thomas, Cohen & Malad
Emily VanTyle, Wilson Kehoe Winingham
The final category of honorees, Legal Support Stars, recognizes five paralegals, legal secretaries and other legal support staff without whom the practice of law and administration of justice could not proceed.
The 2023 class of Legal Support Stars includes:
JoAnn Chamberlain, Athora Law Group
Anne Cohn, Quarles & Brady
Diane Greene, Taft Stettinius & Hollister
Sarah Johnson, Kroger Gardis & Regas
Lottie Wathen, Barnes & Thornburg
This year's award winners were considered and chosen by a team from Indiana Lawyer and its parent company, IBJ Media, along with three Hoosier lawyers: Lance Ladendorf of Pavlack Law, representing the Indiana Trial Lawyers Association; Marianne Mitten Owen of Stuart & Branigin, representing the Indiana State Bar Association; and Judge Alicia Gooden of the Marion Superior Court, representing the Indianapolis Bar Association.
The 2023 honorees will receive their awards at a recognition breakfast at 8 a.m. May 18 at the Indiana Roof Ballroom, 140 W. Washington St., Indianapolis, 46204. Past winners, honorees' firms/organizations and other members of the Hoosier legal community are invited to attend and hear from this year's winners, including a live address from Justice Shepard.
Those interested in attending should RSVP by May 5. For ticket and registration information, visit theindianalawyer.com/events/leadership-in-law, or email Indiana Lawyer Editor Olivia Covington at [email protected].
Please enable JavaScript to view this content.