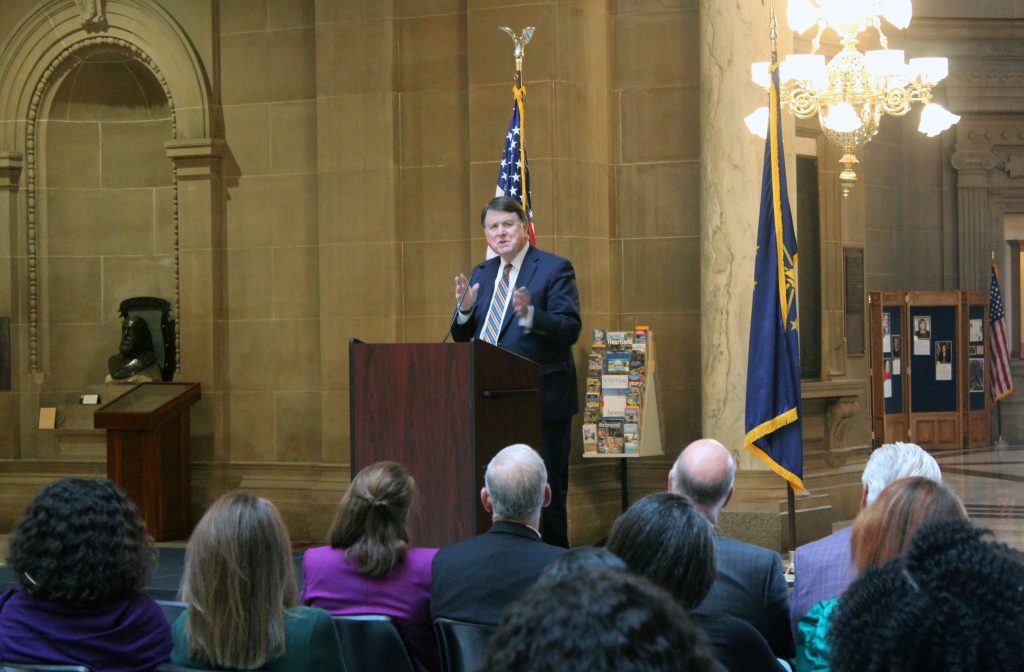 Speaking to a crowd of attorneys, judges, justices, law professors and students inside the north atrium of the Indiana Statehouse, Chasity Thompson Osborn told those in attendance that the night's celebration was "really just like a family reunion."
On Thursday, dozens of Indiana Conference for Legal Education Opportunity fellows from the last quarter-century met in Indianapolis to celebrate 25 years of the program.
Thompson Osborn, director of attorney learning and development at Taft Stettinius & Hollister and a 1999 ICLEO fellow, emceed the event.
The ICLEO program was established in 1997 to assist Indiana minority, low-income and educationally disadvantaged students in pursuing a law degree and a career in the Indiana legal community. Pursuant to Indiana Code § 33-24-13-7, $625,000 is appropriated each fiscal year to ICLEO from the state general fund via the Indiana Supreme Court.
Each summer, students go through an intense, residential preparatory experience via ICLEO that is designed to help them through law school and, in turn, increase diversity in the Indiana legal community. Participants are immersed in first-year law school curriculum and skills courses designed to closely simulate the law school experience.
Participants who successfully complete the ICLEO summer institute and then enroll in an American Bar Association-accredited Indiana law school in the fall semester are certified as ICLEO fellows and receive a $4,800 fellowship award each semester for up to three years, to a maximum of $28,800 to offset the cost of tuition.
Following Thompson Osborn's introduction, Indiana Chief Justice Loretta Rush gave remarks, sharing that around $20 million — funding provided by the Indiana Legislature — has been spent on the ICLEO program over the last 25 years.
Since its inception, Rush said, there have been around 670 ICLEO fellows. She shared a story about a fourth-grade girl who dressed up as Rush for career day a couple of years ago, and about the importance of having diversity to help build public trust in the legal profession.
Rush said there are around 1,600 attorneys of color in Indiana right now, compared to about 1,200 five years ago. The chief justice encouraged those in attendance to help mentor the next crop of attorneys and encourage them to apply for the program.
"My hope is that ICLEO continues to grow and grow and grow and then sometime we won't need ICLEO because we're there, (we) reached all those goals," Rush said. "… It just becomes just part of the fabric of our profession that we've got just beautiful diversity."
During presentations, Charise Frazier, shareholder at Hall Render and a 1997 ICLEO fellow, reflected on her time in the program and how it has impacted her life since.
"Being a part of that first class was fun, and we had a lot of good times at Bloomington," Frazier said, referring to the summer institute at Indiana University Maurer School of Law in Bloomington. "We were getting to know each other, we were learning about the law, and I really walked away from that summer institute with an outstanding group of colleagues and several lifelong friends, even friends who are in my wedding.
" … Years and years later here we are practicing together, living our lives, growing our families and all those good things," she continued. "I'm so excited that the program is still going very strong."
Former Chief Justice Randall Shepard, who urged the Indiana Legislature to create the ICLEO program while he was on the bench, including during his 1997 State of the Judiciary address, also provided comments.
Shepard shared how the idea for ICLEO started after a federal program that had provided financial support to law students from underprivileged backgrounds was eliminated.
The former chief justice recalled how then-Senate President Pro Tempore Robert D. Garton allowed a vote on the bill, which was written by Reps. Jesse Villalpando and Earl Hams, after the 8 p.m. deadline on the final day of the legislative session. According to Shepard, the bill passed the Indiana House 91-7 and the Senate 49-0 before Gov. Frank O'Bannon signed it into law.
"One of the things that I find especially exciting … is where ICLEO fellows have found legal careers," Shepard said. "It's stunning. There are people who are solo practitioners, there are people who are public defenders, there are people who are law deans, there are people who are deputy prosecutors, there are people who become partners in great big white-shoe law firms. …(I)t's just an incredible variety of ways in which ICLEO fellows have gone on to be a part of this profession.
Read more about ICLEO's 25th anniversary celebration in the next issue of Indiana Lawyer and listen to a one-on-one interview with Justice Randall Shepard on Wednesday's episode of the Indiana Lawyer Podcast.
Please enable JavaScript to view this content.