Indiana Supreme Court spokeswoman Kathryn Dolan has been selected to receive the National Center for State Courts' Distinguished Service Award.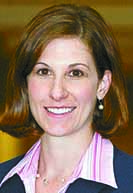 Dolan, chief public information officer for Indiana's high court, was select for the award in the state-level court administrator or employee category. NCSC President Mary C. McQueen will present Dolan with the award remotely on April 13 during a virtual education event for Indiana judges.
Dolan leads the Indiana Supreme Court's Office of Communication, Education and Outreach, managing media inquiries, the Indiana Law Library in the Indiana Statehouse and the judicial branch website. Her team is tasked with webcasting Supreme Court oral arguments, managing internal and external communications, training judges in media relations, writing and distributing press releases, and providing outreach to schools and community organizations. Also, the NCSC credited Dolan with making Indiana "a leader in the use of graphic design to better convey the message of fair and impartial courts."
Dolan is the current president of the Conference of Court Public Information Officers, the only professional organization dedicated to court communicators. She began her two-year term as president in January 2020.
"I'm fortunate to have a job I love and people surrounding me who are equally committed to conveying the important work of the Judicial Branch," Dolan said in an emailed statement. "The Justices of the Supreme Court, my colleagues, and my communication team are extremely supportive and provide me with countless opportunities for success. This recognition is a shared honor."
In addition to honoring a state-level court administrator or employee, NCSC annually presents Distinguished Service Awards to a current or former state appellate judge; current or former state trial judge; trial-level court administrator or employee; attorney or other individual not employed by the courts; and current or former international judge or court executive.
Please enable JavaScript to view this content.