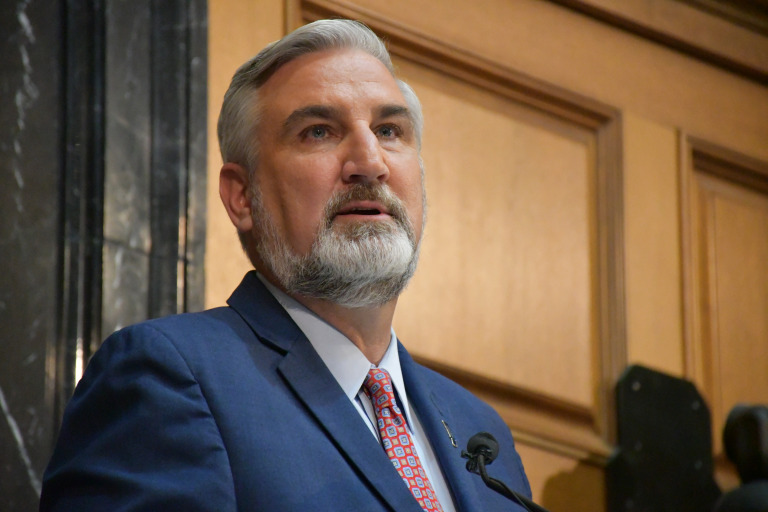 Indiana Gov. Eric Holcomb announced late Wednesday that results from third-party testing on the hazardous waste coming from East Palestine, Ohio, show no harmful levels of dioxins.
"Pace Labs has completed and shared the full results of their third-party dioxin testing I had ordered and expedited last week," Holcomb said in a statement.
Initial samples were taken on Saturday morning, March 4, and testing began that same day at their Minneapolis laboratory.
"These results indicate that the material tested does not contain any harmful levels of dioxins when compared to acceptable levels established by the EPA," the governor continued. "We have informed the EPA and the site operator of these testing results."
Dioxins form when chlorine-based chemicals like vinyl chloride are burned and can settle into soil.
Holcomb had hired the Indianapolis-based company to conduct testing after the EPA started sending truckloads last week to the landfill facility in Roachdale, about 40 miles west of Indianapolis.
The contract announcement followed an earlier statement from the governor in which he pushed back on the U.S. Environmental Protection Agency's decision to transport roughly 100 truckloads of contaminated soil from Ohio.
Results released by the governor's office also showed that the Roachdale site operator, Heritage Environmental Services, "is lawfully permitted to dispose of that material at its site."
The EPA will require any further materials shipped from East Palestine to undergo dioxin testing before leaving the site in Ohio.
Holcomb also ordered continued third-party dioxin testing of any and all subsequent loads of soil coming to Indiana from the East Palestine crash site.
"We will have Pace Labs continue to test samples of any future loads that may arrive in Indiana from East Palestine to confirm that none of the material contains harmful levels of dioxins," Holcomb said.
The Indiana Capital Chronicle is an independent, not-for-profit news organization that covers state government, policy and elections.
Please enable JavaScript to view this content.