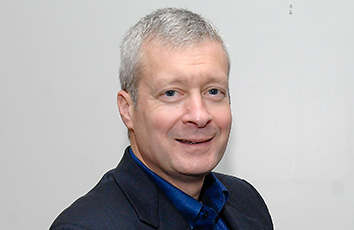 A high-profile Indianapolis attorney and law firm is representing President Donald Trump in the latest lawsuit seeking to overturn the results of last month's presidential election in Wisconsin, one of several decisive states narrowly won by President-elect Joe Biden.
William Bock III of Kroger Gardis & Regas signed the 72-page complaint filed Wednesday on behalf of Trump against the Wisconsin Elections Commission, its members and numerous mayors and local officials in cities including Milwaukee, Madison, Racine, Kenosha and Green Bay.  The case is Donald J. Trump v. Wisconsin Elections Commission, et al., 2:20-cv-1785.
Biden won the popular vote in the Badger State by a 20,682-vote margin, according to the Associated Press — a margin that grew slightly after the Trump campaign paid for a recount of two of the state's most populous counties.
Democratic Wisconsin Gov. Tony Evers certified the state's election and its 10 electoral votes for Biden earlier this week. Lawyers defending the state in separate litigation seeking to overturn the vote by tossing ballots only in counties that voted heavily for Biden called that litigation an "assault on democracy."
Bock did not immediately reply to messages seeking comment Thursday. A KGR spokesperson issued a statement Thursday afternoon attributed to firm partner and former Indiana House Speaker Brian Bosma, R-Indianapolis.
"Bill is an exceptionally talented litigator and has extensive experience in both election and sports law. One of Bill's strongest drives is to establish a fair, open and level playing field in all arenas. As he has in so many other matters, if the rules are not being followed, he will get to the bottom of it and find the truth," the statement said.
Bock is perhaps best known for serving as general counsel for the U.S. Anti-Doping Agency, whose investigation led to the downfall of cycling champion Lance Armstrong.
The federal lawsuit filed by Bock and undersigned by KGR attorneys James Knauer and Kevin Koons asks the Eastern District of Wisconsin for relief including declarations that:
"(C)onstitutional violations … likely tainted more than 50,000 ballots, a number well in excess of the current estimated difference" between Biden and Trump.
Officials named in the suit "violated the Electors Clause by failing to abide by the directions of the Wisconsin Legislature in connection with the conduct" of the presidential election.
The defendants violated the Equal Protection and Due Process Clauses in conducting the presidential election.
The suit also asks the court to remand the case to the Republican-controlled Wisconsin Legislature "to consider the Defendants' violations of the Electors, Equal Protection and Due Process Clauses and determine what remedy, if any, the Wisconsin Legislature should impose within its authority pursuant to the Electors Clause."
Among other things, the suit attacks local officials' expansion of absentee voting and voting drop-off boxes due to the pandemic and asserts that some absentee ballots appear to have been tampered with. The suit accuses local officials of acting beyond their authority and usurping the state Legislature, which "undermined the presidential election in Wisconsin."
"… By ignoring the Wisconsin Legislature's express directions regarding the collection, handling, processing, canvassing, and counting of absentee ballots and related activities and/or through improper certification of elections and related activities, all in violation of the Wisconsin Election Code and through violations of the Electors and Elections Clauses and the Equal Protection and Due Process Clauses to the United States Constitution, the Defendants ran an unconstitutional and unlawful Presidential election in Wisconsin," the complaint concludes.
The suit is the latest of more than 40 that thus far have been unsuccessful in challenging the results of elections in battleground states that flipped for Biden, including Arizona, Georgia, Michigan and Pennsylvania.
While the Trump administration has permitted the Biden transition to begin, the president has yet to concede. The day the KGR suit was filed in Wisconsin, Trump in a 46-minute address released on social media clung to notions of widespread vote rigging that his own attorney general has disputed. The president's baseless assertions included political corruption, machine tampering and mysterious votes appearing out of nowhere that allowed Joe Biden to steal the election.
"This election is about great voter fraud, fraud that has never been seen like this before," Trump said in the address. "It's about poll watchers who were not allowed to watch. So illegal. It's about ballots that poured in and nobody but a few knew where they came from. … It's about machinery that was defective, machinery that was stopped."
Biden won the Electoral College over Trump 306-232 and the popular vote by nearly 7 million ballots, AP tallies show. Electors are scheduled to meet Dec. 14 to cast their ballots, with the results transmitted to Vice President Mike Pence, among others, before Congress meets in joint session Jan. 6 to count electoral ballots.
In a separate Wisconsin case, Trump asked the state's highest court to disqualify more than 221,000 ballots in Milwaukee and Dane counties. Biden defeated Trump by a 2-to-1 margin in those counties.
The Wisconsin Supreme Court on Thursday refused to accept the suit, saying the case must first wind its way through lower courts.
The court ruled 4-3 against Trump, with swing Justice Brian Hagedorn joining three liberal justices in denying the petition. The order said Trump can file in circuit court.
It was not immediately known if Trump would still pursue the case through lower courts. His campaign spokeswoman did not immediately return a message seeking comment.
Attorneys for Evers, as well as lawyers from the state Department of Justice representing the Wisconsin Elections Commission, had urged the court not to accept original jurisdiction of the case.
The legal defeat was the latest in a string of losses for Trump's post-election lawsuits. Judges in multiple battleground states have rejected his claims of fraud or irregularities.
"President Trump's (lawsuit) seeks nothing less than to overturn the will of nearly 3.3 million Wisconsin voters," Evers' attorneys said Tuesday. "It is a shocking and outrageous assault on our democracy. … He is simply trying to seize Wisconsin's electoral votes, even though he lost the statewide election."
Trump's lawsuit in state court repeats many claims he made during a recount of votes in Milwaukee and Dane counties. He seeks to disqualify 170,140 absentee ballots that were cast early in-person, saying there wasn't a proper written request made for the ballots; 28,395 absentee ballots cast by those who claimed "indefinitely confined" status; 17,271 absentee ballots collected by poll workers at Madison parks; and 5,517 absentee ballots where clerks filled in missing information on the envelope the ballots were placed in.
None of the ballots Trump challenged during the recount were discounted by elections officials in Dane and Milwaukee counties. Evers argues in his filings that there is no legal basis for the ballots not to be counted.
The Democratic National Committee and Biden's electors are also attempting to intervene in the lawsuit.
In addition to the federal and state court suits brought by Trump in Wisconsin, two other lawsuits filed by conservatives are still pending with the Wisconsin Supreme Court seeking to invalidate ballots cast in the presidential election. One with similar claims is from Sidney Powell, a conservative attorney who was removed from Trump's legal team.
Editor's note: This article has been updated with a statement on the lawsuit from Kroger Gardis & Regas.
Please enable JavaScript to view this content.