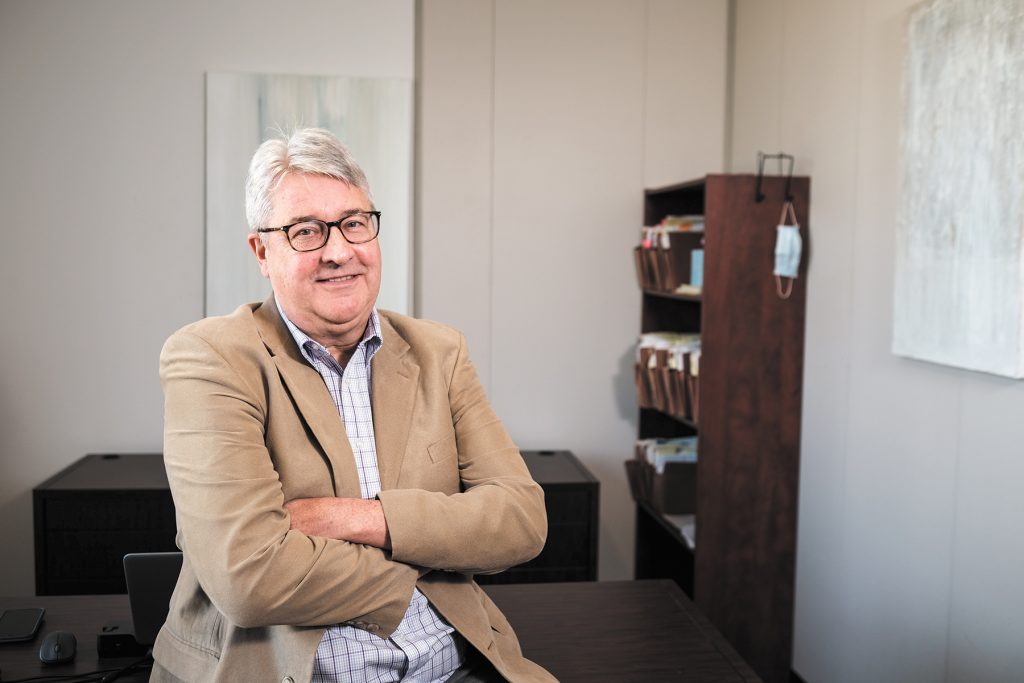 Chances are, you've thought, "Is this really all there is?"
A common question asked when life, particularly work, seems mundane, many learn to take the boring with the exciting. But what if you could eliminate the boring altogether?
In his first published novel, Indianapolis lawyer Michael Carter explores the struggle against the mundane and the fear of being average. "In the Belly of the Bell-Shaped Curve," released in October, follows main character Turk as he turns to apes and embezzlement to escape mediocrity, all while walking the tightrope between madness and revelation.
"It's about boredom, fear of mediocrity, frustration, ambition, madness and a revelation," Carter said.
Always a writer
Now the director of contract compliance at the Family and Social Services Administration's Department of Family Resources, Carter has long dreamed of being a novelist. He studied English at Indiana University and wrote several short stories before eventually landing at Indiana University Robert H. McKinney School of Law.
Carter's uncle was a lawyer, so the idea wasn't foreign. He began in medical malpractice litigation before moving to public service, first the with the Office of the Indiana Attorney General and then FSSA.
Carter enjoys his job and is proud of the work the Department of Family Resources does — they're not just "faceless bureaucrats" pushing pencils, he said. But even as his legal career progressed, his love of writing never waned.
But life, as it often does, got in the way, and Carter found that work and family left him little time to write. He had seasons of writing frequently, but eventually his attention would be pulled elsewhere.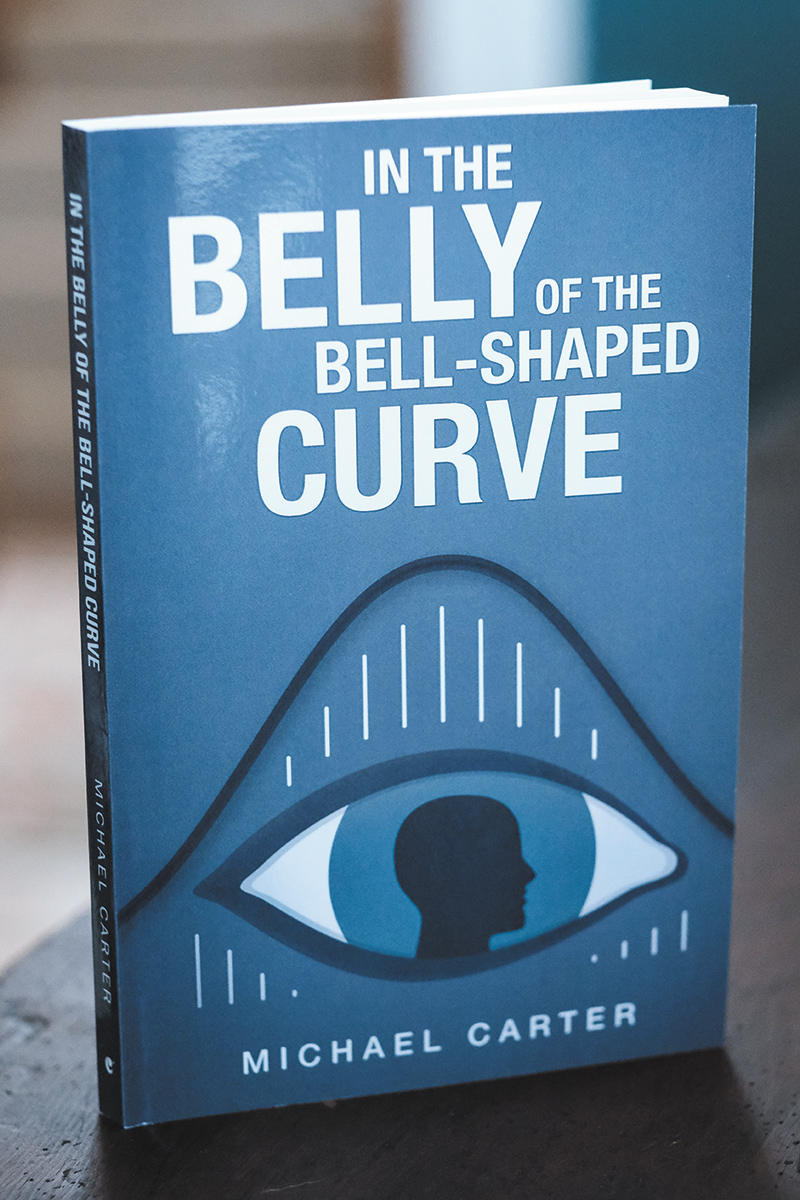 "In the Belly of the Bell-Shaped Curve" is not even Carter's first novel. He has another manuscript that draws on his experience in medical malpractice litigation, chronicling the aftermath of a birth complication that results in a newborn's death.
Carter wrote his first book in the late 1990s and early 2000s, and he even found an agent. However, the book was never sold, and Carter eventually found his way to a new project. That project, roughly 15 years in the making, would become "In the Belly of the Bell-Shaped Curve."
"I would work on it and then put it down and go back to it occasionally," Carter said. "And then finally I just said, 'I'm gonna finish the thing.'"
Going ape
"Your monkey does the work. Your monkey makes the money. All you have to do is take care of your monkey!"
The first full paragraph of Carter's debut novel lays the groundwork for Turk's adventure, or perhaps misadventure.
A bored and dissatisfied insurance claims adjuster, Turk has an idea: Why not train chimpanzees to do the mundane parts of our jobs? Carter likened Turk's idea to working as a fast-food cashier — the cash register tells you how much is owed and how much change is due, so there's not much mental stimulation.
Scientists say humans and chimpanzees share a significant amount of DNA, so Turk has a thought: Shouldn't the animals be able to learn simple human tasks? But Turk's road to freedom from mediocrity is not easy.
He crosses lines to fund his idea and get his apes. And in the end, is he even successful? Carter uses Turk's story to address the lengths people will go to in order to feel above average.
"We all have that — comparing ourselves to the ideal," Carter said.
Family ties
Though he's been slowly writing "In the Belly of the Bell-Shaped Curve" for more than a decade, Carter began serious work on his novel in the last year.
He disciplined himself, writing one hour a day, six days a week, and often more on weekends. When he finished his manuscript, he opted for self-publication, working with Bloomington-based iUniverse to edit and proofread.
Caity Werner, Carter's daughter who designed the book's cover, can remember her dad being a writer throughout her childhood. Her father would put pen to paper in his spare time, Werner recalled, though she doesn't consider him a "hobbyist" writer given his publishing success.
"He's a professional," she said. "And he's also a professional lawyer."
Though his legal career is separate from his writing, Carter sees overlap, namely in the amount of written work that comes with being a lawyer.
Whether it's understanding basic grammar, learning stylistic tricks or just selecting the right word, clear communication is key to being a good lawyer, Carter said. He recalled his time as a medical malpractice lawyer, when he had to help juries comprehend complicated medical terms.
The same is true of fiction writing, Carter said, though he admitted creative writing is more fun. To bring a fictional world to life, a writer must be clear and engaging, just like a lawyer trying to persuade a jury to rule for their client.
Being a lawyer came in handy during the legal process of publishing a book, too — Carter paid $100 and was able to copyright his book without his publisher's assistance. And as it turned out, the skills he learned as a lawyer and as a writer worked both ways.
"Pennoyer v. Neff is that seminal case on jurisdiction. First thing we read in civil procedure," Carter recalled. "… I remember reading that and thinking, 'I'm glad I read William Faulkner,' because once you've read William Faulkner, you can pretty much understand about anything."
More to come
Now that he's realized his lifelong dream of becoming a published author, Carter said the rest — book sales, his publicity campaign, etc. — is just gravy. But that doesn't mean his writing days are behind him.
With one novel successfully published, Carter now wants to return to his original novel based on his experience in med-mal litigation. He plans to revisit the manuscript and make another attempt at publishing it.
The daughter of a creative man, Werner herself inherited that gene. She's now an artist living with her family in Switzerland, drawing on her talents in abstract art to design her father's cover.
Werner recalled her father being one of her biggest fans in her creative endeavors, and she was proud to be the same for him when his book was published. Carter said his children took to social media to promote his book after its release.
Now that the novel is out there, Carter said he feels a sense of accomplishment. And he may not be done yet.
"I'm planning to write more," he said. "… I've got so many ideas for other novels."•
Please enable JavaScript to view this content.