By Kris Kazmierczak, Katz Korin Cunningham PC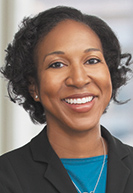 Since 2011, Oni Harton has been providing legal services on a pro bono basis to terminally ill patients in hospice care to assist them with estate planning and administration matters at the most vital time of the patient/client's life. When Oni is called upon for her volunteer pro bono service, she chooses to drop everything and attend to it. Simply put, there is no time to wait.
Oni's services are coordinated through the IndyBar's Hospice Program. The program is designed to offer free legal services for those in hospice care as one final step for a patient to manage their end-of-life and estate decisions. Oni describes that she is "on-call" for this aspect of her pro bono volunteer work. When she walks into the hospice room, the client is usually surrounded by family and medical personnel who are principally there to provide comfort. Oni is oftentimes greeted with a smile by her new client – truly as a sign of relief. Oni, and other Hospice Program volunteers, contribute to the comfort an ailing individual receives during hospice care.
Oni explained that this type of legal work, and the sense of gratitude that she experiences, is most rewarding because she leaves the room knowing that she enabled the patient to make one last, and most often, selfless decision. She coordinates one last decision that the patient/client controls — not the illness. It's a decision that does not involve choosing one course of treatment over another; a decision that does not concern weighing probable outcomes. No, this decision takes care of one's end-of-life legal affairs with confidence that the client's wishes will be known and followed according to the law.
Estate planning for hospice residents is a different representation for Oni, who is a litigator normally engaged in complex and long legal battles over products and commercial litigation. In contrast to her daily legal endeavors, this volunteer experience may last a mere few hours or at most a few days until completion.
While the rapid pace in between receiving an unexpected call for an appointment to meeting with the client and drafting the final documents can be challenging, the experience ends with peace of mind for the client and a feeling of pride for Oni's role in the legal profession. Endless stories have been shared, along with those witnessed by Oni, where patients have held on a bit longer than medically expected only for the opportunity to meet with their volunteer lawyer to put their final affairs in order. The range of volunteer work usually involves preparation of durable powers of attorney, health care representative powers of attorney and simple wills, along with some final wishes and arrangements for family members and survivors.
Oni shared that engagements with hospice care clients may cover such things from last wishes regarding possessions or estate assets, preferences with respect to disposal of remains and memorial service arrangements. She has found that clients are eager to speak about these very personal issues with a complete stranger who is an attorney rather than their own family members due to the difficult and emotional aspects of the subject matter and respect for the legal profession. She's found that it's easier for her, rather than family members, to initiate these oftentimes difficult conversations that the family members need to have, but have not. Oni shared that when she completes her project, she often can tell the client becomes literally at peace.
In past years, Oni has averaged nearly 150 hours of pro bono service per year when she has accepted a pro bono litigation matter. Although her involvement with IndyBar initiatives may only require a modest amount of time (up to 15 hours a year) she finds her participation provides meaningful opportunities to serve our community. She is active in several IndyBar pro bono initiatives, including the Hospice, Free Wills Clinic and Ask a Lawyer programs. Oni believes that an excellent pro bono experience begins and ends with "the willingness and effort to give the same level of service, responsiveness and diligence on par with paying clients."
One of Oni's keen observations about pro bono work is that it allows attorneys, particularly those focusing on commercial matters during their work day, to reach and be involved with local communities in ways that commercial practice may not create. Her pro bono work has allowed her to meet individuals with whom their paths might not otherwise cross giving her a broadened perspective on life. She believes these byproducts of local community involvement and making introductions to different segments of the population, and parts of the world in some instances for Oni, has enriched her pro bono experience and day-to-day practice as well.
From her own experience, Oni realizes that the need for pro bono services is great and the areas of legal need are diverse. She offers that because of our community's scope of need, "every attorney should feel confident that his or her services are needed — without respect to the attorney's area of practice." She also echoes the sentiments of others who have been highlighted by this article series and the many others in our legal community who devote their time and resources to pro bono work, which is time (or the lack of it) is the biggest reason for not committing. Oni's approach and advice: "Make the time and pro bono a priority. When something is a priority, we find a way to fit it in and get it done. It will certainly be a sacrifice, but in the end both the recipient of our services and the attorney benefit."
One of the programs benefitting from Oni's time is the Free Wills Clinic, which is currently held twice a year and provides wills and other advance directives at no cost to eligible participants, typically those with income at or below 150 percent of the federal poverty level. This fall's clinics will be held on Tuesday, Oct. 29 from 11 a.m. to 2 p.m. at the John H. Boner Neighborhood Center, located at 2236 E. 10th St., and on Tuesday, Nov. 12 from 11 a.m. to 3 p.m. at the Roudebush VA Hospital, located at 1481 W 10th St.
The IndyBar Pro Bono Standing Committee sincerely appreciates Oni's efforts and so many other IndyBar members who give their time, talent and financial donations to provide legal services to those of limited financial means in our community. The objective of this article series is to acknowledge excellent pro bono efforts by members of the IndyBar and to inspire others. If you have been moved to action by this article, or otherwise desire to be added to the growing list of lawyers willing to assist others on a pro bono basis, go to indybar.org/probono to sign up.•
Kris Kazmierczak is a member of the Indianapolis Bar Association Pro Bono Committee and a shareholder of Katz Korin Cunningham, PC, where he practices in the areas of business, contract and employment counseling and litigation.
Please enable JavaScript to view this content.