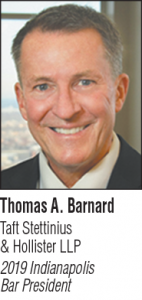 I just celebrated my 62nd birthday, and as I reflect back over the years, I see that my most memorable moments at home and in my law practice have come when I said "yes" rather than "no." Saying "yes" to challenges, cases and opportunities has led to greater growth, experiences and memories that have shaped my family's life. In this column I'll just focus on two areas where "yes" underlies a positive culture — with our family and also with the IndyBar.
My wife and I decided nearly 30 years ago that the most fun parents (the ones whose homes were always overflowing with kids and their friends), were disposed to say "yes" more than "no." We decided that unless we had a really good reason, we would try to be "yes" parents. This led to many unexpected adventures and many learning experiences. I'll share some examples from our youngest child. Eva loves pets and there seems to be no limit to the number of pets she'd like to have in her room, in our house and in our yard. After she already had two guinea pigs, she begged for another and we said "yes." Here's where we learned something about pets. You should always double-check at the pet store that the female guinea pig you are buying for your daughter is not already pregnant. We were more than surprised when, shortly after bringing Oreo home, we saw two tiny objects moving around under the bedding in the cage. These twins, named Chocolate and Vanilla, serve as daily reminders to us to be more careful.
At one point, Eva asked if she could create a "courtyard" for her guinea pigs up in her bedroom, with their cages at opposite ends and a yoga mat serving as the "floor" for the animal recreation area in the center. We said "yes." We found out that guinea pigs are not easily trained to remain in a courtyard and are quite adept at "breakouts." Guinea pigs running loose under your daughter's bed at all hours of the night is not an advisable situation.
Eva also asked if she could have a dwarf hamster (these animals look exactly like a mouse without a tail), and we said "yes." We soon found out that dwarf hamsters are excellent escape artists through the plastic tubing that comes apart at the elbow. Eva's hamster, named Gumball, had these special skills. Gumball's repeated forays into the open spaces of our home taught me just how much my wife and older kids are frightened by the thought of a white mouse-like hamster scampering beneath couches and behind bookshelves. Gumball also taught me that there are plentiful websites dedicated to the recapture of dwarf hamsters without harming them, such as peanut butter in the bottom of a bucket, with stairs (made out of books) leading up to the top edge of the bucket – with a hamster treat on every step. (Pro tip: the bucket idea doesn't work.)
"Can we please have a foster dog?" pleaded Eva one summer morning three years ago. We said "yes." We subsequently learned that it is important, when taking in a foster dog, to ask a few questions, such as "is he a digger?" We did not ask. We were soon united with Oliver, a 90-pound, one-year-old standard poodle who could literally jump over our couch. Oliver was a "service dog" in training, but his training was obviously not going very well. He was sweet, loved attention and food, but most of all loved to dig holes in our yard. He had an uncanny ability to dig a two-foot hole, throwing dirt high into the air, with the speed of a chainsaw. After a week, our fenced-in back yard had a dozen deep holes, as if archeologists had designated our property as a study site. All we lacked was a large white tent and 1,000-watt outdoor lights to illuminate the "digs." My wife and I finally did say "no" every time Eva has asked for a ferret, but overall, I think our culture of "yes" has created experiences and memories that we all still laugh about and enjoy.
This leads me to the IndyBar, where our staff and volunteers exhibit a "yes" culture on a daily basis. One of the best attributes of the IndyBar is our nimble and positive culture. When the federal government shut down from late December 2018 through January 25, 2019, an IndyBar member emailed our Executive Director, Julie Armstrong, saying that the IndyBar should do something to provide legal advice to the hundreds of impacted federal workers. Julie immediately said "yes, we can do that!" Within a few days, IndyBar staff and volunteers organized and provided free legal advice to these employees wondering how they would deal with legal issues arising from the longest shutdown in U.S. history. This "yes" culture is a reflection of our outstanding staff and it starts at the top.
Julie Armstrong is a nationally recognized leader, and she serves this year as the president of the National Association of Bar Executives – the top national position in her profession. She attained this position through 28 years of demonstrated leadership as the IndyBar's Executive Director and (I would say) an unparalleled track record of success. Julie will be the first to tell you that the IndyBar is not afraid to say "yes" to new ideas, whether those ideas are new programs, new services, or new committee structures. She will also tell you that not every new idea is a resounding success — some work better than others, and if it is not living up to expectations, the IndyBar will quickly move on. This flexibility creates a dynamic environment where new thoughts and ideas are welcomed, considered and, if appropriate, implemented with speed.
If you want to experience a positive "yes" culture, I encourage you to spend more time with the IndyBar staff and volunteers, and I think you'll find it rewarding. You might even find yourself saying "yes" more often, too.•
Please enable JavaScript to view this content.