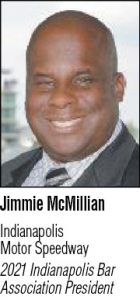 Bills are being proposed in the Indiana House and the Senate that could influence the manner and method in which you practice law.
Bills are being proposed in the Indiana House and the Senate that could influence the legal remedies available to your client.
The legislative process of transforming an idea into law can be as slow as molasses or as fast as lightening. No one needs to remind any lawyer of the long-lasting, devasting effect of an ill-conceived law. Thankfully, we have lawyers serving as senators and representatives who provide highly competent legal analysis and invaluable input on proposed legislation. But does the duty to review proposed bills and determine their impact on our community rest only with our elected brothers and sisters in the Indiana Statehouse? Who else is responsible for reviewing those ideas, critiquing them, commenting on them, supporting or opposing them before they are signed into a law that we must all follow or we'll face the consequences, whatever those consequences may be?
I am extremely proud to inform you that your Indianapolis Bar Association leadership is diligently engaged in the task of carefully evaluating proposed bills and making the thoughtful determination regarding whether to take action to support, oppose or suggest amendments. It has been absolutely inspiring to watch our IndyBar section leadership wholeheartedly embrace this daunting task on behalf of our members and our clients. It starts with our amazing Legislative Committee chair, Mindy Westrick Brown of the Indiana Energy Association, who along with her committee tracks legislative bills on behalf of the bar association, communicates with our members regarding its position on bills and communicates daily with our section leadership and staff regarding specific bills of interest.
Next, our section leadership takes action by reading the bills, debating their impact, surveying members for feedback and, if necessary, drafting a position statement in support or opposition of the bill. The section then forwards a request to take action on behalf of the IndyBar and its members to our Positional Advocacy Committee, chaired by the phenomenal Stephanie McGowan of Frost Brown Todd LLC, who along with her committee must very quickly review the bill, the section request and any information available that might provide evidence of substantial consensus amongst our membership.
We are an organization comprised of lawyers. Lawyers are very opinionated! It is a nearly impossible task to find consensus amongst any group of lawyers on any issue. Furthermore, it is even more difficult to determine whether we can take the requested action without negatively affecting or offending even a small minority of our membership. Choose wisely and the IndyBar maintains its lofty stature as the eyes, ears and voice of the Indianapolis legal community. Choose poorly and the IndyBar becomes viewed as an overly politicized tool and risks alienating or even losing members. It is our obligation as lawyer leaders to tirelessly ask the question, "what if we are wrong?"
If the section's request survives the Positional Advocacy Committee, it is then elevated to a subsection of the IndyBar Board of Directors for a final determination. Again, careful review, thoughtful discussion and professional evaluation of the appropriate course of action for the IndyBar to take. If the request is approved, members of the section volunteer to quickly draft position statements and provide testimony at committee hearings. This entire process typically takes place within 48 to 72 hours. If it is possible to pass a law as fast as lightening, then our lawyers and our staff must move at the speed of light to effectively engage in the process.
Our primary concern is to avoid taking public positions on issues upon which our membership is divided. As a bar association, we have the extremely difficult task of determining when it is appropriate to address legislative issues on behalf of all of our members. We attempt to do so without alienating our members or positions that they might believe are proper and valid on behalf of their individual clients. This unfortunately means that we must be restrained in our approach. During these conversations, our diverse leadership, powered by outstanding members with different practical experiences and perspectives, is our greatest asset in arriving at the correct result.
While you are probably not shocked to learn that some of our best and brightest lawyers are actively involved in a daily effort to review and respond to legislative bills on our behalf, I truly hope that you will join me in being proud and grateful that our IndyBar leadership and staff are willing to sacrifice their time, talent and professional skills, at a moment's notice, to determine if, when and how our collective voice should be heard. This is yet another reason that IndyBar membership is essential and our bar association leadership sets the national standard for excellence. Please consider joining or renewing your membership! You can do so at indybar.org/2021.•
Please enable JavaScript to view this content.