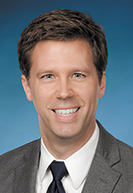 By Kevin Koons, Kroger Gardis & Regas LLP
There are several reasons why a law student in Indiana should take the IndyBar Review course to prepare for the bar exam. Here are my top three as to why you should do it in 2021:
1. We had a 100 percent pass rate on the summer 2020 exam for first-time takers.
That's right, all the first-time students who took our IndyBar Review course passed the summer bar exam in 2020. This is in comparison to the statewide 86 percent pass rate.
2. The instructors are local attorneys, like me.
The lecturers are all Hoosier attorneys teaching Indiana law in their own practice areas. What better way to learn about the law than from those who live and breathe it every day?
Like everything else in 2020, the summer 2020 bar exam was anything but ordinary with some last-minute changes to the length, format and date. A course led by your local bar association has its advantages because we can nimbly adapt to course changes.
3. You decide how you want to take the course.
Whether you want to do in-person lectures, courses live via Zoom, or online access to courses that are updated same-day, you get to decide. We offer the flexibility and opportunities you need to be successful on the exam.
For more information or to register for January's course, visit the IndyBar Review website at indybar.org/barreview.
I hope to see you there!
Kevin Koons is a partner at Kroger Gardis & Regas law firm in Indianapolis. He represents clients in a variety of industries and practice areas on litigated matters. He routinely handles business litigation, employment litigation, and municipal government litigation.•
Please enable JavaScript to view this content.