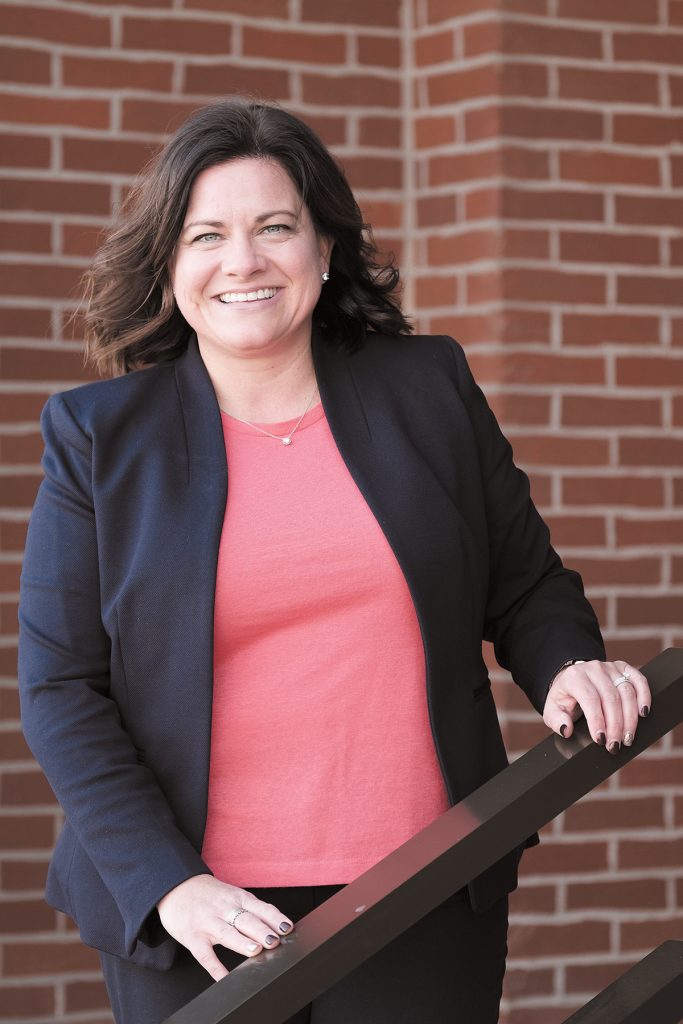 Kori Chambers begins her year as president of the Defense Trial Counsel of Indiana seeking a smooth transition during a challenging era. She plans to continue the proposition championed by outgoing DTCI President Donald Smith that defense lawyers get a good bargain through their affiliation with the organization.
The importance of demonstrating to members the value DTCI provides has never been so important as the COVID-19 pandemic continues. "I want to continue on Don's theme of value," Chambers said, noting DTCI made its virtual annual conference and continuing legal education programs offered in conjunction with the conference free to all members.
Stressing that the value proposition will be key going forward, Chambers notes that like many organizations, DTCI has felt the challenges and hardships that many of its members also have faced as a result of the unprecedented pandemic. The organization continues to have expenses, and being unable to host an in-person conference didn't just deprive members of incomparable networking opportunities – it also meant the loss of one of DTCI's biggest annual revenue sources.
But Chambers may be uniquely qualified to lead the organization through trying times. As associate general counsel for IU Health's Risk Retention Group, she is the first in-house counsel to serve as president of DTCI. She's also been an innovator during her long affiliation with the defense bar as the founding chair of the Women in the Law Division.
"That division has been so important in my practice," she said, "to have a support system of female lawyers who know what it's like to be a litigator."
While Chambers' in-house role at IU Health is something of an outlier among DTCI members who largely are law firm litigators, she sees Indiana's general counsel community as a potential growth area for DTCI. After all, like other in-house counsel, she still spends a considerable amount of her time dealing with outside counsel working on various matters, so the interests of defense litigators and general counsel typically are aligned.
"I would love to see that part of our membership grow," she said of in-house and general counsel. "There are two benefits I see for in-house counsel. First, I think DTCI has the top subject matter experts in the defense bar." General counsel can gain from members' expertise, whether it's in employment, malpractice, liability defense or any number of areas of substantive law.
Second, Chambers said, "Sometimes being in-house counsel is a lonely role. You may be the only counsel in your company" yet face daunting questions of law with little experience in a given field. "To have the benefit of over 600 members to help you when you're dealing with what you're dealing with that day I think is a huge benefit."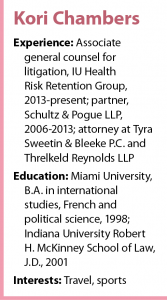 While she's had a role representing the state's largest health care organization for the past seven years, Chambers also speaks the language of the majority of the defense bar, having spent the first dozen years of her career as a litigator in private practice. She's handled medical malpractice cases, defended insurance coverage matters, and handled product liability and personal injury claims.
Chambers' DTCI introduction occurred like so many young lawyers' involvement does — with a nudge from a law firm partner. While working as a litigator at Schultz & Pogue years back, she was encouraged to join and immediately became active.
"The rest is history, as they say," she said. "Just like many people, I started out at the bottom and worked my way up to where I am now." And Chambers said young lawyers are keeping the 53-year-old institution vital. Before the pandemic, the Young Lawyers Division was among its most active, connecting for after-hours social events with other bar organizations such as the Indiana Trial Lawyers Association and the Marion County Bar Association.
Those activities have been curtailed, but young lawyers still gain through DTCI's annual Rookie Seminar, which Chambers describes as a sort of "boot camp" that will be virtual next year.
But overall, Chambers said she believes DTCI's members are the group's strongest selling point.
"Personally, I think the best defense lawyers in the state of Indiana are members of DTCI," Chambers said. "It's invaluable to your practice," because the experience of fellow members can provide lawyers with plans and strategies on matters they may never have considered.
"Kori brings a unique perspective to her presidency," outgoing president Smith said, noting her experience both as a private practitioner and now as in-house lawyer. "She has been instrumental in establishing our active Women in the Law committee. I am excited to see what 2021 brings and I have the utmost confidence Kori will be a great president for DTCI."
Like many attorneys, Chambers has been working remotely from home since the pandemic began in March. But she's also seen the "humbling" work of frontline nurses, doctors and health care professionals.
"Team members are just giving of themselves over and over and over again," the incoming DTCI president said. "The hard part is, we can't know when that's going to slow down."
In that regard and others, Chambers noted the difference she's realized from when she used to defend malpractice claims compared with her current role. Now she's in a position to address issues as they arise and make changes that could avert potential lawsuits.
Formerly, she said, "I only saw cases where health care went wrong. … I like now that I get to see all the things we're doing right and doing well every day."•
Please enable JavaScript to view this content.