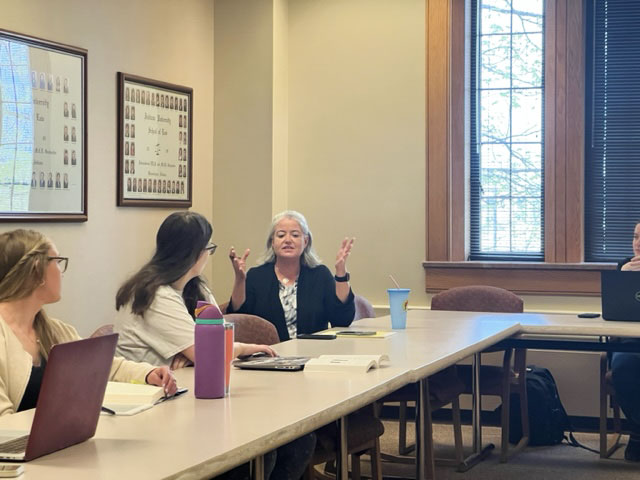 A group of second- and third-year students at Indiana University Maurer School of Law have spent the spring semester representing youth in three counties as part of a practicum through Indianapolis-based Child Advocates.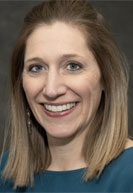 Rachel Vilensky, director of direct representation at Child Advocates, is one of the class instructors. She said the eight students are getting experience in expressed-
interest representation.
Specifically, the class took on 14 youth clients, ages 10-18, as part of the practicum this semester, Vilensky said. As the semester winds down, all 2L students have said they want to stay on through the summer and into the fall.
Andrea Marsh, the other instructor for the class, said students are certified by the Indiana Supreme Court so they can practice in court with a supervising attorney present.
Students' responsibilities include researching issues in CHINS and termination of parental rights cases, investigating placement options at the clients' direction and advocating for the youths' wishes in case meetings.
With a focus on expressed-interest representation, Vilensky said it's important for students in the practicum to be able to "elevate" their clients' voices and make sure they feel heard.
The practicum worked with three counties this semester — Marion, Owen and Bartholomew — Marsh said, though they hope to add another county for next semester. Work in Owen and Bartholomew counties was in person, Marsh said, while Marion County was mostly virtual.
On top of getting real-world experience, guest lecturers for the class included retired Indiana Supreme Court Justice Steven David, Jill Johnson, Juvenile Division chief for the Marion County Public Defender Agency, and Rae Feller, the state director of GAL/CASA for the Indiana Office of Court Services.
Sometimes, Vilensky said, there are practical barriers students face in the practicum. They are students, after all, which means there are occasionally conflicts between hearings and educational obligations, and the timelines for cases can stretch beyond the length of a semester.
She said they've tried to help as instructors by putting two students on each case, so hopefully at least one can be available if something comes up.
Practicum beginnings
Joel Wieneke, senior staff attorney at the Indiana Public Defender Council, is partially to thank for the practicum at IU Maurer, Vilensky said. The two approached the Bloomington law school with the idea.
"If there's movement toward a reality where we want to increase the number of lawyers available for our kids and child welfare proceedings, we have to have the lawyers trained and ready to meet that obligation," said Wieneke, whose work for the council focuses on juvenile justice.
Part of the goal, he said, is to start connecting with students in law school and hopefully inspiring them to continue doing child welfare work after they graduate.
Indiana is one of six states that don't require counsel for children in child welfare cases in any situation, according to the National Association of Counsel for Children, although Indiana law does give state court judges discretion to appoint counsel for children in those cases.
"I'm not worried about there being a lack of work for students who are trained in this area of law," Wieneke said.
Vilensky also cited the shortage of attorneys in Indiana. In 2021, the Indiana Public Defender Commission reported Indiana had just 36% of the recommended number of attorneys per capita relative to the national average.
"Of course, that hits public interest work first," she said.
'The most rewarding thing I've ever done'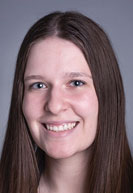 Casey Pav, a 2L in the practicum, has been working with three clients.
One is in the adoption process, and Pav said she's researching for a brief highlighting the child's position.
Another client is in a foster home right now. Pav is advocating for educational benefits for that client, and for the child to get his belongings back from an old facility.
Her third client was having trouble getting personal documents, Pav said, so she assisted in getting those.
"It's a lot of direct communication with the clients and making sure they understand what's going on in their cases," she said.
Pav said she was always interested in the child welfare system but didn't have any direct experience with it. Since joining the practicum and seeing that system firsthand, she said she's been able to connect with the children who are living it.
"Being able to be there and be a voice and advocate for them in a way that nobody really has is probably the most rewarding thing I've ever done," Pav said.
But as a student, she said it can sometimes be difficult to get respect.Pav said there have been times when she's sent an email about a case — with Vilensky copied as the supervisor — and the person will respond to Vilensky.
"It feels like sometimes they look past me," she said.
Still, Pav said, she can see herself getting into child welfare work someday. She also said she plans to continue with the practicum next semester.
One of her favorite parts is seeing the difference her work has made, Pav said.
"You can kind of see it bring out a sense of confidence in the children," she said.•
Please enable JavaScript to view this content.